On Thursday, TD Economics published their Quarterly Economic Briefing. The report addresses current issues related to the economic outlook starting with global progress on battling the pandemic, the speed of vaccine rollouts, and other fiscal policy developments. This is followed by a discussion of North America's red-hot housing markets where a lack of supply is a key factor driving skyrocketing prices. Supply constraints are not just an issue for housing and are rapidly pushing up both commodity prices and overall inflation. Below is a selection of questions from the report. To read the full report click here.
---

Covid-19 cases are stabilizing in advanced economies but surging in emerging markets. What are the implications for the global economy?
As new cases ease in most advanced economies (AEs), the re-opening of economic activity is moving to the forefront. Most AEs are set for robust growth in the second half of this year, on the back of widespread vaccine distribution and policy support.
In Europe, a slow start to the vaccination campaign (outside of the UK) allowed for a third wave of the virus in several countries. This now appears to be subsiding. The EU Recovery Fund will also come on board through the summer, further supporting the recovery.
Meanwhile, despite support from the COVAX facility, emerging markets (EMs) vaccination rates are well behind AEs, leading to sharp increases in cases that has only recently crested (Chart 1). In Brazil and India, the current wave of the virus has proven to be the worst yet, overwhelming healthcare systems and prompting authorities to introduce new restrictions and lockdowns. These countries are also likely to be the slowest to recover. And since Brazil and India are regional powerhouses, their slowdown will also affect the recovery of other countries in the region.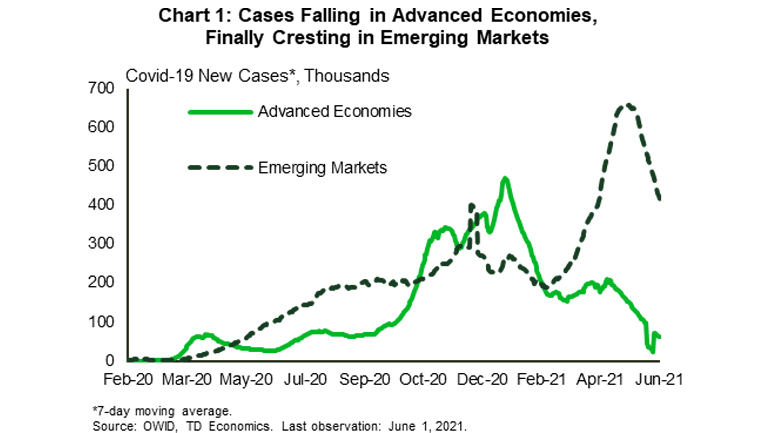 China – the only major economy to register positive growth last year – has completed its V-shaped recovery. Chinese growth is now slowing, with deliberate tightening of monetary policy aimed at orchestrating a move back to a more balanced path. China's slowdown is not a surprise and was part of the natural course of action. European and North American economies are also bound to mirror similar outcomes once they reach China's stage of recovery.
The economic risks have become more balanced relative to a few months ago. Ongoing restrictions, new virus variants, vaccine hesitancy and supply chain disruptions remain key downside growth risks in the near term. But, vaccine production and distribution are making strong headway. This, alongside additional policy support in some major economies and excess savings, provide a counterbalance on the upside.
How are vaccine rollouts progressing in North America and globally?
Globally, vaccinations have picked up in Europe, but are still well behind North America with only 32% of the European population so far vaccinated. Elsewhere, the vaccine rollout in most EMs remains sluggish (some high-income EMs such as UAE and Chile are notable exceptions) and continues to lag AEs. At the current pace, it will take until at least mid-2022 for most EMs to vaccinate 70% of their populations. Some low-income EMs might even have to wait until early-2023 to hit this mark.
In addition, there are now emerging concerns that some EM countries may have to "re-do" vaccination efforts depending on their vaccine access. Seychelles was noted as the world's most vaccinated nation at 72% of its population fully vaccinated. And yet, it experienced a spike in new virus cases in early May that caused lockdowns to be re-imposed. The government in Seychelles and the WHO have said that the majority of those testing positive had not been vaccinated or had only received one dose. Still, while tests are being conducted, it is speculated that the Sinopharm and AstraZeneca vaccines that were used in Seychelles may offer less protection, particularly against certain strains like that first detected in South Africa. This is one reason why South Africa has ceased using the AstraZeneca vaccine.
The U.S. rollout has been centered around mRNA vaccines, with a speedy distribution peaking at over 3.2 million doses administered daily in early April (Chart 2). Although the pace of vaccination has since slowed considerably to around 1.0 million per day, the Biden administration maintains a goal of vaccinating 70% of U.S. adults with at least one dose by July 4th.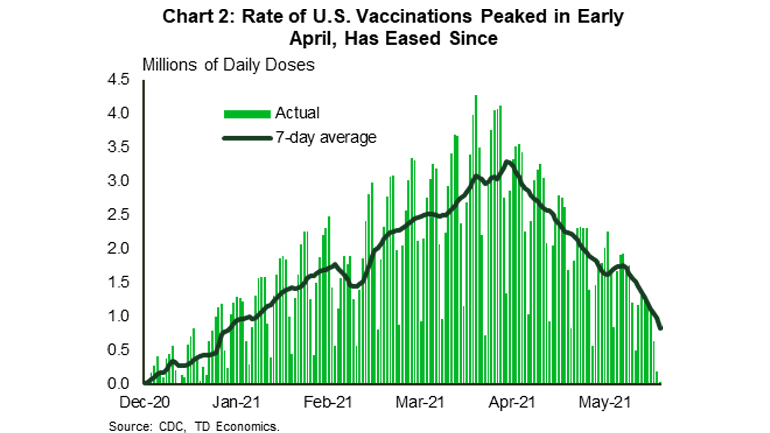 So far, 41% of the American population has been fully vaccinated, while over half have had at least one vaccine dose. Now that older and more eager populations have been vaccinated, the process will require greater effort. States are already loosening restrictions, and this could have the unintended impact of creating less urgency among the remaining unvaccinated population, particularly when coupled with strong evidence that the virus' spread has already slowed materially.
According to a survey taken at the end of April, the share of unvaccinated Americans who would be willing to be vaccinated was 20% – among the lowest across advanced economies. Other surveys note that the willingness to get vaccinated varies widely within the country, with communities in states like Hawaii, California, Washington, and those in the Northeast highly in favor of vaccinations, and the rest of the country generally less so. These country-wide differences are a hurdle toward reaching national herd immunity and speaks to efforts being made to create economic incentives towards vaccination. Several states have announced vaccine lotteries, while others are enticing people with discounts, ballgame tickets and other giveaways.
Canada's vaccination plan has followed an under promise, overdeliver strategy. After a painfully slow start to the year, Canada's first-dose vaccination rate at around 60% has now surpassed the U.S. at just over 50% (Chart 3).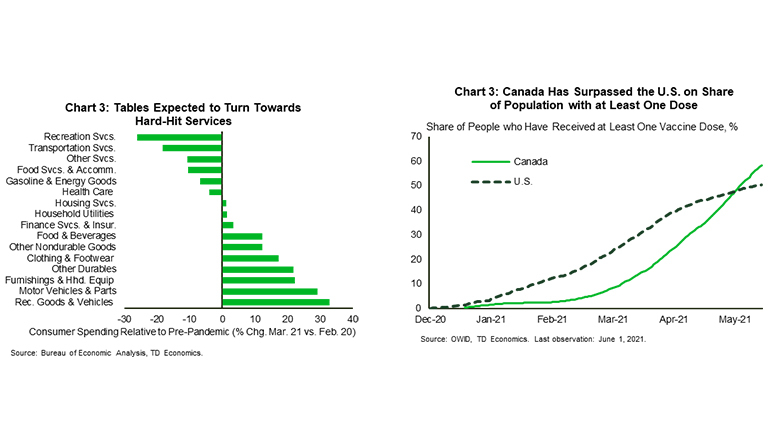 There is little in the way of regional variation in vaccine administration. Provincial vaccination rates are closely clustered around the national average. The percentage of first doses administered is slightly below the national average in Atlantic Canada, where some provinces had initially attempted to minimize the timeline between first and second doses. It is slightly above the national average in Quebec, which was the first province to extend timelines between first and second doses.
All provinces except for Manitoba have recently released reopening plans (see report). Ontario's plan stands out, representing the most cautious approach. . The first stage of the plan begins on June 14th. Some service providers may only open by late July, at the earliest. As a result, Ontario's economic rebound could be more drawn out in returning to pre-crisis employment levels.
Relative to the U.S., Canada lags in the administration of second doses (6% vs. 41% in the U.S.) due to extended timelines of up to four months between doses. Official guidance has signaled that all willing adults will be fully vaccinated by the early fall. However, with Canada set to receive a cumulative 48-50 million doses by the end of June, more upside surprises could be in the cards.
In addition, vaccine hesitancy appears to be less prevalent in Canada. Survey data from Imperial College's COVID-19 Behaviour Tracker suggests that 21.1% of Canada's unvaccinated adult population would be unwilling to receive one if offered, compared to a U.S. ratio of 28.2%. As a result, Canada may find greater success with herd immunity domestically, requiring a more tactical strategy on re-opening borders with countries that fail to meet that requirement.
When can we expect normalization in U.S. and Canadian housing markets?
U.S. home sales surged to a 14-year high toward the end of last year, but have since eased considerably. The overriding theme is one of a shortage of inventory. Housing resale inventories currently sit at a little over one million, near record lows and down 20% from last year. Tight supply has resulted in sharp home price appreciation, with all key year-over-year metrics sitting in double-digit territory (Chart 6).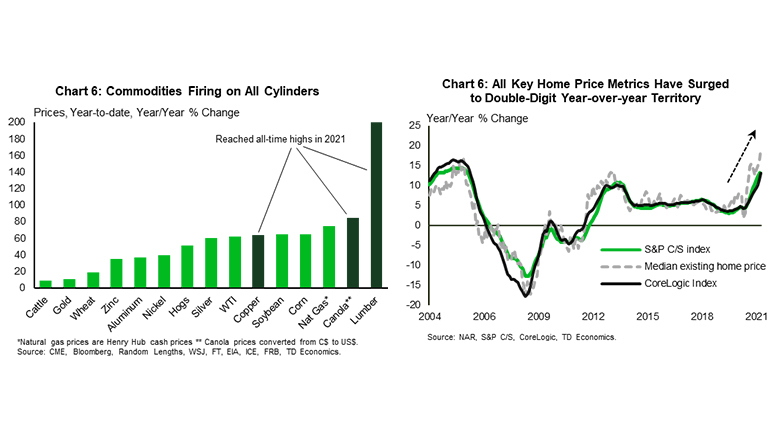 Builders have ramped up the construction of homes, an element that should offer further price respite down the road. However, rising input costs pose an added challenge. Examples include the soaring costs of copper and lumber – particularly the latter, which is adding roughly $36,000 to the price of an average new single-family home. Tight market conditions increase the odds that costs are passed down to the consumer.
Coupled with an upward trend in mortgage rates, affordability challenges are likely to become more binding in the quarters ahead. This could tilt some demand back toward the rental market, particularly for lower-income households and those whose jobs require a physical presence in dense urban areas (i.e. those in the leisure and hospitality space). Leasing and online apartment search data already point to more typical rental demand patterns emerging in urban cores.
In Canada, we've long argued that the frenzied pace of housing activity is unsustainable. After yet another record for sales and prices in the first quarter, the data in April stumbled.
Across Canada, home sales slid 13% in April, driven by steep declines in B.C. and Ontario. Falling demand also weighed on average home prices, which dropped 4% on the month. However, a big unknown is the extent to which the third wave of the pandemic negatively influenced this data and the outcome may prove temporary.
Even after April's moderation, sales and prices levels in these markets remain at exceptionally elevated levels. Data in the next few months will give a clearer indication of whether April's pull-back was merely a breather or the start of the cooling trend.
In the second half of 2021, we continue to anticipate a lower trend in home sales on the back of tighter stress test rules, deteriorated affordability (Chart 7) and slightly higher interest rates. However, home prices are likely to remain resilient, particularly in the detached market under structurally tight inventories alongside the anticipated improvement in the job market.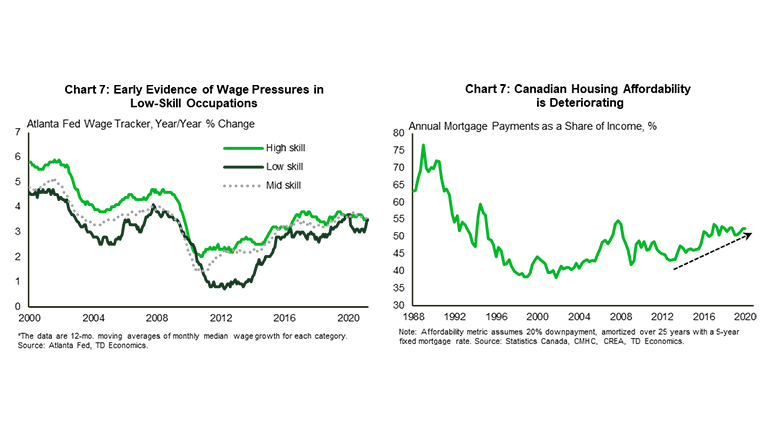 How are global supply chains disruptions impacting the U.S. and Canada?
High shipping costs and disruptions to global supply chains are causing production delays for American manufacturers, weighing on output, and putting upward pressure on consumer prices just as demand for these goods has surged. Due to the global nature of supply chains, until the pandemic has subsided across the world, these kinds of shortages and disruptions are likely to continue.
One high-profile example is the global semiconductor shortage, which has held back production of motor vehicles in the U.S. since the start of the year. Motor vehicle assemblies improved slightly in March but remain about 13% below their trend level in the six months prior to the pandemic. At the same time, consumer demand for vehicles has rebounded sharply, and this has led the retail inventories-to-sales ratio to fall to a very low level (Chart 8). If production challenges continue, it could weigh on the pace of vehicle sales going forward.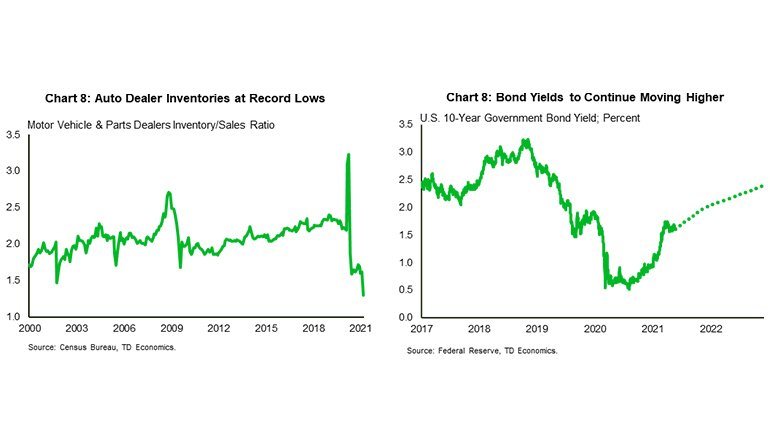 New vehicle prices accelerated earlier in the pandemic but are up just 1.6% versus pre-pandemic levels (February 2020). Used vehicle prices, on the other hand, have shot up over 20% since the pandemic, which has likely been influenced by the reduced availability of new dealer supply, along with a desire to maintain a brand and model preference.
Several American companies have outlined price hikes in response to rising material costs. For example, appliance maker, Whirlpool, is phasing in price increases of between 5%-12% at least until the end of June. Meanwhile, American conglomerate, Proctor & Gamble has said that price increases will range from mid-to-high single digit percentages and will go into effect in mid-September. So, the impact of these developments on CPI inflation is not a matter of 'if' but 'when'.
Meanwhile, businesses are already reducing their dependence on global supply chains. While this would indeed make them less vulnerable, it could also push up prices in the medium to long-term for themselves and consumers. It could also make exporters less competitive.
It is a similar story for Canada. The global semiconductor shortage has led to a slowdown in production in the automotive industry. Since December 2020, manufacturing sales of motor vehicles and motor vehicle parts have fallen by 14% and 7%, respectively.
Manufacturers are drawing down existing inventories to deal with these input shortages. Inventories for the transportation manufacturing industry is at its lowest level since mid-2019, due to a drawdown in the remaining stock of raw material and other supplies. Solving these supply constraints is likely to take several more months. In the meantime, further reopening of the economy is likely to continue to stoke price pressures in these areas.