The move towards a clean energy transition represents an eco­nomic opportunity to redefine and reinvigorate the Ca­nadian energy sector and has the potential to help the sector become established as a globally competitive leader.
However, that movement will not come without its challenges, according to a new research report from TD Economics.
Canada's move to transition to a low carbon economy could result in as many as three-quarters of the country's oil and gas workers being displaced over the next 30 years, according to the report, entitled "Don't Let History Repeat: Understanding Canada's Energy Sector Transition and its Impact on Workers."
The federal government's recently updated climate plan encapsulates a necessary urgency by setting an aggressive new target for emissions reductions over the next three decades. The report details how that commitment will cause a shift away from fossil fuels, with consumption expected to decline by 40-50% in North America. That will directly or indirectly result in an estimated 312,000 – 450,000 displaced jobs, as production falls alongside demand.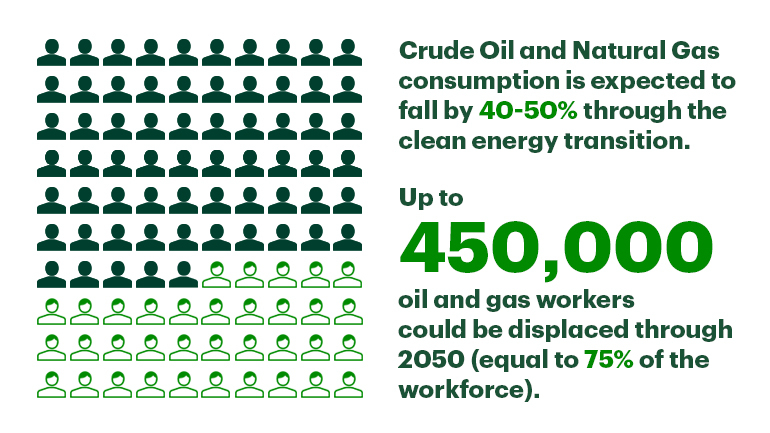 To mitigate those negative unintended economic and social consequences, the report recommends Canadian policymakers enact a trio of broad-based initiatives, including the creation of a new transition framework for upskilling and training impacted workers, a focus on clean-tech investment in affected communities, and new income support programs, especially for older workers.
"The reality is that any climate change policy must come to terms with Canada's current dependence on carbon-intensive industries in the energy sector, specifically oil and gas," said Beata Caranci, Senior Vice President and Chief Economist, TD Bank Group.
"But if we act now, we can accelerate the transition of our economy, as well as our investments in clean technologies and the reskilling of the oil and gas sector's workforce to create a vibrant future where the environment and the Canadian economy can thrive together."
The report notes that Canada's energy sector is already well-positioned to lead the transi­tion movement given its wealth of experience in infrastructure de­velopment, major project execution, governance, policy­making, and capital market investments.
"The belief is that many of those displaced will be able to find a home in the clean energy sector, but we should not assume that any transition to clean energy will absorb all displaced workers," Caranci said.
"The formation of new jobs is likely to occur within sectors and geographical locations that will differ from where workers will be displaced. If government policies are insufficient in helping workers with this transition, the unintended consequence will be a further hollowing out of middle-income jobs and this can worsen inequality," she added.
The effects of a transition will not be felt evenly
While the effects of a clean energy shift are expected to occur across Canada, the report states that the costs of such a transition will not be felt evenly.
According to the report, Alberta, Saskatchewan, and Newfoundland & Labrador account for nearly two-thirds of mining, oil, and gas employment, as well as 97% of all crude oil production and two-thirds of all natural gas production in the country.
While oil and gas extraction represents just 1.5% of the national labour force, in areas such as Fort McMurray or Cold Lake in Alberta, that share rises to as high as 25-30%, according to the 2016 Statistics Canada Census.
"Smaller com­munities heavily exposed to carbon-intensive industries will bear far more of the economic impact of the energy transition relative to larger, more diversified and services-oriented regions elsewhere in the country," the report states.
"Because these communities also tend to be more dependent on single sectors or employers as primary income generators for the region, the down­stream impacts of the clean energy transition will be far more devastating," the report states.
Repeating the mistakes of the past
The report says that the sheer scale of the job losses evoke memories of the decline of the manufacturing sector in Canada and the U.S. through the 1990s and early-2000s. According to the report, widespread automation during that time period of middle-skilled, middle-income jobs displaced workers with economic consequences that are still being felt today.
"Canada's overall experience was not as severe as that south of the border, in part because energy sector jobs helped to stop-gap the loss of middle-income jobs," Caranci said.
The report states that the energy sector has historically played a critical role in Canada's social and economic progress, and that it is incumbent on government and policymakers to establish a transition framework to help workers facing job displacement to help reduce the chances that they permanently join the ranks of the unemployed or underemployed.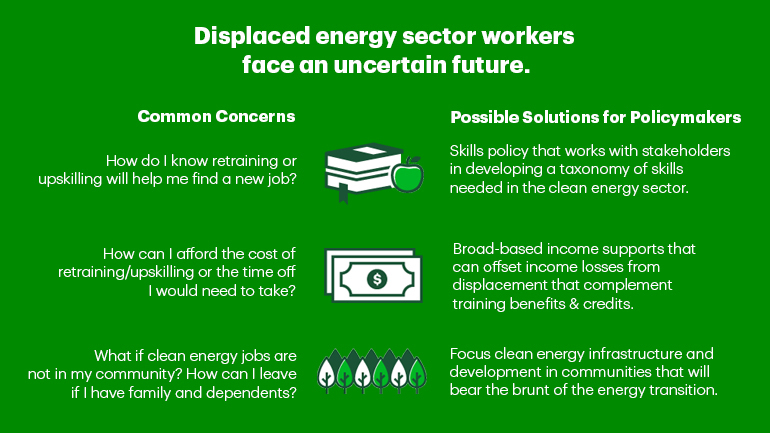 The three key elements the report recommends for a Just Transition Policy Framework are:
A redesigned retraining/upskilling framework that can complement the Canada Training Benefit by working with industry and training service providers to identify and document the categories of skills needed in the clean energy sector.
To the extent possible, focusing clean energy infra­structure and development within the same communi­ties that are anticipated to bear the brunt of the energy transition.
Broad-based income supports that can partially offset income losses due to displacement, including specific supports for older workers, such as pension bridging grants.
Towards a 'just transition'
The report also recommends that Canada's "patchwork" of policies related to retraining and upskilling be completely overhauled, so that workers no longer have to navigate a complex web of programs delivered by multiple organizations with little alignment.
"The first step in rethinking our nation's retraining framework is establishing a taxonomy of skills that will be needed across the clean energy sector that takes into consideration input from industry, followed by a much-needed overhaul that simplifies program delivery and en­sures that programming aligns with the needs of businesses," the report states.
According to the report, the clean energy transition represents an enormous eco­nomic and social opportunity to redefine and reinvigorate the Cana­dian energy sector as a globally com­petitive player in a net zero emissions world.
"But any failure to ensure a just transition for workers means that we will be repeating the mistakes of the past, where the structural shifts endured by displaced workers is underestimated and underappreciated in creating long lasting social and economic tensions," the report states.
To read the full report, visit the TD Economics site here.