On Thursday evening, the Women's Executive Network (WXN) will gather for its annual awards to pay tribute to the outstanding individuals who make up Canada's 100 Most Powerful Women.
And this year, two of TD's leaders – Senior Vice President and Chief Economist Beata Caranci, and TD Securities Managing Director Sharon Kim – will be among those honoured for advocating for diversity in the workforce and ongoing efforts to inspire future generations of women.
Driving awareness and championing inclusion
As the only female Chief Economist at a Canadian bank, and one of only 14 Chief Economists in North America to sit on the American Bankers Association (ABA) Economic Advisory Committee, Caranci is no stranger to standing out and standing tall.
A respected voice within the economics field and across the financial services industry, Caranci is known for her insightful perspective on economic issues, stress testing and the overall policy landscape.
"It's humbling to be in the company of so many accomplished women," she said. "I'm proud to work for an organization where I'm encouraged to help make the bank a fully inclusive environment, while advancing research that enhances the conversation on the unique challenges faced by women in the workplace."
Caranci has spent more than a decade researching and driving awareness among Canadian policymakers on issues critical to women in business, ranging from the gender pay gap, inclusion in STEM fields, and the representation of women on corporate boards.
As a member of TD's Inclusion and Diversity Council, she plays an active role in shaping the organization's talent vision, challenging businesses to close gaps and accelerate progress by recommending policy changes or new programs and initiatives.
She also piloted a blind candidate selection process for TD Economics that doubled the share of women and visible minority applicants in her department.
"I have developed a deeper understanding of the importance of being in a position of influence to help others," she said. "Helping people see paths, rather than blazing trails for them, is the true meaning of empowering others."
Inspiring positive change beyond boardrooms and trading floors
Throughout her career, Sharon Kim has overcome gender and diversity challenges to become a senior executive in Capital Markets at TD. As the leader of one of the largest revenue portfolios in TD Securities, she is a recognized go-to authority in Foreign Exchange by clients, colleagues, industry players and the media.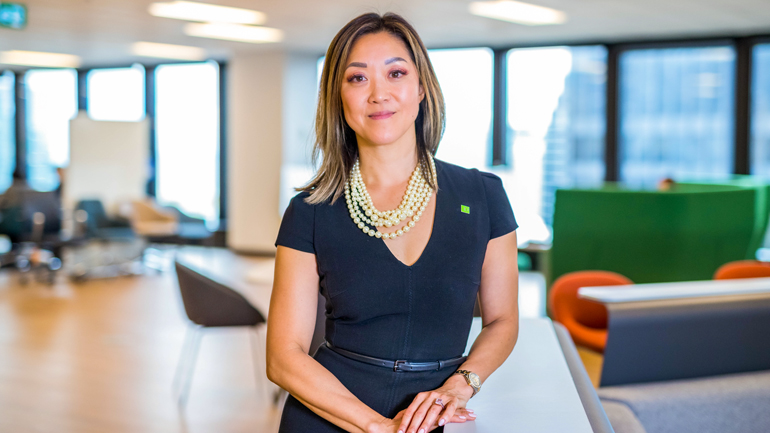 She is a member of TD Securities' Global Markets Operating Committee and a multi-year contributor to TD Securities' Women in Leadership and Women in Capital Markets communities.
A fierce champion for female representation in a male-dominated industry, Kim is paving the way to make it easier for women to hold integral positions on the trading floor. Thanks to her leadership, the female representation ratio for her businesses at TD is about 35%, much higher than the industry average.
"I don't see myself as a trailblazer or a trendsetter," she said. "I simply believe that diversity makes an organization stronger, more innovative, and better able to adapt to challenges. It's an honour to be included on this list with so many other remarkable women."
READ: Women in capital markets: growing the numbers
Beyond her work guiding one of the most important businesses at TD, Kim also dedicates her time to support a number of philanthropic pursuits. For more than a decade she has volunteered for TD Securities' Underwriting Hope charity campaign and auction, helping to raise tens of millions of dollars over the life of the campaign and serving as co-chair for the last three years.
Outside of TD, Kim has played a significant role in helping her community by serving as an Executive Director on the Board of Big Brothers Big Sisters of Toronto.
Read the full list of WXN's 2019 Canada's Most Powerful Women: Top 100 Award winners here.