By Elizabeth Vaah
Group Manager, Market Risk,
TD Bank Group
After George Floyd was killed, I just didn't have the energy to work. For a few days I didn't feel like logging onto my computer or being chatty during video meetings and smiling as images of Floyd's last moments struggling to breathe under a police officer's knee flashed through my mind.
Worse, I had no words of comfort for my young son. The world had just witnessed someone who looked like him being dehumanized by one of the very institutions I taught him and his siblings to respect.
My children asked me to explain to them what had happened. And for a few days, I could only stare back at them in disbelief. I didn't have the words.
Grief at work
In the days following Floyd's killing, a lot of emotions were threatening to overtake me while I tried to function at work.
I've been with TD for 10 years and from my first day, I've always felt that I could be myself at work. But the atmosphere at work following Floyd's death also felt surreal. Call after call, team meeting after team meeting, we went on without saying anything about Floyd's killing, or the subsequent protests sweeping our cities.
Looking back, I now know that my colleagues didn't know what to say. They didn't want to express the wrong thing and were struggling to process disturbing events in real time.
But I was grieving, and I was frustrated, and for a few days I wondered:
When are we going to talk about this?
Soon after though, my colleagues and our leadership began talking about racism and communicating the steps TD would take to begin creating change. These included reaching out to our community partners, along with increased financial supports.
Colleagues began sharing their own thoughts and perspectives on internal forums. Before I settled in Canada, I had lived in the United States, so reading about my colleagues' experiences on both sides of the border was enlightening. A dialogue between colleagues and perspectives from our leadership was emerging, and regardless of what side of the border we lived in, we were learning from each other.
A commitment at all levels
President and CEO of TD Bank Group, Bharat Masrani, published a letter to employees and the public in which the bank committed to double the representation of Black executives at the Bank by the end of 2022. The note also referenced an expanded Black Employee Network (a group at TD connecting Black employees and leaders on anything from professional development to community leadership opportunities), along with Bank-wide new training programs specifically relating to Black experiences and anti-racism.
Again, all this, including the commitment to doubling the representation of Black executives (matched with a specific timeline), told me we were taking firm steps to act. The Bank was also leveraging its relationships with industry and community leaders, including the Black Professionals in Tech Network in Canada, and Urban Leadership Forum in the U.S., for example, to do so.
Last summer, TD employees had the opportunity to participate in a speakers series that discussed real issues related to the Black experience – everything from the inequities that Black communities face in accessing health care, to discriminatory housing practices, to injustices in the legal system. As an employee, and a Black woman who cares about these issues, it has been positive to see this dialogue expanding throughout all levels of our organization.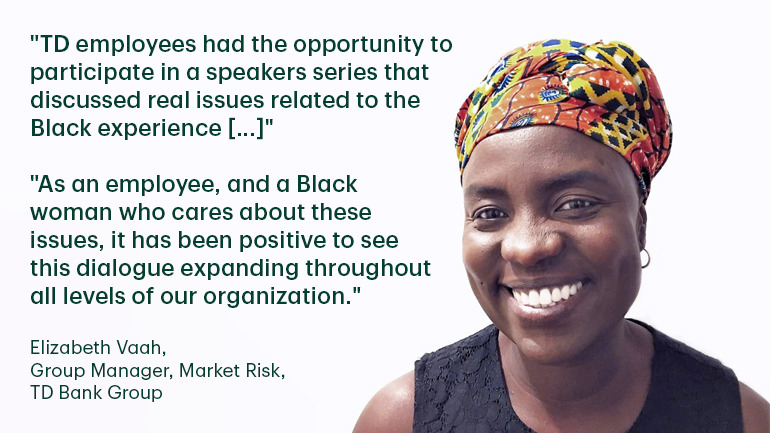 Where do we go from here?
Being part of a group committed to taking another look at improving hiring practices and equity around promotions for Black and Indigenous candidates in my own department, and also participating in the Black Employee Network, has been satisfying as I watch TD build on our history of inclusivity. Yet, we are still not where we need to be as an institution, or as a society.
George Floyd's death last May, and the unrest that followed as violent protests took over streets (and more of us choked back tears at work), is still fresh in our minds. It took about eight minutes and 46 seconds for Floyd to die, intensifying and increasing widespread support for the Black Lives Matter movement. And it took months into a global pandemic for us to really talk about how people of colour are more greatly impacted and dying at alarmingly higher rates.
We are all in the middle of a pandemic in which the people most affected by COVID-19 are Black, Indigenous and people of colour. Many of the front-line workers, and people who provide society with important services (such as personal support workers), are from these communities.
So, as we prepare to celebrate Black History Month this year, things on a societal level feel a little different.
This February
Yes, Black History Month must be time for reflection and celebration, but it also must be a time to commit to doing more to create equality. A time to think about how we as individuals are making a difference in fighting anti-Black bias and racism. We need to use this moment to honestly view how we treat Black, Indigenous and people of colour and better support those that have been hardest hit by the pandemic.
We are still asking questions about what happened on that fateful day last spring, but this February we should really be asking ourselves what's changed in all the time since.
I'll be asking that question this February, and every year afterward.
_____________________________________________________________________________________________________________
Elizabeth Vaah is TD colleague and author whose writing is inspired by her youth growing up in a rural village in Ghana. Her latest book, Maame, is loosely based on her experiences in Ghana, and explores the themes of womanhood and its intersections with culture and status.