For many of us, the joyous highs of the holiday season are often followed by something a lot less pleasant: holiday debt.
And while Canadians are expected to spend more this season compared to 2020, holiday spending is anticipated to remain below pre-pandemic levels.
According to the PwC 2021 Canadian Holiday Outlook, Canadian consumers say they plan to spend about $1,420 this holiday season, increasing their individual holiday costs by 29 per compared to last year.
So, if you're worried that your holiday spending may lead to a big credit card bill, here are a few pieces of budgeting advice that can help you better manage your finances during the upcoming festive season.
Good budgeting idea: Avoid impulse buying
Better budgeting idea: Create a holistic holiday financial plan
Let's face it, impulse shopping happens ("Duke the dog would look really cute in that Santa outfit…"), even to those who are mindful of their spending habits. Creating a financial plan that doesn't just account for gifts—but also factors in other holidays costs such as decorations, travel, small gatherings you attend (or host), charitable donations, and all the gifts you plan on purchasing for colleagues, friends and family, allows you to have a plan that factors in all the costs that come with the season.
Make sure your holiday financial plan includes some wiggle room for forgotten or unforeseen expenses, like that last-minute gift card you need to pick-up for your child's teacher or when you receive an unexpected gift from a family member you've never exchanged presents with before.
Need help sticking to your budget? Tools that track your spending, such as the TD MySpend app, provide greater awareness of your purchases in real-time and help you track your spending.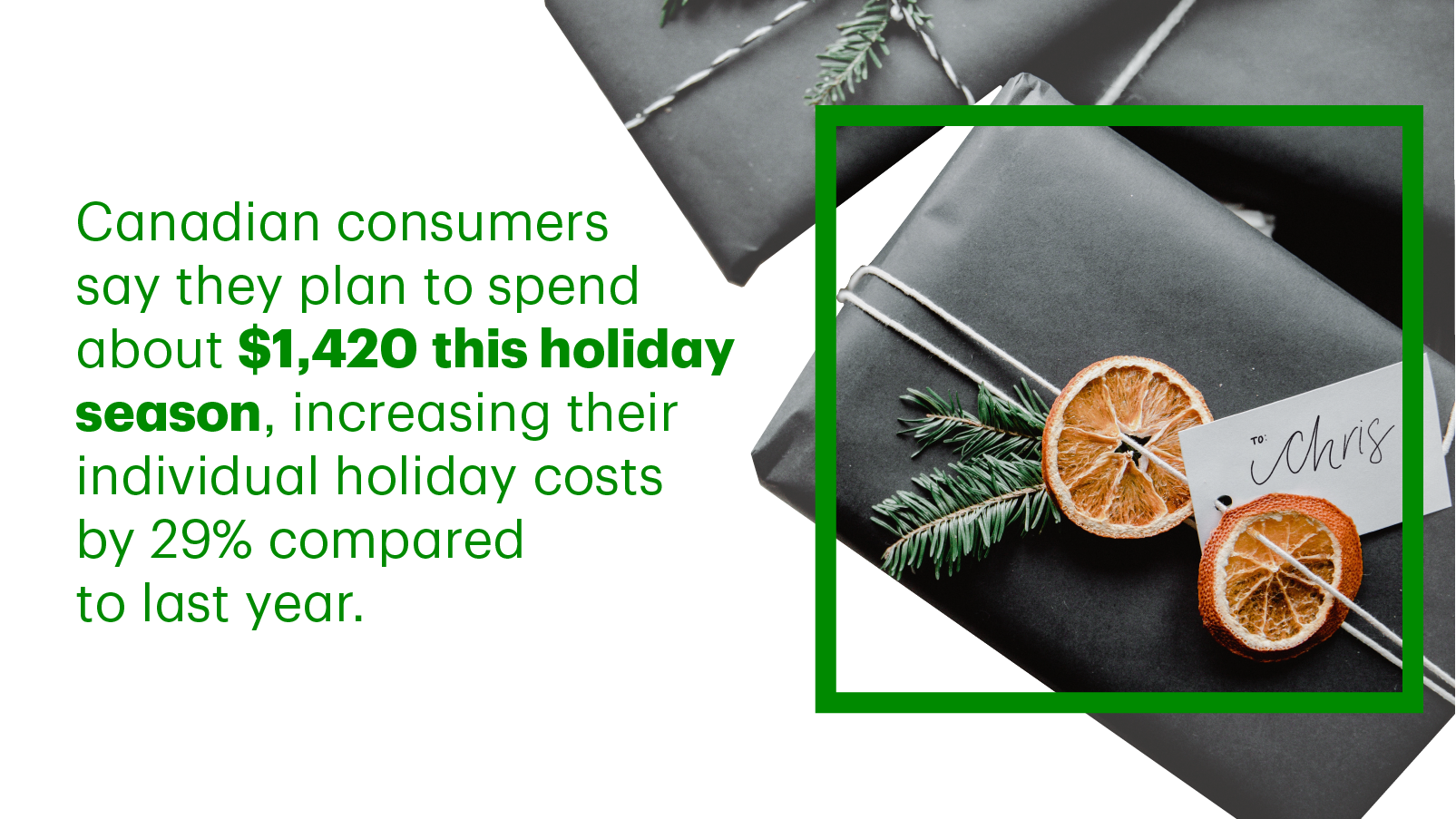 Good budgeting idea: Not falling into holiday sale traps
Better budgeting idea: Buying gifts throughout the year for people on your list
Maybe you excel under pressure and can power shop last minute better than most. But typically, waiting to cross off all 18 people on your list by last minute bargain hunting during Black Friday or Cyber Monday can often cost you more.
When you shop matters, and sometimes the best discounts aren't found during the holiday season. For instance, linens, carpeting and fitness equipment—just in time for New Year's resolutions—are items that are often discounted in January, while bikes and lawn mowers typically, go on sale at the end of the summer.
Going forward, consider making time to sit down and plan for any gifting you plan to do over the next year in order to take advantage of sales periods, ensuring you're in a good position next holiday season.
Good budgeting idea: Doing online research to find the best deals
Better budgeting idea: Factoring in delivery costs
Although going online to do comparison shopping is good practice, an even better idea is factoring in the full cost of an online purchase once any delivery charges are added. Look for retailers that offer free shipping and who will ship items directly to your recipient. And if you're planning on buying from a retailer outside of Canada, be sure to account for other potential fees like customs and duty charges as well as the foreign currency exchange rate.