By Tim Thompson
Senior Vice President, Corporate Evolution and Change Enablement
Chair, 2SLGBTQ+ Executive Steering Committee
---
Forever Proud is a promise.
As part of Pride celebrations at TD in 2022, we have once again adopted the theme of "Forever Proud, Forever Progressing." It's a catchy tagline, no doubt, and while it can sometimes be easy to dismiss a corporate missive, this one stands out for me.
Maybe it's because of everything going on in the world, but this year, with this tagline, it continues to feel like the appropriate description of where we are. And yet, I believe "Forever Proud, Forever Progressing" is about more than the here and now. It's a tagline that all at once affirms our enduring support for members of the Two-Spirit, Lesbian, Gay, Bisexual, Transgender, Queer, Plus (2SLGBTQ+) community, and our commitment to continuing that support in perpetuity.

Because the truth is, as much as some people might want to disagree, the fight for equality is still far from over. There are still many challenges and stigmas to overcome.
As a society, and as a Bank, it's true we've made a lot of progress as it relates to diversity and inclusion. While we should be proud of that progress, there's no denying that there are still victories to be won, challenges to overcome, and further progress to be made.
And just as importantly, perhaps even more, it's clear that we must remain ever vigilant about the progress that we've already made, because sometimes rights that we thought had been won, issues that we thought had been settled, well, aren't.
The onus for that vigilance rests with all of us. Because while it's my rights under threat today, it could be yours tomorrow. Even though we celebrate our pride today, we must not lose sight of the fact that the journey towards equality is far from over, and that the only way to safeguard what we have achieved is to continue progressing.
Forever progressing, indeed.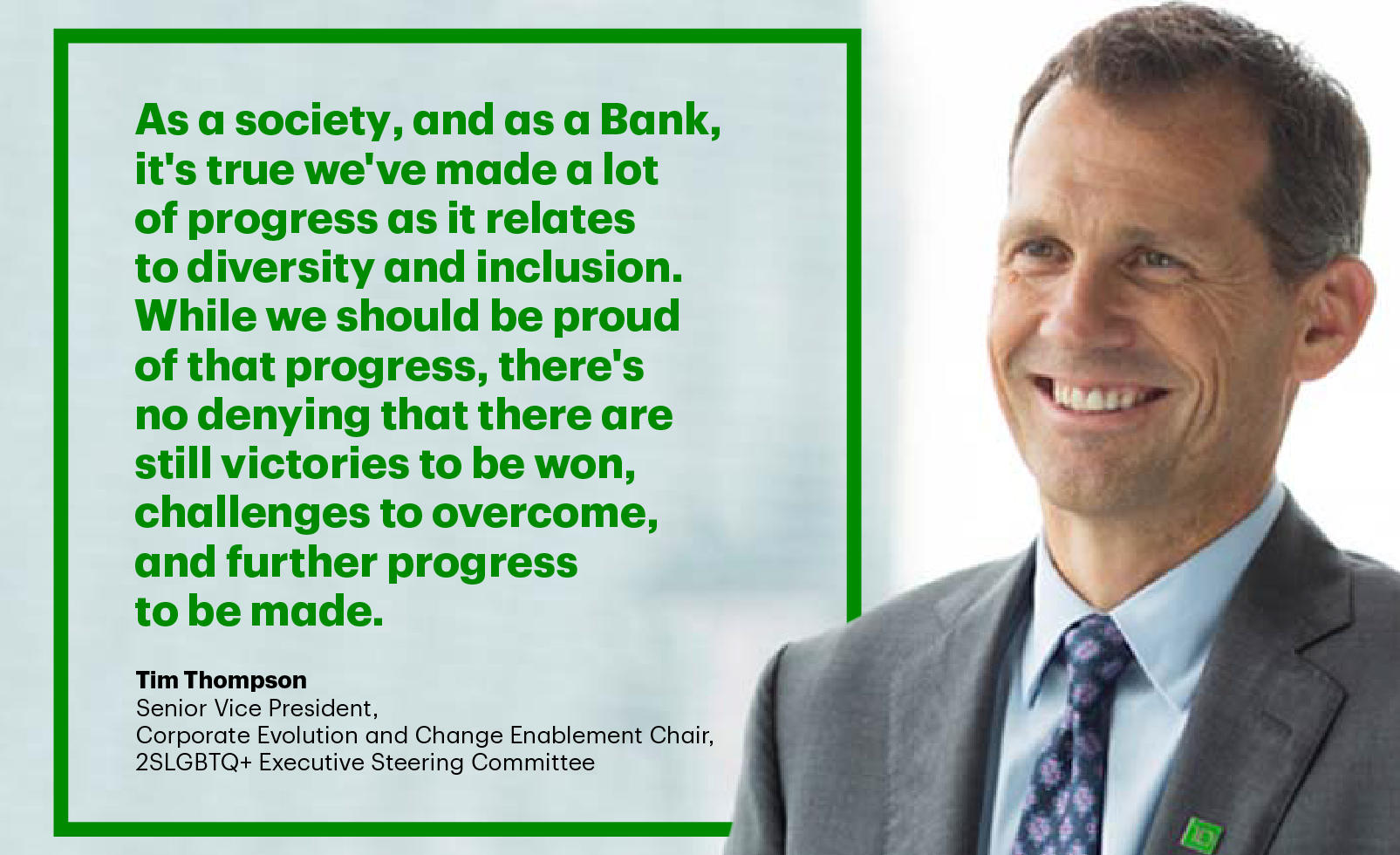 How far we've come on our journey of diversity and inclusion
When TD became the first bank in North America to provide same-sex spousal benefits for our colleagues almost 30 years ago, I was just four years into my tenure at the Bank.
At the time, while I was happy to see my employer take this important step, I wasn't ready to enroll my partner, and I wasn't ready to be 'out' at work. I was worried someone in human resources would find out I'm using same-sex benefits and that would somehow impact my career.
I was afraid.
Over time, with the authentic and visible support of the 2SLGBTQ+ community from TD leaders, I felt the growth of a more welcoming environment, and the opportunity to grow professionally and personally as my authentic self. So much so, that eventually I decided to come out at work.
Since those early days, TD has cemented its reputation as an ally of the 2SLGBTQ+ community through both words and actions.
Think back to 2005, when TD established the Lesbian, Gay, Bisexual, Transgender, Allies (LGBTA) Working Group in Canada to create initiatives for LGBTA employees, customers and communities, when we sponsored our first Pride Festival in Toronto, Canada – becoming the first major financial institution to do so – and we unveiled our first LGBTA-themed ads.
In 2008, TD became the first bank in Canada to provide gender affirmation surgery benefits to our colleagues and their family.
These were explicit statements from TD telling the community what we believe in as an organization. It was us putting our values on display for all to see.
It goes without saying that large organizations in Canada – including TD – are major players in not only the economy, but the social fabric of this country. So, when an organization like TD decides to stand up and do the right thing, it really makes a big statement.
How inclusion makes us stronger
Some people wonder if organizations like TD are supposed to be agents of social change. But there is no escaping it; we are agents of change whether we like it or not, and I think it's better to embrace that role through positive action. It's what we are.
At TD, our mission drives us to do what's right. We know that progress doesn't happen without a little friction, and so it's up to us to make the extra efforts to ensure people are included.
There's a specialness to what's happened here at TD. People who come into TD from the outside recognize that and are often driven by it. I hear from colleagues all the time who tell me the reason they chose to work at TD is because of the work we've done to support the 2SLGBTQ+ community. They see the Pride sponsorships, the colleague benefits, the commitment to diversity and inclusion. It's a validation of what we're doing.
At TD, we know that our commitment to diversity and inclusion is the backbone of our inclusive culture, and that it makes us a stronger organization.
If you think about it at a basic level, in order to run a great business, we need to have great colleagues.
We also know that when we have a group of people around the table trying to solve a challenge for our customers, it helps to have diverse perspectives. That variety of perspectives inevitably leads to better outcomes, which enables us to serve our customers better, which in turn helps to build a stronger business.
So that's where we started. But how do you attract the great talent that is going to help bring us those diverse perspectives? We need to ensure that our colleagues feel welcome and can be their authentic best selves at work. When people feel they can be themselves at work, you unleash their potential, and help to build a company and a culture that can thrive.
The path ahead for diversity and inclusion
Despite all the changes and progress, sometimes you have to stop and wonder why we're still having some of the conversations we are. You would think so much of this would be settled by now. We've come so far as a society, and yet we still have so far to go.
But change is hard. Societal change is really hard. And sometimes it takes people time to work through how they feel about things. Even well meaning, well-intentioned people. It takes time for people to get used to new things and different ideas.
There's a natural backlash. It's part of it when you move forward, and the world feels different than before. People feel left behind. It's not unlike what happened to the world over the past two years of the pandemic. At the outset, we moved fast and changed quickly, but once things started to settle down, people took stock of what happened, and tried to make sense of their new reality. Sometimes it takes a while to come to grips with those changes.
On a certain level, it's unrealistic to expect society to undergo a revolution of acceptance overnight. Subtle and progressive change is hard, and it takes time.
That's why we have to keep the conversation going. Keep engaging people. Talk to everyone because as soon as you take positions and start demonizing views, that is not a path towards progress.
Forever takes time.
Sure, we'd love all these problems to be solved tomorrow, but that's not going to happen. It doesn't mean we should be giving up.
As I noted earlier, the theme of our Pride celebrations at TD is "Forever Proud, Forever Progressing." It's an aspirational tagline, but it's one with a powerful message and which is reflective of our inclusive culture. Because, after spending over 30 years as a part of this organization, I know that when we talk about "Forever," I know that forever is a promise.
The fight for equality is far from over.
No matter where we are in our struggle, we must never let our vigilance waver when it comes to the victories we have won.
On the journey to equality, we must not be afraid to look back over our shoulder to celebrate the path we have travelled, and to continue marching forward to help create an open road for a more welcoming society for everyone.