During the past two years, too many people experienced the heartbreak of unexpectedly losing loved ones to COVID-19; the anxieties of seeing bills piling up with little money coming in and the isolation because of social distancing.
These pressures can be unbearable as an adult, but even more so for our children as their education both in and out of the classroom was disrupted.
Virtual learning was the only option for most to continue to go to school during a global pandemic. But children lost so much in critical knowledge development, and emotional and social learning experiences without attending in-person classes.
The urgency of this predicted learning loss requires innovative ways of thinking and action now to help stem the crisis. That is why the 2021 TD Ready Challenge has awarded more than $7.95 million* to help 15 community organizations in its North American footprint, six of which are located in the U.S.
These 15 organizations are focused on the most impacted students in grades K-12 with programs to help them catch up and address the predicted learning loss due to the COVID-19 pandemic.
The U.S. recipients will receive grants ranging from $325,000 to $1 million. Recipients were selected by an independent panel of judges, along with highly engaged and passionate colleagues participating as well.
"Our children are our future, and we need to make sure that they have the resources they need to bridge any learning gaps resulting from the pandemic. That is why we are thrilled to be able to work with these incredible organizations to help scale their innovative solutions specifically designed to address learning loss, particularly among some of our most vulnerable students. These solutions give me incredible hope that, together, we will be able to make a big difference in the lives of students in the communities we serve," said Shelley Sylva, Head of U.S. Corporate Citizenship, TD Bank.
The TD Ready Challenge is an annual North American initiative that provides grants to not-for-profit and charitable organizations addressing community issues in innovative ways. This initiative is a major part of the TD Ready Commitment, the bank's corporate citizenship program that is directing $775 million in community investment through 2030.
The TD Ready Commitment invests across four key areas to help foster greater financial security and create a more sustainable and inclusive future for our customers, colleagues, and communities.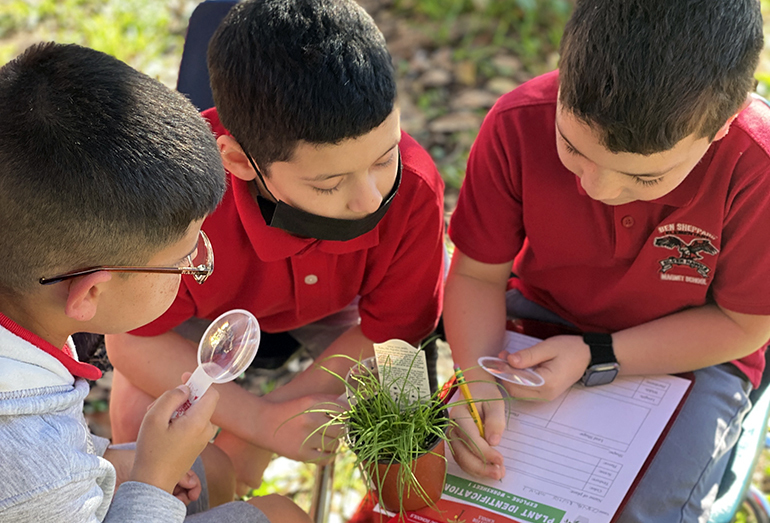 The Education Fund's Edible Outdoor Eco-Labs taps into nature
Here is a snapshot of one of the amazing organizations receiving a $1 million grant through the 2021 TD Ready Challenge.
Nature can often be the best teacher. That's the premise of The Education Fund Inc.'s Edible Outdoor Eco-Labs to Accelerate Learning program.
The Education Fund serves more than 350,000 students and families and 20,000 educators throughout Miami-Dade County Public Schools in Florida, which is the fourth largest school district in the United States. About 75% of the student served are considered impoverished based on their qualifying for federal, aid programs during the COVID pandemic, according to Linda Lecht, President of The Education Fund.
"We've seen tremendous learning loss from the COVID pandemic, especially in math," she explained.
The Edible Outdoor Eco-Lab has been among its most successful programs, improving 67% of students' science achievement by using the great outdoors. The Education Fund installs "Food Forests" with trees, bushes, plants and paths, on school grounds and then demonstrates to schools how to use them as outdoor classrooms. Students learn soil science, photosynthesis, physics, and other science concepts as well as healthy eating habits and nutritional knowledge that will last a lifetime.
The TD Really Challenge grant will allow the organization to "take a huge step forward, significantly expanding these outdoor classrooms into math-labs that use the power of forest gardens to teach students," Lecht said. "if you've ever tried to learn math by just reading about it and trying to visualize the concepts in your head, it can be difficult. Getting students outdoors in this environmental Ecolab means that they're going to be learning in a different space using materials from nature, which truly opens their minds."
Check out this video from The Education Fund to learn more about the successes of its Edible Outdoor Eco Lab program and hopes for its future.
Learn more about 2021 TD Ready Challenge Recipients
Here are the other five outstanding organizations that received a 2021 TD Ready Challenge grant in United States. We look forward to telling their stories in the coming year.
LUCY Outreach: Lifting Up Camden's Youth Inside & Outside of the Classroom (New Jersey)
South Asian Youth Centre: SAYA Elmhurst Center Academic Readiness + Mentoring Initiative (New York)
Codman Academy Foundation: The Codman Academy Tutorial Program (Massachusetts)
The Arc Prince George's County: Catalyst Project (Maryland)
MY TURN: Project Complete (New Hampshire)
*This USD value is based upon CAD base amounts and CAD to USD conversion rates as of January 26, 2022. Grants to US recipients were awarded in USD.