This April is Autism Awareness Month, a time to focus on sharing stories and providing opportunities to increase understanding and acceptance of people with autism and their caregivers, families, and friends.
Most parents have hopes, dreams, and worries about their child's future. For many parents of children with autism, the concerns can be overwhelming thinking about their own mortality as their beloved child will likely not be able to live without significant help.
"It's probably the biggest heartbreak of my life to think about when I'm not here for him, " said Melissa Nestore, the mother of a 15-year-old son Nicholas, who has autism. "But you have to push back on emotions and think about how to plan for the future so that we can do what is best for our family."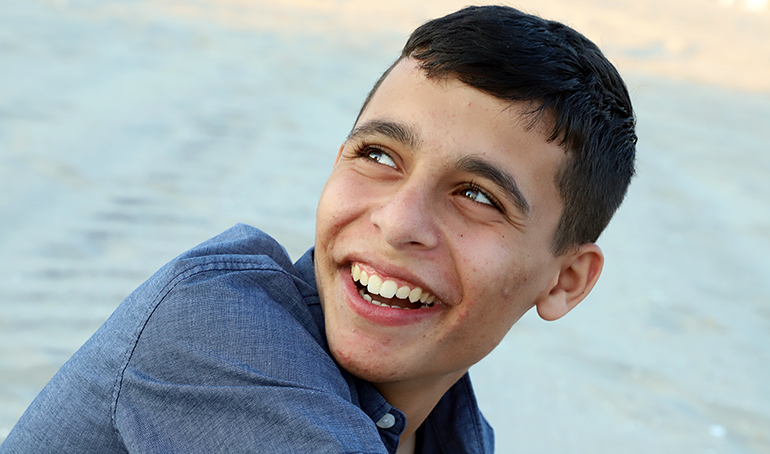 Melissa and her husband, Chris Nestore, TD Bank's Head of Enterprise and Operational Risk Management, know they are fortunate to have the resources and time to save and plan for Nicholas' future when they are unable to care for him in case of illness, aging and after their deaths. Their planning also involves the roles their other children, Nicholas' twin, Thomas and daughter Ava will have in Nicholas' life.
Although it's a painful process to make these plans, the efforts allow the Nestore family to experience the joys of the present more fully with Nicholas. He is a big fan of summers at the Jersey Shore, eating out at restaurants as well as anything related to Disney. While the COVID-19 pandemic made life more difficult for Nicholas given remote learning and his lack of fully comprehending the reality of the pandemic, the family was able to get through these challenging times with a lot of patience and a little bit of grace.
"We don't know what the future holds, but I know that one day we won't be here for Nicholas," Melissa said. "I want to make sure my children are healthy, happy and that Nicholas will be well taken care of. We also don't want our other children to be financially responsible for Nicholas."
The sooner, the better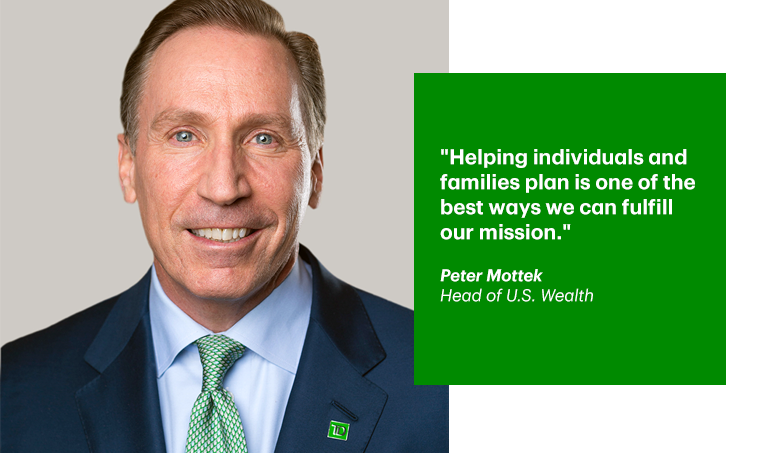 TD Bank has a mission to offer support to individuals with disabilities who are colleagues, customers and in the community, according to Peter Mottek, Head of U.S. Wealth for TD Bank. "Helping individuals and families plan is one of the best ways we can fulfill our mission."
The best advice for parents from a financial and overall life planning perspective for your child with autism is to begin as soon as possible no matter your income level, according to James Beam, Head of Investment Management, Brokerage, Planning, Retirement & Strategy, U.S. Wealth at TD Bank and Mark Hasenauer, Wealth Strategist at TD Bank.
"You have to start thinking about now, even knowing that you and your child's needs will evolve," said Mark Hasenauer. "While you'll have to continually update that plan, it's important to have a foundational plan in place because unexpected things can happen."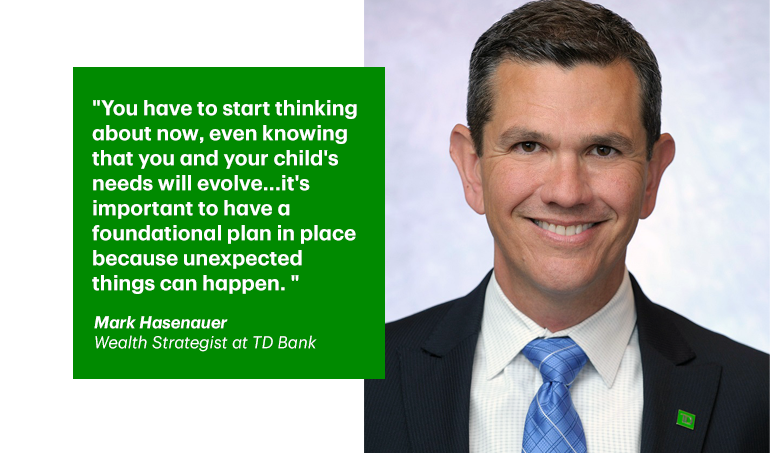 It may be hard to think about saving the amount of money that a child may need in the future when you might be struggling to make ends meet, but there are different options. Perhaps, for a young family, life insurance could be explored and as the parents age, retirement assets or the sale of a home may be a primary contributor. It's also important for parents to look at the availability of state and federal government services and aid to help either supplement or provide full support. For more information on government programs, a good starting site is childcare.gov.
Estate lawyers are also an excellent resource because of their expertise. While costs can be high, many counties and states have organizations to help those with lower incomes to find appropriate lawyers, such as the Maine Volunteers Lawyer Project. To find out more information about legal resources nationwide, Lawyer Legion has a comprehensive list of sites.
Another resource that parents should consider, no matter their income, is working with certified financial professional to understand their current and potential income more fully. One key aspect to working with them is that financial professionals know the right questions to ask to make a realistic and actionable plan.
"They would have a blueprint so you can get started," Mark said. "Typically, you would have the client answer questions such as will your child need a caretaker? Will they live at home? What part of the country will they live in, because of the variations in cost of living? Will there be medical bills on a consistent basis? Is there any earning potential? What types of public assistance will be available? After answering these questions, you have an idea of what you are solving for and how much you need to set aside to get there, and if that is realistic."
The other vital part of a plan for future care includes who oversees the funds and responsibilities for the child. This planning would typically include a main trustee and successor trustee, along with a trust protector who can provide oversight and make specific changes as required, according to Mark. It may also include the role that siblings and other relatives would hold, and possibly even a board of advisors in certain situations.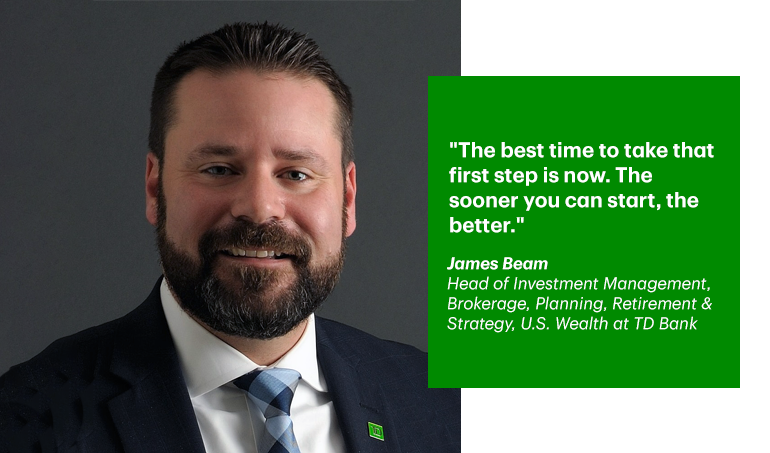 James emphasized that because of the uniqueness of each situation, it's critical for parents to learn about available resources to help them make the best decisions.
"The best time to take that first step is now," James said. "The sooner you can start, the better."
Want to learn more about Diversity & Inclusion?