It will be a May to remember for Dr. Mark Gonzalez, who is kicking off this merry month on Sunday with 30,000 other cyclists in the sold-out 40-mile TD Bank Five Boro Bike Tour of the Big Apple.
It's the first time that Dr. Gonzalez, a native of New York City, has participated in what is known as one of the greatest cycling events in the nation. All streets are closed along the course that passes through the neighborhoods of New York City's five boroughs. Participants, who range in age and experience, start in Lower Manhattan and end in Staten Island, the site of a festival held in conjunction with the event.
The tour benefits Bike New York, who provides a free curriculum of classes for children and adults for every stage of cycling. The organization says it pioneered the largest free bike education program of its kind and inspired similar programs around the country. In 2020 alone, Bike New York's programming reached over 30,000 people. TD Bank is the title sponsor for the event.
"For more than 20 years, TD has been ingrained in the fabric and footprint of New York City, not just as a bank but as a dedicated community partner," said Andrew Bregenzer, Regional President of Metro NY for TD Bank. "This includes serving as the proud title sponsor and partner of Bike New York for the Five Boro Bike Tour for 15 years, because it is important that we continue to support sustainability and quality of life for our New York City neighbors as well as promote Bike New York's mission to offer free bike education and access."
It's a true challenge to complete the Five Boro Bike Tour, and one that Dr. Gonzalez is ready to take on.
"I've done similar events, so I am really excited," said Dr. Gonzalez. "It's been about eight months since I ruptured my Achilles tendon playing sports. But I am ready to go. It will be a good time just enjoying the city. It's one of the few times a year that the city shuts down the streets and bridges. I'm not trying to beat anybody's time. As long as I get it done before dark. I'll be happy."
For Dr. Gonzalez, taking on seemingly insurmountable challenges is a way of life. He is the CEO of Operation Exodus, an organization in Manhattan's Washington Heights area that focuses on providing children high-quality education and opportunities for healthy social and emotional growth. Operation Exodus became a TD Business customer when the organization decided to take the chance and buy a commercial property to provide a permanent home.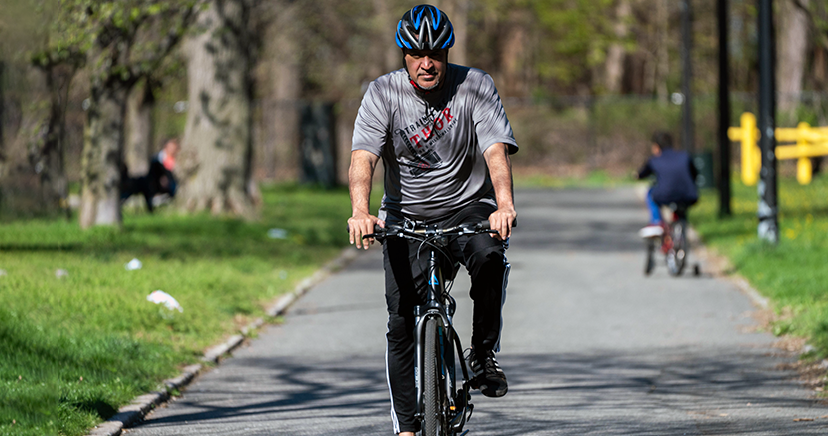 Facing the future with hope
Dr. Gonzalez came to Operation Exodus five years ago after a distinguished career working with other non-profit organizations. Operation Exodus helps families in need, primarily based in Washington Heights, Inwood and parts of the Hamilton Heights sections of Manhattan by focusing on educating, mentoring, and transforming Latino students' lives. The hardships of having to shift the organization's programs to entirely virtual proved challenging during the COVID pandemic. But Operation Exodus was able to thrive and expand its services to meet the growing need of families in its service area.
Now, as programs are again able to be in person, Dr. Gonzalez and his team decided that it was important to acquire a building to use as a community center and organizational base. It's a leap of faith to buy a property given that the organization is 95% funded through private donors and foundations. It's a move that Dr. Gonzalez feels confident about, particularly with TD as a partner providing a commercial mortgage.
"TD saw our vision. They understood what we were trying to do with families and students. I think they understood the importance of this work being done," he said. "There are many larger non-profit organizations, but our strength is that we are closer to the street. We have that almost mom and pop feel to the work we're doing."
"Working with Operation Exodus to help them secure a building and keep their mission going, allows us to continue to help the future generation of leaders. Leaders that come from all backgrounds and walks of life, organizations like Operation Exodus are vital to the success of our youth," said Marcus Gonzales, TD Bank's Community Business Development Officer in NYC. "Community organizations like Operation Exodus are the fabric of NYC. They have helped and continue to help young people navigate the world, giving them hope. TD is proud to support those organizations who give opportunities where needed."
Dr. Gonzalez wants the bank's colleagues and customers to know why it's so important for TD to do business with companies and organizations that might not be seen as traditional small businesses.
"Because you're supporting work that's not just short term," he explained. "This is the opportunity to really change, not just a student's life, but their family's life, not just for this generation, but generations to come. All it takes is one person, one bank, one investment to change the trajectory of a young person's life. And I've seen it happen. I believe in miracles, I believe in partnerships, I believe in love and hope. TD Bank is now on this journey with us. Together, we can make the world a better place."