TD Bank celebrates Women's History Month in March by looking at topics that are relevant to women.
Roma Pielarska knew the world inside her home would change forever after the birth of her first child three years ago. What the TD Bank Business Management Specialist didn't anticipate at the time was how much the working world would be upended when she decided to return to it.
She started seeking a fulltime position in November 2020. As a seasoned professional, she was well experienced in the job search process This time, due to the Covid pandemic, everything was virtual.
"It was really something I just could not have imagined," she explained. "Everything changed in terms of being in the office. I'm used to it now, but I've never met them in person. Yet I still feel very connected to them."
It was just one of the many changes she has seen throughout her varied career that first started in graphic design and advertising more than a decade ago. Her career journey eventually took her to the academic world before joining the banking industry.
Roma always thrived in her professional life, but she was anxious about returning to a daily job. The time away from the office raised doubts within herself about whether she would be able to perform at the level she did prior to becoming a parent.
That's why she decided to apply to banks with return-to-work programs, which focus on training, support, and growth opportunities to ease the transition for employees who took time off for a variety of reasons. TD Bank's Career Relaunch program fit the bill perfectly for Roma.
"These programs allow you to rebuild your confidence, your skill set is always there, realizing it's there and just feeling that strength within yourself; getting those wheels moving again," she said. "I saw how well built it was at TD; how thought out and structured it all was. I knew from the beginning; this was going to be good. It has been very supportive and collegial."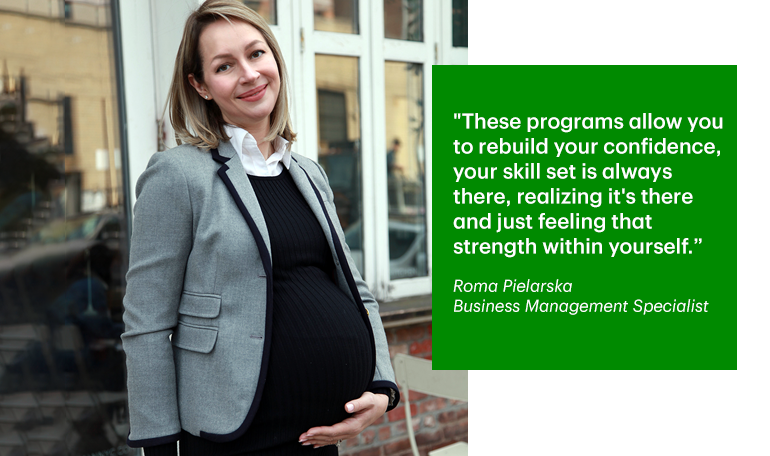 Roma is now expecting her second child shortly, and she feels fully supported at TD.
"With TD's family friendly culture and policies combined with the support of a great manager, shout to Alex Sanders, this has been as easy a transition any expectant parent could hope for and I have every confidence that a return transition will be just as smooth," she said.
Roma has been a smashing success in her role at TD, according to her manager.
"Roma is an incredible member of the team," said Alexandra Sanders, TD Bank Senior Manager, Community, Middle Market & Specialty Lending. "From the first day of the program she arrived excited, inquisitive and unashamed to discuss her career break which made coaching and communication very easy. I have observed Roma reinvigorated with every project that she takes on. Due to her previous experience and academic achievements, she offers mature professionalism. I value her fresh perspective among her tenured colleagues."
The incredible level of talent
Roma is one of 15 members of TD's Career Relaunch program that started in 2020, after nearly two years of planning. It is focused on recruiting people who have taken a voluntary career break and want to re-enter the work force.
While the program is open to both men and women, the need to leave the workforce temporarily has traditionally impacted women more, particularly seen during the COVID pandemic.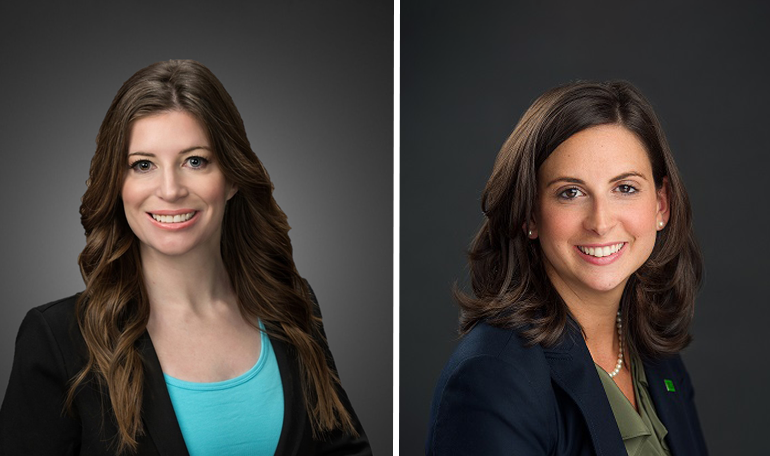 The TD program provides two weeks of training when the colleagues start to make sure they have training both in general knowledge for working at TD and skills specific to their role. Colleagues are assigned a "peer buddy" in their business along with a senior leader mentor and Career Relaunch alumni mentor, along with additional support from the program's leaders, Sarah Cole, TD Bank Market Commercial Credit Manager and Laura Picone, TD Bank Senior Relationship Manager.
Career Relaunch participants also receive dedicated support from TD's Human Resources and iRelaunch, an organization that is TD's partner for the program. Currently, the program is concentrated in TD Bank's Commercial business, but it is expanding to other businesses within the bank.
"I am proud to work for TD Bank which invests in programs like Career Relaunch and values a talent pool that has historically not been included in the traditional recruiting strategies," Laura said. "They bring years of experience and diversity of thought which are driving factors to the overall success of their business line and throughout the bank."
Sarah and Laura noted that the transition after taking time off has unique challenges. One is realistically managing the expectations of managers, and the colleagues themselves. The true value of Career Relaunch to TD Bank is one that is unmeasurable, according to Sarah and Laura.
"The level of talent in the relauncher pool far exceeded our expectations and we continue to be in awe of the experience level and enthusiasm that our Career Relaunch Associates bring to TD Bank," Sarah said. "This isn't just a Diversity & Inclusion initiative, it's a way to bring amazing talent into the bank, pure and simple."