Even if something happens thousands of miles away, the impacts can sometimes feel very close to home. And when disaster struck and people needed help, TD acted quickly, providing critical funding to support relief efforts led by community-based organizations across the footprint.
"We watched several catastrophic events unfold over the past few months, deeply saddened by the destruction and loss of life. The impacts of several disasters across the country and around the globe have rippled through communities across TD's footprint over the past few months, and we felt compelled to act," said Shelley Sylva, Head of US Corporate Citizenship at TD Bank. "The donations we've provided to help in the recovery from these disasters are key to fulfilling the goals of the TD Charitable Foundation and The TD Ready Commitment: to help sustain the well-being of the communities we serve and to help create a more sustainable and inclusive tomorrow."
Here is a snapshot of how TD helped disaster relief efforts in communities across the footprint – and beyond – in the past 90 days.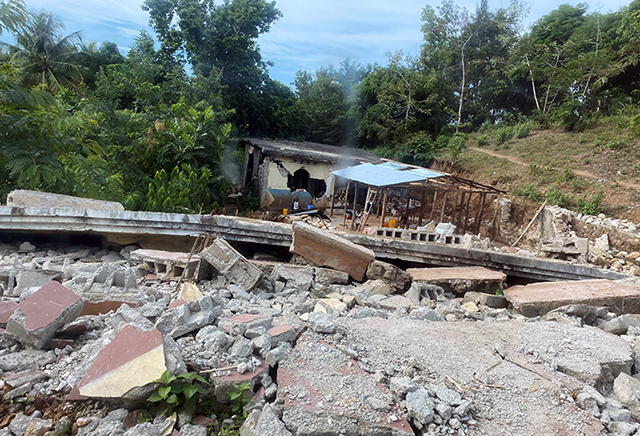 Supporting Haiti's Earthquake Recovery
On August 14th, a 7.2 magnitude earthquake, the deadliest natural disaster of 2021, hit southwestern Haiti - killing at least 2,200, injuring more than 12,000 and leaving at least 650,000 in need of assistance, according to United Nations Office for the Coordination of Humanitarian Affairs (OCHA). The dire situation was only complicated by political instability and broader economic woes. And with an estimated 1/3 of the entire Haitian economy coming from money sent home from abroad, the impacts of the quake were wide-reaching and felt by many right here in the U.S.
The tragedy struck particularly close to home for two Colleagues born in Haiti and who remain deeply connected to the island and to Haitian communities here in the United States – Delle Joseph, TD Bank Southeast Regional Managing Director, Not For Profit and Municipal Finance Group and Board Chair of the Haitian Development Institute, and Dukens Pierre, Store Manager at the Naples-5th Avenue Store.
TD serves several communities with large Haitian populations, including South Florida (home to the largest proportion of Haitians living in the United States), New York City, Boston, Philadelphia, Baltimore and Washington, DC. That's why the TD Charitable Foundation worked quickly with Delle and Dukens to identify Hope for Haiti and the Haitian Development Institute as organizations with deep community ties within Haiti that could help create the greatest impact for those recovering and rebuilding from the earthquake.
"TD Bank cares about its employees and the communities where we work, but it also shows up for other communities too. TD recognized they have Haitian employees and serve communities with large Haitian populations and showed up when the people living in Haiti needed help. I know this support helped a lot of individuals see tomorrow," said Dukens, who recommended Hope for Haiti as a grant recipient to the TDCF.
With a $50,000 grant from the TD Charitable Foundation, Hope for Haiti was able to ship and distribute $9,000 worth of medications, tarps and food; provide clean water access to 200 families; and provide healthcare access to more than 1,000 individuals.
The Haiti Development Institute is leveraging a $50,000 grant to support recovery and relief efforts by connecting 18 local organizations and partners to larger Non-Governmental Organizations (NGO) to provide both immediate and long-term relief. The funds will help rebuild a vast number of houses devastated by the earthquake and execute livelihood projects run by local organizations to help victims earn income to survive and slowly rebuild their lives.
"It is so important that relief efforts support local organizations from the bottom up. These grants are a tremendous shot in the arm in terms of the resources needed not just for immediate relief, but long-term investment too, and that is going to make a real, real difference on the ground," said Delle.
Helping Communities Recover from Hurricane Ida
Just a few weeks later, on August 29th, Hurricane Ida hit land in Louisiana causing widespread flooding, water damage and power outages across the Gulf Coast . Moving Northeast, Ida continued to ravage communities across the South and the Mid-Atlantic with record rainfall, flash flooding and tornados.
In response to the devastation, the TD Charitable Foundation created a $300,000 fund to support Hurricane Ida relief efforts by providing grants to 12 new and longstanding nonprofit partners that are leading relief and recovery efforts for local communities and small businesses within New York, Pennsylvania, New Jersey, Delaware and Maryland.
In Wilmington, Delaware, Hurricane Ida's heavy rains caused the Brandywine River to overflow, flooding more than 200 homes and businesses in the East Side neighborhood. To help the community recover, the TD Charitable Foundation provided a grant to REACH Riverside, an organization that focuses on the three pillars of revitalization shown to have the greatest impact on long-term community health and well-being: redevelopment, education, and community health. Between support from the TD Charitable Foundation and other organizations, the organization will distribute at least $500,000 to over 200 families and small businesses.
"The funding from TD Charitable Foundation will allow us to continue to show up for our community in the ways needed most. Complete restoration for many of our neighbors is unforeseeable. Over a month later, homeless shelters and hotels continue to house displaced residents whose homes are inhabitable. Thanks to this funding, we will continue to achieve our ongoing goal and commitment of ensuring that every affected resident has the financial assistance and support needed to overcome this tragedy," said Logan S. Herring, Sr., CEO, The WRK Group.
The relief funds were a lifeline for some small business owners, including Berta Hernendez-Villa who opened La Petit Chambre restaurant in Brooklyn, New York in May. The relief funds, provided by TD Bank and distributed by the Brooklyn Chamber of Commerce, will help replace furniture, fixtures and other damaged merchandise.
"The first year of business is the hardest and this unexpected loss of merchandise from Hurricane Ida and having to get new fixtures is an extra expense and financially difficult. These funds provide a huge sense of relief and one less thing to worry about, these few months have been amazing since I opened but it's been a lot of reinvesting money back into the store, employees and making sure things run smoothly," said Berta. "Now with this grant, I can focus on getting things done and replace the items without having to sacrifice on other important things."
Assisting Afghan Refugees Resettling in the U.S.
To escape the violence and suffering, many Afghans are trying to leave the only home they know. The needs of those seeking safe refuge in the United State are great, and TD is helping welcome them to their new homes and communities across the footprint with a $100,000 donation to One Journey, an Alexandria, VA- based nonprofit that aims to be the connecting layer between host communities and refugees.
The United States is set to welcome 100,000 Afghans who departed their homes in August with few belongings and little notice. One Journey estimates that 70,000 of these new neighbors will arrive in the United States under the 'humanitarian parole' status, making them ineligible for government support or benefits as they resettle.
With the donation from TD, One Journey will host four community events in Boston, Philadelphia, Florida and New York City to welcome and help the incoming refugees from Afghanistan to meet their neighbors and not-for-profit organizations which can assist them as they work to acclimate to living in the United States.
"One Journey is changing the way America sees refugees. The support from TD Bank takes us to more communities, where our programming engages people to see beyond the tragic stories of these new Americans to the many talents and contributions they bring to their new communities," said
Vanda Berninger, One Journey Co-Founder.
"The needs of those seeking safe refuge here in the United State are great, and we know how overwhelming the experience of leaving everything you've ever known behind can be on these individuals. The support from TD and others is absolutely critical to not only making sure that these refugees have the resources and support they need, but also that they feel safe and welcomed," said Hiroshani Samarasinghe, Business Management & Planning Lead for US Customer Assistance at TD Bank and a member of the Bank's South Asian Leadership Business Resource Group (BRG).