August is National Black Business Month, which honors Black-owned businesses across the country. TD recognizes the vital role Black-owned businesses play in the U.S. economy. Following the publication of this article in 2021, we regrouped with our customer, The Academy of Young Scholars, a Black-owned small business, to discuss how they continue to succeed in the face of so many challenges.
When Helen Barnes was in college, she did a short volunteer stint at a local daycare center. After only four hours, she vowed never to go back.
"It was dark, it was dank, it was scary and I thought it was a horrible way to educate children,'" said the woman who holds a master's degree in education and now has more than 28 years experience in early childhood development.
It's that experience and her passion for inspiring and educating young children that's driven her ever since that shocking experience so many years ago. In her almost three decades as an educator, Helen's been a strong advocate for doing what's right, always with the students' and teachers' best interests at heart.
It hasn't always been a smooth road for Helen as the owner and operator of The Academy of Young Scholars in Rock Hill, SC. She's had to adapt and rely on others for support, especially during the height of the Covid pandemic and afterwards. But Helen never gives up, and she's continuing to succeed even with all the challenges.
'Eye-opening' experiences that shaped a genuine leader
After a few positions in schools in North Carolina, Helen got her first big break more than 20 years ago as director of a school.
She would end up running the school in Charlotte for more than 10 years and called the role "eye-opening."
"It was very challenging, but rewarding," she said.
In fact, she came into a school that had been in hot water and had a provisional license, meaning they needed to make serious improvements to their operations and the way they educate. Eventually she guided the school to earning four out of five stars in the North Carolina system.
"That was a big deal," she said, proudly.
That experience catapulted her into a leading role with childcare resources, helping other schools and educators be better at their craft.
But Helen quickly realized she missed direct interaction with children and went back to focusing on directing and leading another local school.
Helen's never been interested in "numbers" or scores, but rather the people who educate our youth and make a difference in their lives. That's always been her North Star.
After decades working and thriving at several schools in the area, even being named director of the year, it was time to take ownership of her life's work.
She got wind of a local childcare center being sold and knew this was the right move for her and her career.
The Academy of Young Scholars is born!
In 2017, Helen and the current owner of a building in Rock Hill, SC, agreed upon a lease-to-own situation and her lifelong dream was on its way to becoming a reality.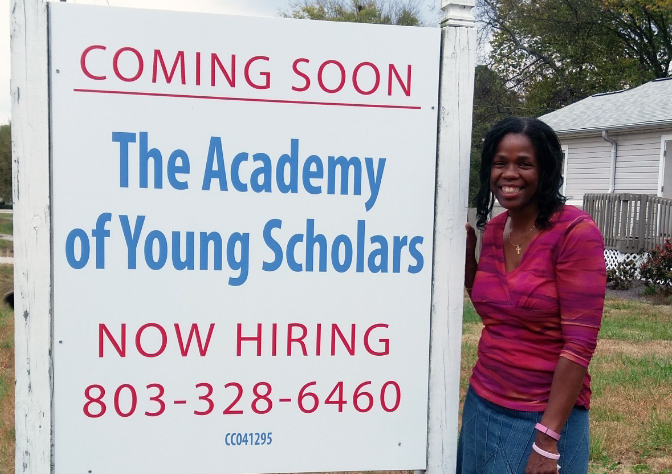 Helen completely renovated the building, making it "lighter and brighter," and came up with a new concept to inspire young children. She created an outdoor curriculum for infants, toddlers and bigger kids on the 1.4-acre property.
"I decided we were going to be an outdoor preschool," she said "Everything most schools do inside, we were going to do outside."
The concept caught on quickly. The number of students enrolled doubled from the first year to the second and was growing steadily in 2020 right before COVID-19 hit.
"That's when everything changed almost overnight," she said.
The academy stayed open and catered to children of first responders, but it was hard not to be affected by the pandemic.
"I had to have a staff meeting with my 10 teachers about layoffs and they'll tell you I was just bawling," she explained. "It was so hard."
Though she had to furlough or layoff some of her staff, Helen who is dedicated to making things work, was still focusing on supporting her professional family. She even went as far as researching the best way for her professional family to get unemployment benefits while without a job.
TD Bank steps in
When applying for a Paycheck Protection Program (PPP) loan last year, Helen used TD Bank because she had previous experience working with TD to get crucial funds to keep her business alive.
In 2017, when she first agreed to buy the school, TD supported her by underwriting a line of credit to get the school up and running.
Other banks had said they weren't able to approve her application without a cosigner. Helen was convinced that without a backer, she wouldn't be able to get the funds she needed to hire staff and operate the new small business.
But Helen worked with TD to apply for a line of credit and was approved!
Through cashing in 401(k) and Roth IRA plans, along with this line of credit, she was able to hire the staff she needed and get the school into the shape she wanted to inspire young children.
Just a few years later, she needed the bank's help again during one of the most unprecedented financial times in our country's history.
Needing to make rent and payroll, she applied for a PPP loan through the CARES Act in response to historic economic shutdowns.
"I remember sitting there just looking at my account and it had $118.97 in all," she said. "I said, 'How in the world am I going to do this?' And I'm not kidding you, three minutes later, my email came in on the bottom of the computer, which read, 'TD Bank: PPP Loan approved!'
"As soon as I saw that, I knew we were going to make it, we were going to be OK!" she added.
'Save our school!'
Helen assumed after her business survived a very trying time during the initial months of COVID-19, she had found her happy ending.
But by the summer of 2020, Helen realized her three-year lease was about to end, and she would need to decide whether to buy the school's building or not.
While the seller didn't want to budge on price, Helen wasn't giving up on purchasing the school. Though funds were low because of the pandemic, she was determined.
"My back was really up against the wall," she said. "But the parents weren't having it. They were like, 'We're going raise the money and save this school!'"
The parents held yard sales, posted about the school on Facebook and even stood in the street with signs reading, "Save our school!"
"For them, I knew I had to work to raise the money to buy the school," she said.
Helen raised money on GoFundMe, received a grant, used her savings and applied for a U.S. Small Business Administration (SBA) loan through TD Bank.
"Saturday, I was at home and opened up my email and yet again, like it had in the past, it read, 'Congratulations, you have been pre-approved!'" she exclaimed. "It's such a miracle."
Thriving in a new world
At the lowest point during the height of the pandemic shutdowns, the school dwindled down to 11 students. However, the school kept going. Today, the school has surpassed its pre-Covid student numbers with 42 children. Helen's biggest challenge currently is one she shares with many small businesses throughout the nation – finding more employees. The school has set a new cap for enrollment at 55 students until they can hire more teachers to keep the ratio of students to teachers low.
"I have an awesome, amazing staff, and the teachers are just great," Helen said. "I want to make sure that they aren't overworked."
Helen is grateful that the purchase of the building and the funding she secured from TD Bank has allowed the school to make some much-needed improvements to the building.
"We came out on the other side of the pandemic in a very good position," Helen said. "I am happy and I am grateful."

Want to learn more about small business?