Always one of the highlights of summer, the annual Fourth of July BBQ is a backyard staple across America. It's a day where families come together for parties – both large and small – to celebrate our freedoms and the best ideals on which our country was founded.
But with inflation and supply chain challenges driving the cost of almost everything to new heights, you might be searching for ways to ring in Independence Day that don't break the bank. Here are five easy ways to celebrate the Fourth without ruining your monthly budget.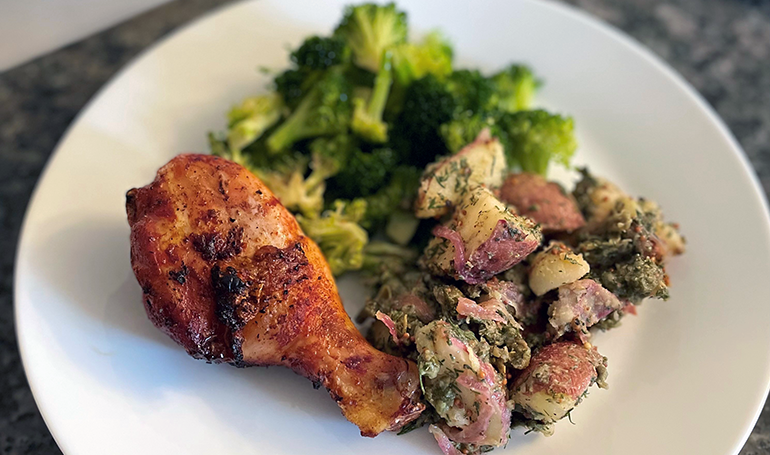 Make Hot Dogs the Star and Other Lower Cost Options
If the current costs of grilling steaks or even hamburgers feel too steep, embrace the all-Americanness of a good old-fashioned hot dog as a cost-savings strategy. Throw four or five affordable packs of hot dogs on the grill, including vegan options for those who don't eat meat, and treat your guests to a lavish hot dog bar with all the fixings. Play up the possibilities and encourage your friends to build their own ideal dog with toppings like chili, sauerkraut, and relish – or a classically simple ketchup and mustard combo – for the perfect Fourth of July menu starter.
Another idea to save if you don't want to forego red meat or chicken on your grill is to use options such as London broil, chicken legs or chicken thighs, which typically cost less than chicken breasts.
Plan a Potluck
Lower your BBQ costs even further by splitting the bill with others. Plan a block party or apartment building potluck. Have attendees pitch in $5 each to help offset the overall grilling bill – or ask them to bring one side dish or dessert to share. Splitting meal planning responsibilities with others helps keep everyone's costs down, while building a great community-building opportunity among neighbors.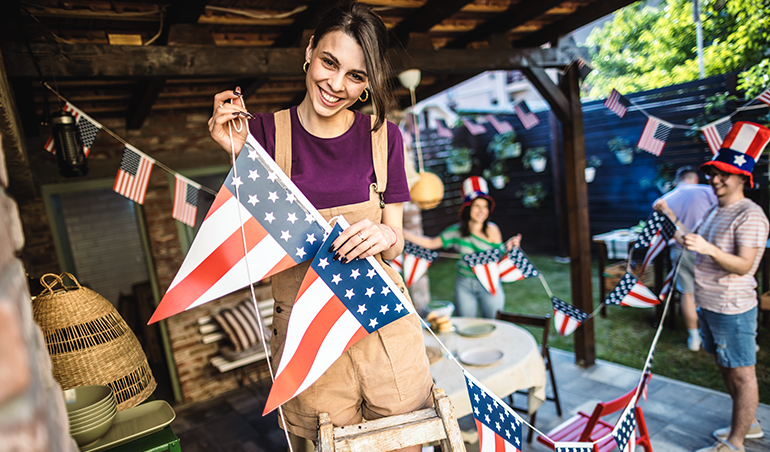 Look for Budget-Friendly Décor
With a little creativity, you can create or repurpose photo worthy Fourth of July decorations without spending a bundle. Start by looking around your house for red, white, or blue items you already have on hand. Need some ideas? Turn old bandanas into placemats. Place white flowers from your backyard garden in vases filled with water died red or blue with food coloring. Use red, white, or blue Christmas ball ornaments as clever fillers for July 4 centerpiece vases. Once you start searching, you'll likely find patriotic-colored items in nearly every corner of your house that can do double-duty as Independence Day décor.
Also look to upcycle wherever possible. Paint a collection of recycled soup or vegetable cans in red, white, and blue stripes and stars, for instance. Then use a hammer and nail to punch holes in the cans in fun patterns and add votive candles for instant – and inexpensive – handmade luminaries.
For items you must purchase, start with a search at your local dollar or discount store, where you'll likely find ample American-flag themed paper plates, banners, and more at prices that won't give you sticker shock.
Choose Cute, Low-Cost Desserts
No July 4 BBQ would be complete without patriotic-themed desserts. Luckily, this is one holiday where desserts don't have to be lavish or costly to truly shine. In fact, a quick online search will unveil dozens of eye-catching red, white, and blue desserts that are both easy and economical to create. Surefire hits include cute, layered red, white, and blue Jell-O parfaits or simple but delicious fruit cabobs made with a blend of strawberries, marshmallows, and blueberries. Or, dip homemade Rice Krispies treats or large pretzel sticks – usually available for about a dollar a bag – in white chocolate, then roll them in red and blue sprinkles. The result: treats that will leave kids (and adults) reveling on July 4 fun.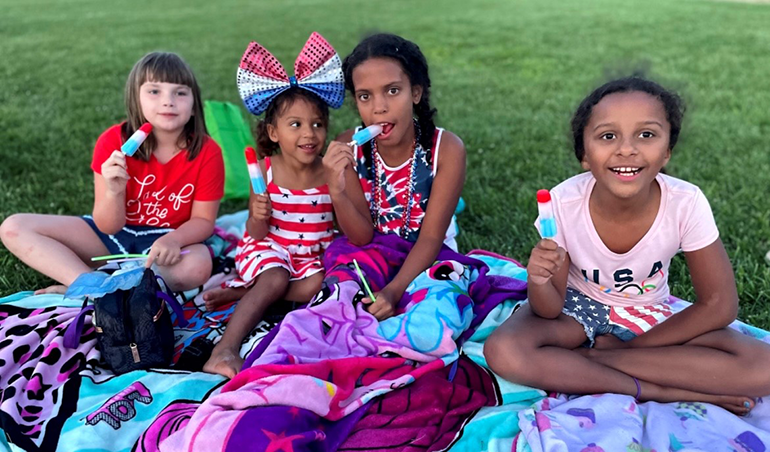 Enjoy Free Entertainment
Fireworks are, of course, everyone's favorite way to end Independence Day. But if your budget is tight, skip buying expensive backyard fireworks kits – which often rank relatively low on the excitement scale anyway – and prioritize watching free citywide displays instead. With a little careful planning, you can schedule your BBQ to finish up as twilight begins, allowing just enough travel time for you and your guests to settle in at a perfect viewing spot for largescale, professional fireworks displays in a park or downtown area near you.
As an added bonus, many cities have free Independence Day town festivals that boast not only first-rate fireworks displays but also live music either with the fireworks or in pre-fireworks concerts – offering the perfect way to wind down your salute to USA, without handing over even one shiny Lincoln penny.
For More on Personal Finance Topics
If you have more questions about other personal finance topics that matter to you, visit the Learning Center on TD Bank's website.
We hope you found this helpful. This article is based on information available in June 2022 and is subject to change. It is for general information purposes only. Our content is not intended to provide legal, tax, investment, or financial advice or to indicate that a particular TD Bank product or service is available or right for you. For specific advice about your unique circumstances, consider talking with a qualified professional.
Want to learn more about Money Matters Monday?