TD celebrates the dedication and bravery of all military personnel this National Veterans and Military Families Month. We have a growing community of veterans who bring a unique perspective to our business and a passion for going above and beyond. Our mission is to build upon our commitment by creating a community where all active duty, reserve, former military and services members can share their experiences, grow their careers and raise awareness of veteran matters to our colleagues, customers and communities.
Anna Kelley faced a life-changing choice as a freshman in college from her father.
The U.S. Navy veteran told his daughter that she could not continue going on as she was. The options were stark - either go to rehab to get treatment for substance abuse or join the military.
Anna chose the Air Force after a year of self-care supported by her recruiter to get healthy, including losing 60-pounds.
After boot camp in San Antonio and technical training in Biloxi, Mississippi in 2006, Anna moved to Wichita Falls, Texas, for tech school, learning how to climb a tower, solder wire and splice fiber optic cable -- preparation for an Air Force combat communications career that took her around the U.S. and the world.
During her decade in the Air Force, Anna developed the leadership skills and outlook she now applies to her work as a Model Risk Management Analyst at TD Bank in Maine, where she started her career in 2016 shortly after completing her military medical retirement process.
"The core values that the Air Force instills into their airmen -- integrity first, service before self and excellence in all that you do -- those core values hold true for me today even at TD Bank," Anna explained. "Those are the core values I hold onto personally and professionally."
Anna recently reflected on Veterans Day and TD's decision this year to mark it as a bank holiday.
"Veterans Day for me is a day of reaching out to battle buddies and checking in on each other and reminiscing. Many of my brothers and sisters in arms sacrificed so much, so this Veterans Day is a way of appreciating those sacrifices and the ultimate decision each veteran makes to protect this amazing country," she said.
"When TD announced they were making Veterans Day a bank holiday, I was amazed and grateful. I have always taken Veterans Day off every year anyways to spend with my Veteran buddies, so having TD recognize it really means the world to me."
Leadership, attention to detail
Air Force training brought good, lifelong friendships, as well as soft-skill sets.
Anna showed leadership early as an Air Force trainee in Wichita Falls, where instructors picked her for "red rope" status, the top tech school student leadership level. This made her leader for her 500-member squadron.
"I was very ambitious, and I always wanted to improve my leadership skills," she said. Being a red rope "made me immerse myself in military traditions." Anna made sure the barracks were clean and that her fellow trainees followed the rules.
"Between boot camp and tech school, they drill attention to detail," like making sure boots are shined and no threads are hanging off uniforms, "and that really goes through all the quality of work that you do, and you perform," she added. "It kind of bleeds into your everyday life and into your character."
Anna returned to Maine after boot camp and tech training, focusing on combat communications working for the Maine Air National Guard in South Portland. She prepared training for new airmen there and entered a constant rotation for domestic and international jobs.
She was deployed twice to Afghanistan, in 2009 and 2011, the only woman sent with her group on both tours. The first deployment took Anna to Kandahar, where her unit installed the communications network infrastructure for a new troop transition base.
"It was just ground with a fence around it and a couple of tents popped up," she recalled. "We had mortar attacks. It was a pretty busy base in terms of things that we dealt with because it was just being stood up so we didn't have a lot of security at that point."
On that tour, Anna stayed in a women's tent far from the men's tent and people she trusted.
In 2011 she deployed with an Army unit to a forward operating base in Afghanistan, where she worked with contractors and other third parties on combat communications missions. This time, her fellow airmen made sure she got a waiver providing her with a section in their tent, "so they could ensure I was protected."
Enduring lessons
In 2016, after a transitional process, Anna completed her military medical retirement for Post- Traumatic Stress Disorder (PTSD), "the invisible disability. There were a lot of things that I witnessed on those two tours that impact me to this day," she said. She also sustained painful physical injuries doing strenuous work on her 2011 deployment and was "happy to be living" after the tour.
"After experiencing the military and the training and the different jobs I went on, I realized that 'service before self' is a huge thing for me, and always understanding that there's a bigger purpose and a bigger mission besides what is happening in my life," said Anna. "Being able to serve for a certain mission that you have passion about, that is really important for me."
At TD, she added, making the mission to serve both external and internal customers the top priority helps the organization and gives it a competitive advantage. "We really put the work before anything else."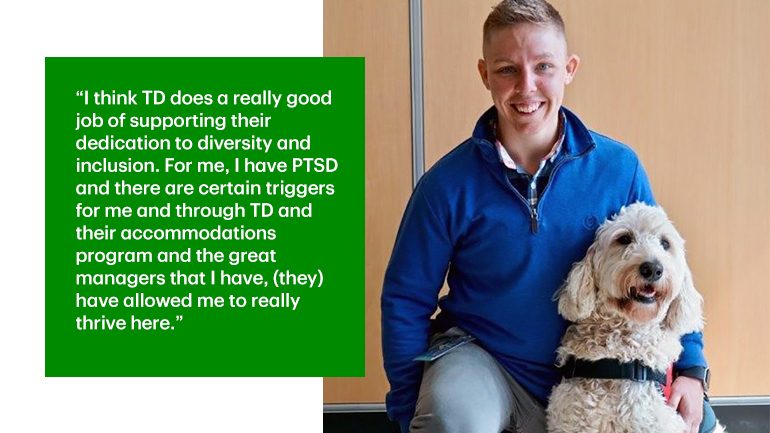 Anna joined TD as a risk officer after networking with employees at a wedding where she officiated for friends. "My attention to detail and leadership allowed me to leverage both of those key skill sets as a risk officer."
Anna credits TD for its commitment to supporting employees, including veterans and people with mental health struggles, who fall within various diversity and inclusion pillars. For Anna, that can mean allowing her to bring her service dog to work, or to change her desk position.
"I think TD does a really good job of supporting their dedication to diversity and inclusion. For me, I have PTSD and there are certain triggers for me and through TD and their accommodations program and the great managers that I have, (they) have allowed me to really thrive here."