Anthony Sasso understands the need to separate work life from his time at home with family.
During a global pandemic, it's something that leaders like Anthony and his TD colleagues have had to really focus on when working from home and in the hopes of not falling into the trap of "always being on."
But when he is on, Anthony and his team at TD Equipment Finance take pride in being the "center of excellence" for financing equipment.
It's something he's grown over the years at TD Bank with expert staff, who know the equipment finance space well in all segments including business development, credit, operations and asset management.
That expertise has become especially important in times of COVID-19, with businesses really needing to rely on TD's financing to boost cash flow.
We sat down with Sasso to get his take on the pandemic and learn a little more about this supportive leader.
You head up TD Equipment Finance (TDEF). What does your line of business do for the Bank?
The best definition would be, we are the center of excellence for equipment financing given that equipment is the only asset class we finance.
In addition to looking at the credit of our customer, we also look at the equipment we are financing, how essential it is to a client's business, is it revenue generating and what valuation does the equipment have over time? Based on those variables, we can determine what products and financing terms we can offer a client or prospect.
What sets TDEF apart?
We have, on staff, certified equipment appraisers with expertise in a variety of asset classes that provide valuations and analyze secondary markets for equipment.
Is this piece of equipment a prototype, what is its useful life, does it have a stable secondary market, or is it nonexistent? Another important element is what rights to the equipment do we have in a default situation?
A good example is software, which is licensed to the end user and you can't repossess software. In some cases, we can mitigate that risk by having rights in the lease to terminate usage in a default. So, if you're doing software in the realm of financing, you must evaluate how essential that is to the client.
Being in a business-like equipment finance provides you with exposure to a wide variety of equipment, including some uncommon or specialized types. A good example is a Putzmeister. I used to ask people if they knew what that equipment is. It's basically those trucks that pump concrete to upper floors of a building, that's a Putzmeister, and most people wouldn't have a clue what that is and why should they?
I learned that about 25 years ago because I financed one!
So, what makes us special is we understand how the technology works and become familiar with it so we can just focus on our craft of being the center of excellence for equipment financing.
Have you seen a trend of financial products from the pandemic as it pertains to equipment financing?
We've seen a few products arise as a result of COVID-19, one of them is certainly the sale lease-back.
We last saw the popularity of that product during the Great Recession in 2008.
This basically is where companies look to increase cash flow and therefore, they want to use an asset that they've already paid for in cash to refinance or sell it and then the bank leases it back to them.
We've used this product very successfully in our Large Corporate and Healthcare verticals.
We've also seen an uptick in tax leases.
A tax lease is one where TD takes the depreciation benefit from owning the equipment. That benefit is monetized and traded back to the client in the form of a lower rate which improves cash flow.
How have you seen your line of business change in recent months?
Service has certainly changed. For example, our teams had to send out invoices electronically versus mailing since many of our clients' accounts payable teams were working from home. Electronic document execution was another service which increased.
A year ago, we launched a service which allows our clients to electronically sign documents for a closing no matter where the signer is located.
There are a number of security protocols including passcodes for verification, then it's click, click, click and you're done.
During the pandemic, the electronic documents solution was a great service enhancement for many of our clients.
What are you excited about for 2021?
I'm excited that we are seeing light at the end of this pandemic tunnel as the vaccine rollout increases and things are slowly opening back up. The past year presented a lot of challenges to the business given travel restrictions and the inability to visit prospects in our national verticals. We've worked through that the best we could, but our teams will be excited when that is behind us.
I'm also excited about seeing some positive economic news which bodes well for our product. Many of our industry verticals, including trucking, have weathered the pandemic well and have come out of it strong. Many supply chains are not back at 100% which can mean additional production and increased freight distribution. That's good news for us in equipment finance.
How proud of you of your colleagues and how they were able to rally in 2020?
I am so incredibly proud of the team I lead. With all of the challenges created by COVID – working from home, childcare and elder care, health concerns – dealing with all of that did not overshadow the team's dedication to the business and our customers.
I also will call out that, in addition to their focus on our TDEF clients, many of our team members got involved with processing PPP applications, payment deferrals and other projects for the Commercial Bank.
I'm just privileged to lead a team with that can-do spirit, that sense of dedication from them. Not only focused on our own clientele, but with these projects like PPP, they got involved to support other clients of the bank.
Do you have a morning routine that starts your day?
I'm up early in the morning, make myself a cup of tea, and a few days a week, I use the exercise bike in my basement.
While I'm on the bike, I try to think of some things that come up during the day.
I think about what I want to cover in calls, what issues I need to prioritize, what I want to accomplish professionally and personally.
How do you unwind after work and on the weekends?
I try my best to separate work from home life.
One thing about the pandemic, when you're working from home, you're working almost 24/7, because your laptop is home and always on. You must figure out how to unplug.
I have two children -- a 17-year-old daughter going to college next year and 15-year-old son.
At the end of the day, I like to talk to them about their day, what's going on at school, etc. It really centers me.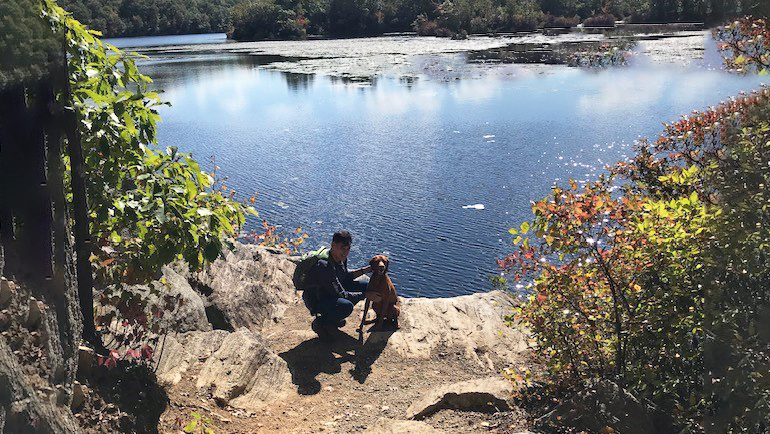 On the weekends, I try to get to the gym, but I also love nature. My family and I love to go hiking with the dog. We have some great hiking trails here in Northern NJ. It's a great way to exercise, spend quality family time and connect with nature.
What advice would you give your younger self?
I've been with the bank a long time, what keeps me at TD is the people.
The culture here is phenomenal and it appeals to my core values. There are no silos, we all work together and that is more important than anything else.
If you love what you do and enjoy working with the people you work with, that's success.
I would tell my younger self to stay the course and keep the core principals you learned early on. Those principals of working hard and respecting others that I learned from my parents and have maintained over the years. Those core values and others have brought me to where I am today.