Much like the famed drama of Broadway, there was an exciting reveal Thursday as the curtains dropped on the highly anticipated One Vanderbilt in Midtown Manhattan.
In addition to the building that has been in development for the past few years, TD's new flagship store was also revealed.
Check out a slideshow from the event below:
Andy Bregenzer, TD's Regional President for the New York Metro and Greg Braca, TD AMCB President and CEO were joined by members of the Management Committee, Senior Executives, the One Vanderbilt Store team, and a handful of close partners from SL Green Realty in an intimate outdoor gathering to celebrate the day.
"TD has been a part of the fabric of the New York City community for years, and it's no question that we're here today because of the relationships that we've forged over the last 20 years," said Bregenzer, at Thursday's big event.
One Vanderbilt is the first major property redeveloped in Midtown Manhattan in decades.
While many TD colleagues will eventually call One Vanderbilt home, today's event was more about celebrating the grand opening of our 135th store in New York City. The new Flagship Store is located on the ground floor of the One Vanderbilt skyscraper. Positioned in the city's premier business district, with unrivaled access to Grand Central Terminal, One Vanderbilt will provide unmatched convenience and accessibility to our Customers.
With today's grand opening, TD now serves more than 1.1 million customers and employs more than 2,500 colleagues in New York City with 135 stores located throughout the five boroughs.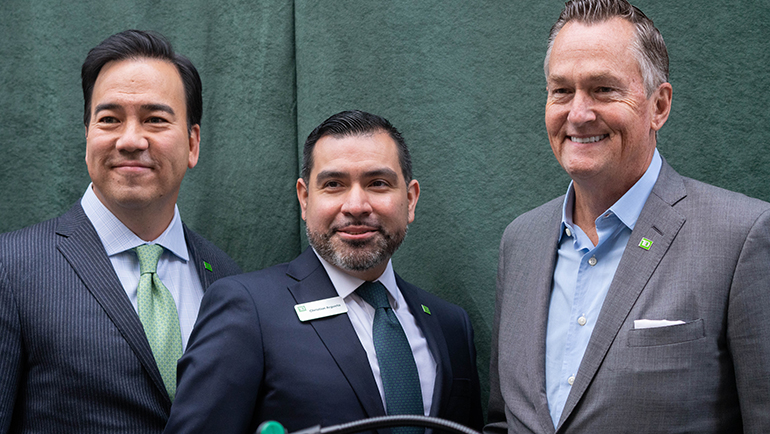 "As I look at this building it's truly remarkable. It's the largest in Midtown and the fourth tallest in the city," said Braca. "But really what makes me proud is what One Vanderbilt represents. As the economy continues to reopen, we're proud to have One Vanderbilt serve as a representation of our commitment to the city, to our customers and our communities."
This new store has many innovative features, including colleagues who are "untethered" from their desk. The benefit is that by all colleagues being equipped with tablets, they can provide advice to customers from anywhere in the Store.
There will also be over 2,700 square feet of immersive digital screens and a curated TD Art Collection at One Vanderbilt that will further exemplify Unexpectedly Human featuring artists across NYC's five boroughs.
TD's first New York City Store opened 20 years ago, shortly after 9/11.