The phrase "labor of love" might as well have been coined with the founders of Lambda Vodka in mind.
It's hard to find three better words to describe the New York company's founders, Charles Hughes and Richard Solomon, and their journey to this pivotal point in their own lives and that of their brand.
Lambda Vodka was born out of their connection to and love for the LGBTQ2+ community.
"I was at work one day and saw an advertisement for CIROC™ Vodka come across the computer screen," Charles explained. "CIROC targets the urban community. I thought to myself, 'Why doesn't the LGBTQ+ community have a spirit that targets them and is created by them directly?'"
It took the duo, who married in 2016, about a year to bring the brand from ideation to fruition, all with the assistance of a distillery down in Florida.
(RELATED: How a Loan Will Save Lives for Those Living with HIV/AIDS Amid COVID-19)
The name Lambda is also one that many in the LGBTQ2+ community know as a symbol of empowerment and hope stemming from the 1970s and activism that occurred in New York City after the Stonewall Rebellion.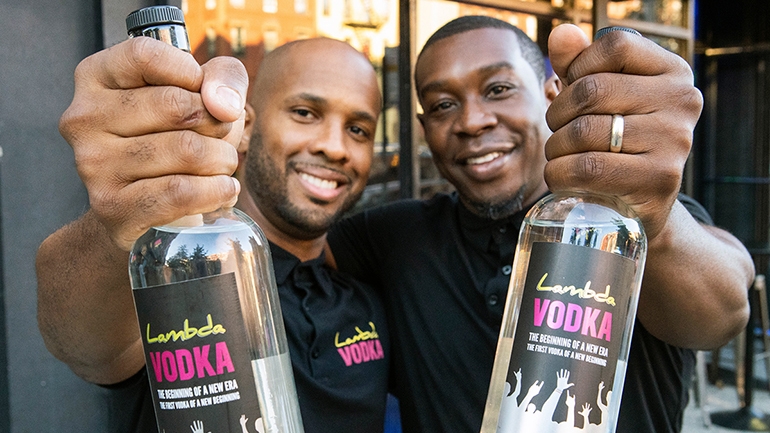 TD 'believed in our vision'

Although their vodka is selling in more than a dozen New York stores, Charles and Richard were having a difficult time getting bars and clubs to add it to their shelves. That is when the couple decided it was time to grow the brand and open a lounge in Harlem.
Richard said they went to several banks and vendors to get funding for their club… with no luck. They then turned to TD Bank.
"We met with Steve Garibell [LGBTQ2+ Business Development Officer at TD] and a local Store Manager, and that was just an amazing experience," Richard said. "They believed in our vision and pointed us in the right direction. From there, we decided all the loans and financing would go through TD."
The pair opened a small business credit card and took out a home equity line of credit to help fund their ambitions. Steven also introduced Charles and Richard to the NYC Department of Small Business Services, which helped the new business owners set up a comprehensive business plan and obtain proper licensing.
Lambda Lounge's grand opening was supposed to take place in April, but the pair could never have anticipated a city reeling at the time from the spread of COVID-19.
Richard and Charles rolled with the pandemic, recently creating outdoor seating, even adding a dining menu so that they could bring in customers during this trying time.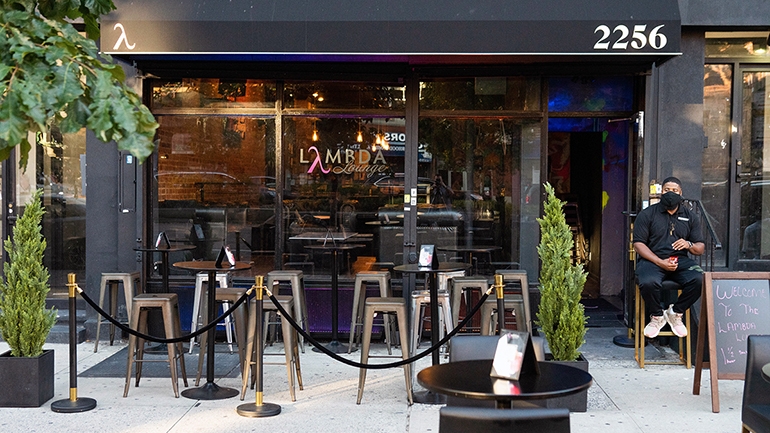 "We went from not having any experience in owning a lounge to quickly having to reinvent how we were going to gain revenue." Richard said. "COVID-19 has done this for many restaurants."

(RELATED: TD's John Patton says 'Now is the Time to Be Bold' Against Racism)
To cope with this unexpected interruption, Lambda applied for and received a small Economic Injury Disaster Loan (EIDL) through the U.S. Small Business Administration. They also started a GoFundMe fundraiser.
But as much of a shock as COVID-19 was to them, the support Lambda Lounge has received from their customer base was even more surprising.
"Drawing a crowd outside is something we try and shy away from, of course, but every time we open with outside seating, our seats are filled. We've literally had to close early when it gets too crowded for social distancing guidelines," Richard added.
"Our landlord was also amazing and basically decided not to hound us for rent, a big part of our overhead," Richard said. "Steve also sent over a number of resources and grant opportunities that have helped and we were able to get deferments on our payments with TD."
Steve Garibell said these entrepreneurs are inspirational for their community, for Harlem and for other entrepreneurs around the country.
"Starting a business carries a lot of uncertainty in any economy but it's even harder to pursue the 'American dream' with the nightmare of COVID-19 mixed in," Steven said. "There's often a sense of having to 'go it alone' when you're an entrepreneur. I feel that connections are essential, especially in the LGBTQ2+ and other diverse communities. That's why I not only spent time with Charles and Richard discussing their business plans but making sure they had other resources in the community such as the National Gay & Lesbian Chamber of Commerce."
'I'm sorry'
Not only has this couple started a business together but they also work their "day jobs" at the same company.
They admit that while they're used to sharing space together at home and at work 24/7 for more than a decade now, they have disagreements like any other couple or close co-workers.
"After we're done working from 8 a.m. to 8 p.m., we laugh and apologize and joke about some of the things that happened during the day," Charles said. "That's what keeps us going strong. At the end of the day, it's constantly 'I'm sorry, I'm sorry, I'm sorry.'"
What they aren't sorry about is working with an organization like TD, with a division dedicated to LGBTQ2+ Business Development, or pursuing their dreams.
"When we first sat down and met with Steven, we had no idea there was this department within TD," Richard said. "That solidified our decision to move forward with TD. We had been to other banks and that sealed the deal. It made us feel special. We are young black men and part of the LGBTQ+ community. We related not just on a business level, but in a personal way too."
Charles added, "We've never had that kind of customer service or that type of business relationship. Most banks get your business and never speak with you again. Steve genuinely cares about our success. Contacts he's shared and his advice have been invaluable and have simply allowed us to live our dream."
---
Return to Forever Proud. Forever Progressing.