When the pandemic hit, Maria Patokina lost her job. Although she previously worked in market research, her interactions with her company's programming department always intrigued her. Without a background in tech, Maria didn't know how to get her foot in the door to break into the tech industry.
The pandemic pushed Maria to explore training opportunities and was eventually connected with Per Scholas, a nonprofit dedicated to providing tuition-free education, career development and employer networking to people typically not as well represented in tech careers, such as women and people of color.
"I learned a lot in a short period of time with Per Scholas that prepared me with a lot of practical, hands-on experience," said Maria, now a software engineering intern at the Neuberger Berman Group, an investment management firm.
Per Scholas, a 2020 TD Ready Challenge grant winner, received nearly $577,500 to help fund an alumni upskilling program that trains previous graduates for careers in IT and cloud support, cybersecurity and software engineering. The program also helps more than 500 employer partners diversify their workforces. The programming will be provided to Per Scholas alumni in Baltimore, Greater Boston, the National Capital Region, Newark, New York, and Philadelphia.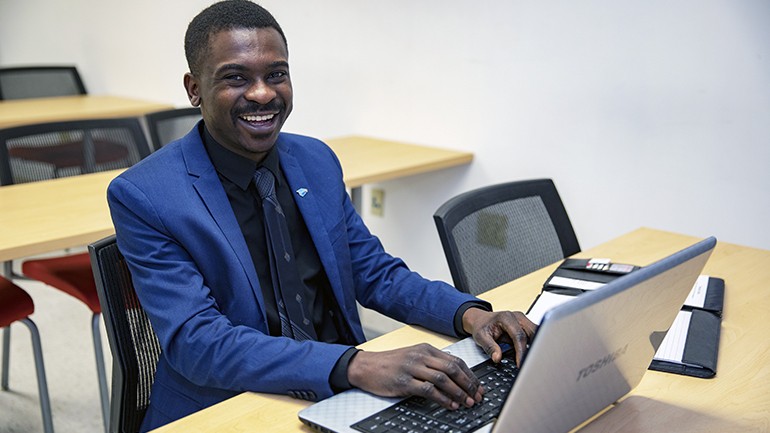 TD launched the TD Ready Commitment in 2018 to provide $775 million ($1 billion CAN) by 2030 towards community giving. As part of the TD Ready Commitment, each year, the TD Ready Challenge invites non-profit organizations to apply with grant solutions to some of the most pressing issues facing modern-day society.
In previous years, TD Ready Challenge grants were given to organizations focused on a specific, pressing issue – from increasing financial well-being to addressing health care inequalities. In 2020, COVID-19 exacerbated community needs and inequalities, and so the grant program focused on solutions helping address issues raised by the pandemic.
"One of the ways we give back is by working closely with our partners organizations to help identify the most pressing issues facing the communities we serve and funding solutions through programs like the TD Ready Challenge. We know we don't have all the answers which is why we work to identify organizations with innovative, scalable approaches to create real impact for people like Maria," said Shelley Sylva, Head of US Corporate Citizenship. "Given the seriousness of COVID-19, we felt it was absolutely critical the TD Ready Challenge support our communities by helping them overcome the new challenges brought on by the pandemic."
Critical Support During COVID-19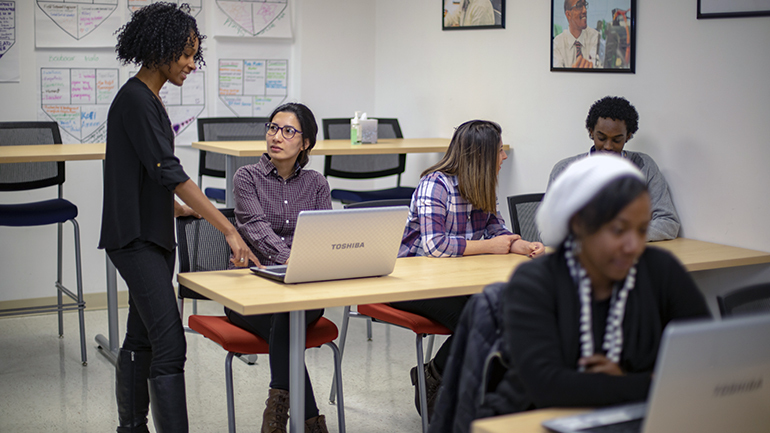 Per Scholas, launched remote training last year during the pandemic, plans to enroll more than 3,000 learners in 17 U.S. cities this year, with some in-person classes returning this month. Along with tech training, Per Scholas offers upskilling courses for alumni, teaches business skills, and provides career and financial coaching from real world professionals – including four TD Bank volunteers who helped prepare students for job interviewing.
More than 80% of students graduate Per Scholas, and those who do earn on average four times their pre-training income in their first new job. Half of the organization's 2020 graduates had switched careers into technology four months after graduation. Per Scholas graduates work at companies including Google, Barclays, Infosys, Spotify and TEKsystems.
"Per Scholas has always focused on supporting our graduates by connecting them to high-growth career opportunities that match their skills and aspirations. However, the pandemic — especially its disproportionate effect on women and communities of color — demonstrated the need for a more long-term, concerted and comprehensive effort to support our alumni, whether they are recent graduates or a few years into their careers," said Plinio Ayala, Per Scholas president and CEO.
"With our expanded alumni programming, Per Scholas provides the resources our alumni need to advance and earn thriving wages that enable them to make investments in their futures. With TD's support, we have been able to offer several no-cost alumni upskilling courses for alumni interested in expanding their skills and boosting their employability, as well as offer continued professional development and networking opportunities for our alumni," he said.
A Boost from TD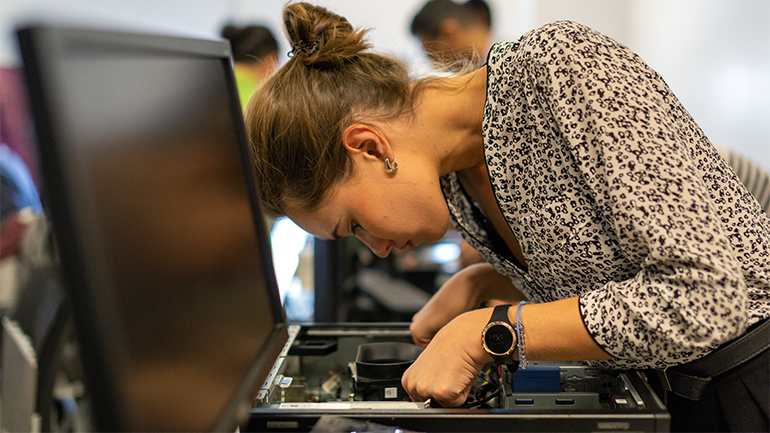 With support from TD Bank and TD Ready Challenge, Per Scholas has enrolled 174 alumni in upskilling opportunities across six markets so far in 2021, according to Ayala. "Half are on track to earn an additional industry-recognized credential and half will achieve a wage increase of 10 percent or more by one year after their initial job placement, and achieve a thriving wage two years post-graduation," he noted.
The organization is adding new upskilling courses this year, launching an alumni portal for ongoing career development, including mentor matching and a job board, and working on a new alumni leadership academy.
Maria didn't have a job waiting when she graduated from Per Scholas New York's software engineering program this year, so she decided to use the time to keep learning and enrolled in the organization's alumni training to gain a Google Python certification.
"The Python certification helped a lot in several ways," she said. "Taking this certification course helped me better understand general coding principles and other languages, like Javascript." After adding the new certification to her resume, she became a standout candidate in her job search and ultimately helped her secure a technology role.
"Per Scholas gave me a lot of confidence and I think this career in software engineering is going to be much more rewarding than what I was doing before," she said. "There are a lot of jobs and opportunities in the tech industry."
Maria's journey represents the broader success Per Scholas has achieved in helping its students flourish.
"For more than 25 years, Per Scholas has been committed to advancing economic opportunity by providing free, rigorous IT tech training and connecting our graduates to high-growth technology careers," Ayala said.
"Our approach is proven and has an incredible return on investment -- for every dollar we receive, we return 8 dollars back to local economies and communities. When you consider the many ways you can make a difference, consider supporting proven programs, like ours, where dollars go further."
Want to learn more about Our Communities?