Kelley Gelinas' journey with the Special Olympics has taken her from volunteering at a fundraising event on a freezing New Hampshire beach one February nearly 25 years ago to the heat of Orlando, Florida, at the Special Olympics USA Games this summer.
This journey has given Kelley, TD Bank's Regional Sponsorship Manager for Maine and New Hampshire, a lot of joy over the years and experiences she wouldn't trade for anything in the world. What began to volunteer at a previous employer is now a personal passion for Kelley as her grandson is a member of the Special Olympics New Hampshire (SONH) team.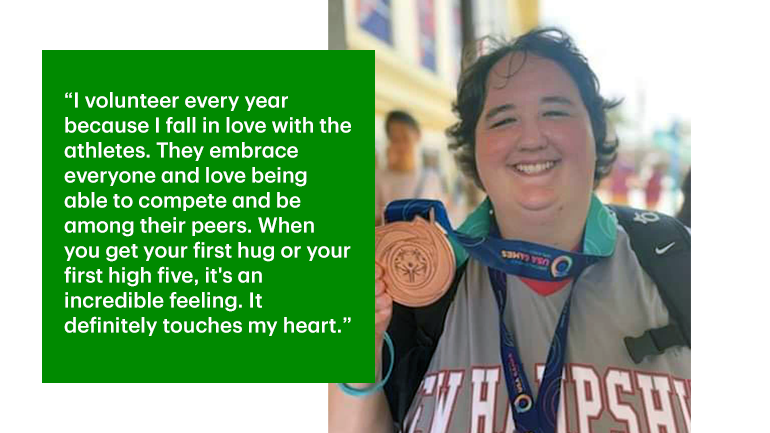 "I volunteer every year because I fall in love with the athletes," she said. "They embrace everyone and love being able to compete and be among their peers. When you get your first hug or your first high five, it's an incredible feeling. It definitely touches my heart."
Kelley has been a volunteer and a coach with the Special Olympics since 1995 and has served on the board of directors of SONH for 12 years. This year, she attended the Special Olympics USA Games as a chaperone for SONH, which certainly provided memories of a lifetime as her primary role was to escort the first two transgender athletes to ever compete in the national event.
This event is held once every four years in the United States, offering athletes the opportunity to compete in summer sports. More than 5,500 athletes and coaches from all 50 states and the Caribbean attended the games, along with 20,000 volunteers and 125,000 spectators. The SONH team had 87 athletes and 26 coaches/volunteers at the Orlando event in June.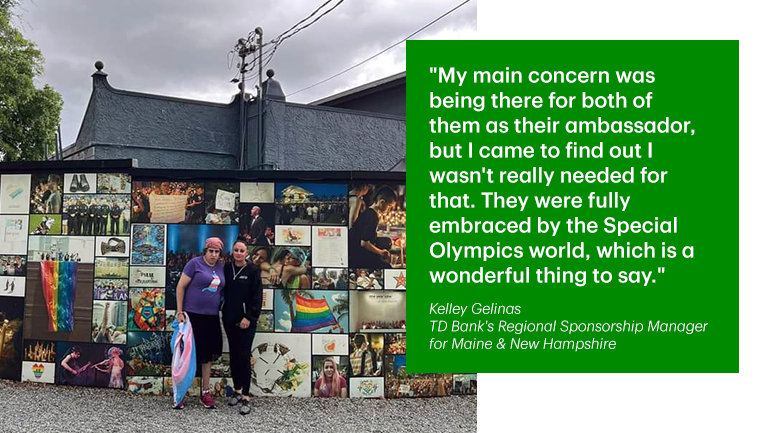 Everyone is fully embraced
While all Special Olympics events are co-ed competitions, Kelley did have some concerns for the transgender athletes given the unique challenges they faced as the first ones to compete at a national Special Olympics event.
"My main concern was being there for both of them as their ambassador," she said. "But I came to find out I wasn't really needed for that. They were fully embraced by the Special Olympics world, which is a wonderful thing to say."
Gabrielle Hall, one of the athletes whom Kelley accompanied, can't say enough good things about her participation in the Special Olympics and her experience in Orlando.
"I am proud of the person I am and the journey that I am on," Gabrielle said. "I'm glad I was able to represent SONH at this year's USA Games in Florida. I competed in Ten Pin Bowling and brought home a silver medal in singles competition and bronze in doubles."
Kelley's responsibilities at the USA games included simple things such as coordinating rides for the SONH teams competing off-site, making sure the athletes were hydrated and wearing sunscreen. But most special was helping arrange for Gabrielle and a SONH volunteer to visit the Pulse Memorial to honor the 49 people who were killed at the LGBTQ nightclub by a gunman in 2016.
It's that thoughtfulness and sensitivity that makes SONH President and CEO Mary Conroy so grateful for Kelley's relationship with Special Olympics New Hampshire.
"Kelley has always been a leader within our organization," according to Mary. "She stepped up to run the board at a difficult point in our history. Her support and leadership have made us a better organization. She is such a naturally caring person that she has developed long-standing friendships with many of our athletes. Inclusion is at the core of everything we do at SONH and Kelley was instrumental in our adoption of a transgender policy."
Just try it once
Back in 1997, Kelley had been a volunteer with SONH for two years when she was asked to join the committee for the first Penguin Plunge in February where people would take a dip in the ocean to raise funds for the program.
"I laugh up to this day because I was the naysayer on that committee," she said. "I kept saying, who's going to want raise money to jump into the Atlantic Ocean in February? We set a goal of $35,000 and we raised over $88,000 that first year. I would encourage people who may be interested in volunteering with Special Olympics to just try it once. There's nothing like it."