Jung-Suk Ryu believes artists with disabilities are often working on the fringes of the art world.
Ryu is the President and Chief Executive Officer of the National accessArts Centre (NaAC) in Calgary, Canada's oldest and largest disability arts organization, and has seen artists with disabilities face countless hurdles in their efforts to chase their dreams in the arts and culture world.
For many artists, those hurdles include the unbending structures around arts training and education, societal perceptions, and overall lack of tools and resources for students with physical or sensory disabilities. For others, many challenges can be tied back to the lack of resources available in underserved communities, to which many artists with disabilities belong.
"The fundamental barrier that exists is that our arts and culture ecosystem is inherently inaccessible," Ryu said. "These barriers often prevent artists with disabilities from being able to truly explore their own creative talents, and to then showcase them in publicly relevant and responsive ways."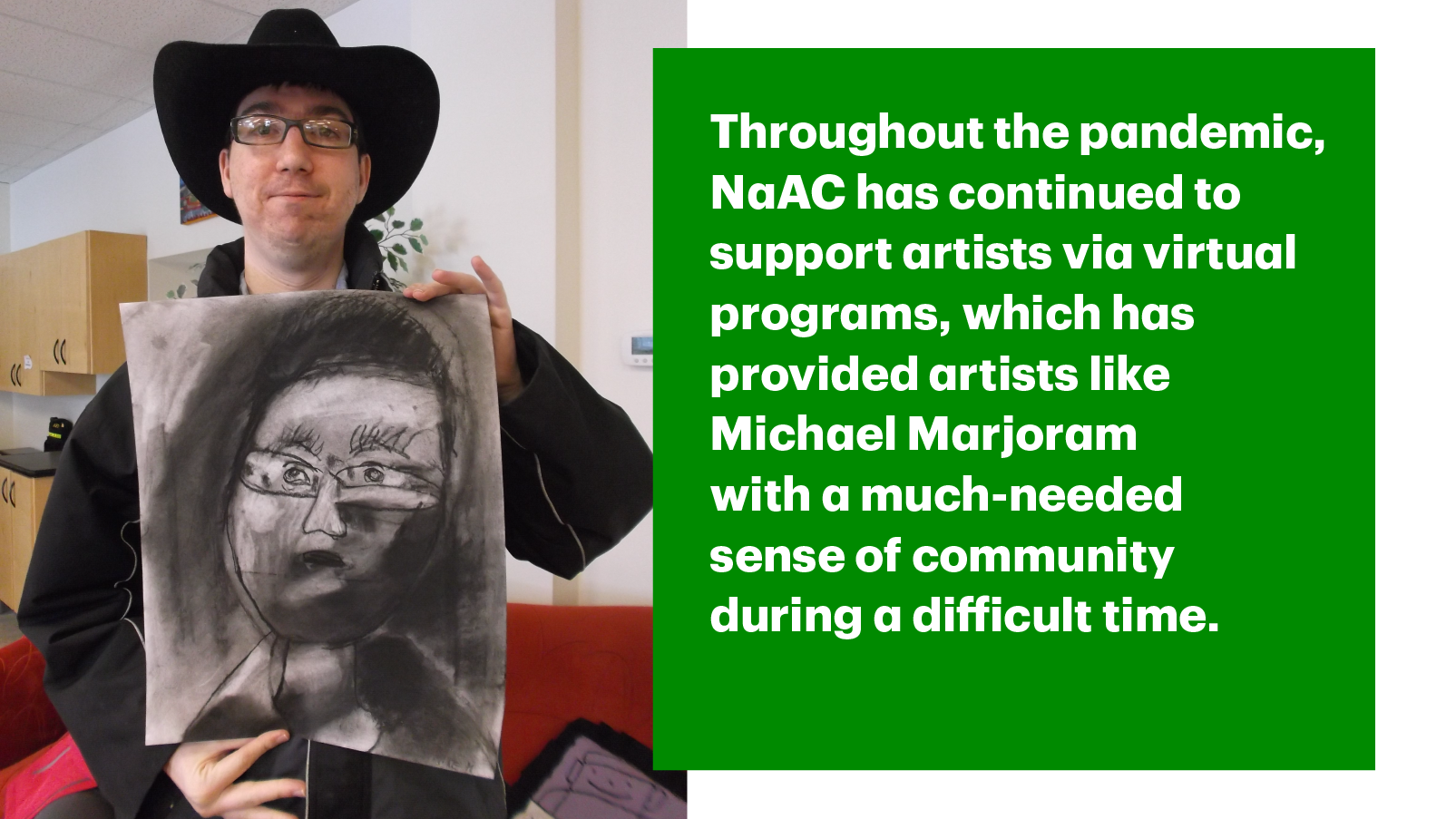 Supporting artists living with development and/or physical disabilities
In 2020, the NaAC became the country's first multidisciplinary disability arts organization supporting artists living with developmental and/or physical disabilities.
NaAC's programs include studio supports and in-person workshops in addition to immersive online programs to help support an even broader community of Canadian artists with disabilities.
Through the TD Ready Commitment – the Bank's global corporate citizenship platform – TD recently committed $300,000 to NaAC over the next three years. The funding will go directly towards multi-disciplinary programs for more than 350 Canadian artists living with disabilities.
Due to the new funding, the NaAC will now be able to expand its offerings. For example, the organization was looking to take on new requests for public art commissions and exhibitions, with the goal of promoting artists with disabilities and their work.
Now, with this funding, NaAC will be able to meet the industry standards required for these new opportunities, such as providing a salary to help close the pay gap for artists with disabilities.
For students like Michael Marjoram, NaAC has helped him start his journey as a visual artist. Marjoram first participated in the visual art self-directed residency program and has since participated in several workshops.
"Before, I was mostly painting and drawing, but by accessing the NaAC visual arts space I've discovered my love of cross-stitching," Marjoram said.
"I also hope to explore other visual arts mediums when I return to the studio," he shares.
Throughout the pandemic, NaAC has continued to support artists via virtual programs, which has provided artists like Marjoram with a much-needed sense of community during a difficult time.
"I like the Zoom sessions because they are interesting and connect me to my fellow artists," he said.
"I like to listen to others and be inspired while I draw."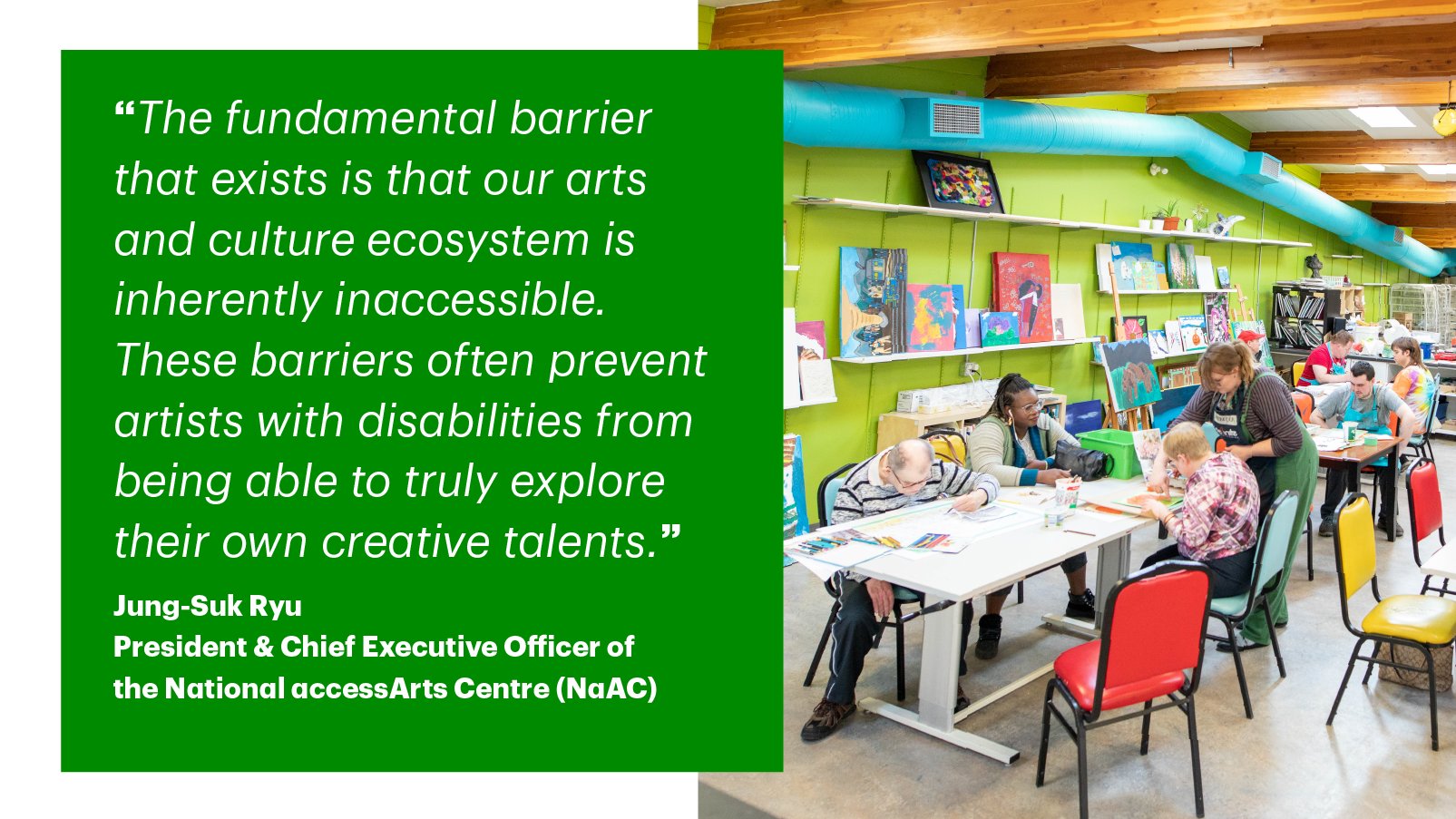 Providing a 'vital' service to the community
Though COVID-19 has made many things unclear, one unmistakable truth has emerged for the NaAc, says Ryu.
"We are an essential, vital service to our community," he said.
"Our programs continue to bring the most vulnerable and marginalized in our communities together through the power of art. And we are giving our artists a sense of purpose during this endless period of isolation."
Over the past few weeks, work created by artists associated with the NaAC has been displayed in a number of international settings such as in Glasgow at the 2021 United Nations Climate Change Conference (COP26); at a collaborative exhibition in Seoul, South Korea; as well as an exhibition at the highly acclaimed Prince Takamado Gallery inside the Embassy of Canada in Tokyo, Japan.
One of the NaAC's artists, Andrew Harding, recently presented one of his pieces to the Embassy of Canada in Korea. The untitled piece portrays his reflection of the traditional Korean form of visual arts known as sumug, something which is even more remarkable because of the artist's vision impairment.
"We are pushing our artists' works into the mainstream in truly innovative, exciting, and relevant ways, and are excited to do more," Ryu said. "Our artists deserve nothing less."
December 3 is International Day of Persons with Disabilities (IDPWD), a time to promote an understanding of disability issues, break down barriers to inclusion and advocate for the rights of people with disabilities. This year's United Nations' theme is "leadership and participation of persons with disabilities toward an inclusive, accessible and sustainable post-COVID-19 world."