Money Matters Monday celebrates this Women's History month by looking at topics that are relevant to women.
Single parenthood can be hard, especially for solo moms and dads carrying full financial responsibility for their children and households. Parents working to pay bills and make ends meet on their own may feel overwhelmed and unable to see a brighter financial future, especially if saddled with debt.
Single parents, however, can indeed pay down debt, build a nest egg and plan for college, retirement and other needs and goals, although the process may take a while.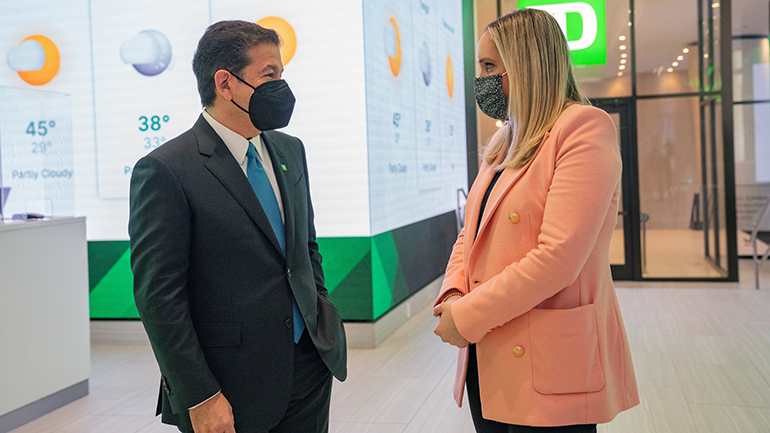 Amber Lutz, a TD Bank senior corporate communications manager, Executive Communications, has experienced the challenges firsthand and can offer tips for other moms and dads aiming to improve their money picture.
Amber was a single mom for three years before finding a new partner who helps in raising her daughter. Her divorce dealt a heavy financial blow, forcing her to rebuild. While family support helped Amber as she dug out of debt and restored her financial stability, she says she would have eventually achieved the same result on her own by following several key steps.
Here's a look at Amber's advice for building a healthy financial life.
Designate a Beneficiary
If you're recently divorced, check whom you've designated as the beneficiary on your bank and retirement accounts, remove anyone who shouldn't be there anymore and make sure your assets will go to your child or children, even if they're minors.
You may want to consult with an estate planning attorney to help you plan for your children to legally inherit your assets.
Get Covered
An accident or illness could diminish or destroy your ability to earn a living, threatening your family's current and future security. Your premature death also could undermine your child's financial wellbeing. That's why planning is vital.
Purchasing adequate life and disability insurance can help protect you and your family. Your will should specify who would take care of your children and keep them safe should something happen to you.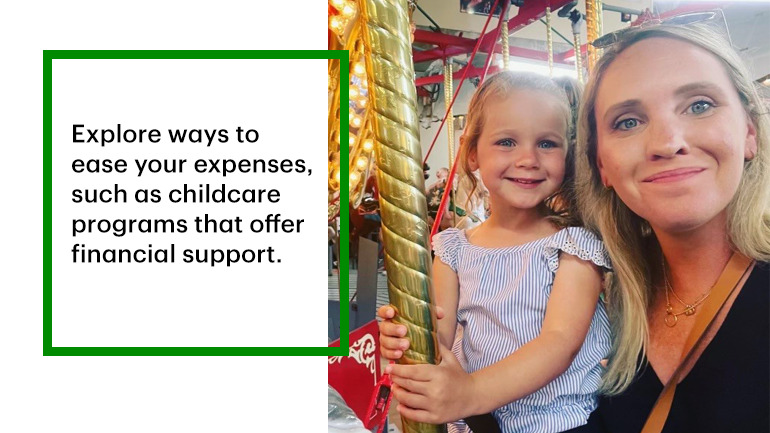 Build a Solid Foundation
It's important to establish a solid financial foundation, starting with a budgeting plan covering all your income and expenses.
Examine exactly where your money's going. Many mobile apps for budgeting are now available, although a standard Excel spreadsheet works, too. Include flexible costs like groceries and clothes in the budget, as well as recurring debt payments and deposits to savings and investing accounts.
Explore ways to ease your expenses, such as childcare programs that offer financial support or an employer's Flexible Spending Account that allows you to use tax-free income to pay for daycare.
You also need to start saving for emergencies, ensuring you have at least six months' take-home pay socked away. Consider making recurring payments from checking to savings account. The goal is financial freedom.
If you're carrying debt, pay off your high-interest credit cards and loans first; anything higher than 10% lands in the high-interest arena.
Set Goals
Once you've established your budget and financial foundation, start setting longer term goals, including figuring out how you'll manage your kids' college expenses and your own retirement.
Amber, has set a goal of paying for her daughter's higher education. She makes a payment into her daughter's high-yield savings account weekly and adds any gift money the child receives. Parents also might consider 529 college savings accounts, she notes.
As for retirement, try to regularly contribute to a 401(k) or other retirement account. If your employer matches your contributions, you should try to contribute to the highest level if possible. Otherwise, you are leaving "free" money on the table.
In addition to building a healthy financial picture, taking these steps will serve another important function – modeling good habits for your children. Take those good money habits you're learning and doing and teach them to your children.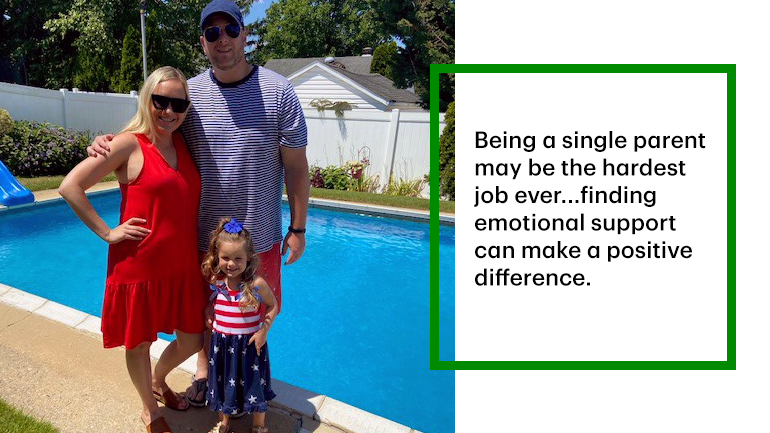 Get Support
Being a single parent may be the hardest job ever. Moms and dads can feel exhausted and alone as they navigate parenthood and finances, often juggling career, cooking, playing, laundry, and housekeeping on their own. Finding emotional support can make a positive difference.
Having a network of helpers is very important, and there are people out there who can help you. Online communities on Facebook and LinkedIn can help answer questions, and people in your family, friends and colleagues may be able to help as well. Consider finding reliable helpers as assembling your own board of directors. For Amber, her personal board of directors consists of her mom, best friend, mentors, and colleagues.
The journey, however, isn't just about amassing enormous wealth. It's about making sure you have control over your finances so that you can make it easier to plan for your future and feel financially secure.
For more on personal finance topics
If you have more questions about other personal finance topics that matter to you, visit the Learning Center on TD Bank's website.
We hope you found this helpful. Our content is not intended to provide legal, tax, investment, or financial advice or to indicate that a particular TD Bank product or service is available or appropriate for you or your circumstances. For specific advice about your unique circumstances, consider speaking with a qualified legal or tax professional.
Want to learn more about Money Matters Monday?