Driving visibility for Valo, the 2023 TD Beach to Beacon 10K Race Beneficiary.
Being unplugged was amazing.
That is one of the most important lessons that Fiona Chace-Donahue learned as a teen when she participated in the early Valo retreats from 2013-2015. Today, Fiona is on the board of the Yarmouth, Maine organization that guides teens to cultivate emotional wellbeing through meaningful conversations and other connecting activities during retreats and school programs.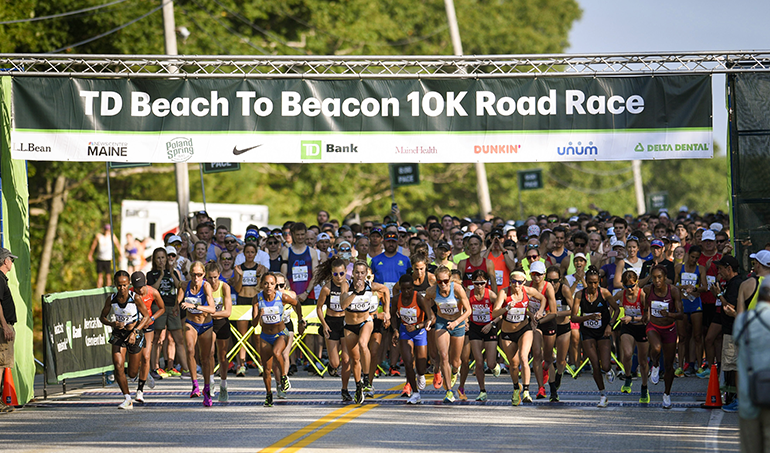 Each year, TD receives applications from non-profits across the State of Maine hoping to be the annual TD Beach to Beacon 10K (TDB2B) Race Beneficiary. The non-profit must be Maine-based and primarily focused on serving the youth of the state. This year, Valo was selected to be the 2023 beneficiary of the 25th running of the race which will be held on August 5, 2023.
In addition to a $30,000 donation from TD Bank, the race beneficiary receives registration bibs, donations from runners, public relations support, and other opportunities to support their efforts to fundraise and drive visibility for their organization. You can learn more about the TDB2B and Valo from a News Center Maine report. Through TDB2B, Valo is on track to raise over $100,000 to support their mission and the programs they host for teens.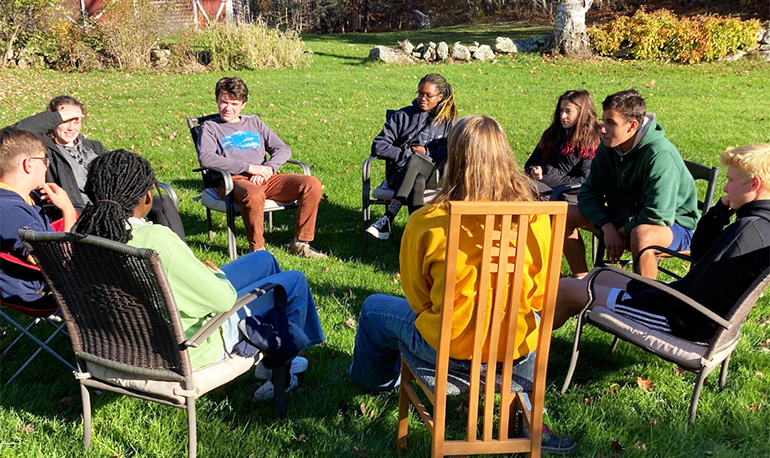 Valo creates a space where teens come together to hone tools that support their emotional wellbeing, while forging meaningful connections through conversations, journaling, outdoor fun, cooking, creating, sharing meals, and many other activities. Participants remain unplugged throughout the duration of Valo retreats.
"At first, I wasn't sure but was still open to it (not using a cell phone) and it was so good for me and the group," Fiona said. "My group decided to put our phones in a basket for the weekend and only check them when we really felt we needed to and at the end of the weekend, none of us actually wanted our phones back. It was such a rare and different opportunity to connect with each other and dig into our creativity without thinking 'Oh what about that text or Instagram notification?'"
The organization's retreat participants come from a cross-section of communities in Maine. While weekend retreat participants do not pay to attend, Valo relies on donations from individual donors, businesses, and foundations to run the program. Valo's school-based programs are funded by the schools, with some costs being offset by grant money. Valo currently aims to serve 1,000 young people each year.
Valo's mission is even more important in post-COVID era
The benefits of the program for teens are not limited to just the individuals. Seeing how their children used the lessons learned in their lives from the programs was an immeasurable gift for parents of participants.
Jonathan Werner, whose three children have been active in Valo programs, knows firsthand the amazing impact. He has insight into the role of technology use and teens due to his work with the Maine Department of Education's Learning Through Technology team.
"Valo provides participants with a real grounding in the importance of mindfulness and in ways to find a kind of centeredness that supports them," he said. "This intentionality allows teens to connect to the people around them much more meaningfully. I remain amazed at how artfully Valo nurtures this work without teens feeling chastised or lectured to about their tech use."
Since the time that Fiona participated, the concept of being unplugged has taken on more importance, particularly since the COVID pandemic when in-person socialization was significantly restricted and the mental health crisis among teens has soared, according to Dana Anderson, Valo's executive director and founder.
"Part of social media is that young people are drowning in everything that's going on," she explained. "There is an isolation that they experienced during COVID and the residual effects. Our focus really is on helping these young people cultivate their emotional wellbeing through connection. On Valo retreats, we look to give youth a sense of belonging in a group to feel a centeredness in themselves. They tell us how good it feels to be seen and understood by others, creating deep connection many haven't experienced, especially during the pandemic."
A participant on one of Valo's recent retreats this spring was an 18-year-old who was grateful for the chance to be unplugged.
"I hope to become a better person through making connections with others and myself," the participant said. "Definitely the most challenging part is the vulnerability. Though it is the most powerful part, becoming vulnerable is hard because you must be honest with yourself and willing to share. It is breaking down what people think about you and what you think about yourself. But talking allows me to get a deeper understanding."
The TD connection
TD Bank, Maine Market President Larry Wold met Dana when she was a teacher who taught his children. He will be eternally grateful for the help she provided his children as they endured a personal family tragedy.
"When you find an organization like Valo that has demonstrated a real deep, meaningful connection with young people in our community, they just deserve our support for providing something we all know is critical, but don't necessarily all have the skills or the resources to provide to them," he said "If young people are fortunate enough to have strong family support, they can get a lot of it from their families, but there's elements of support that they need from peers and other adults. Valo has been meeting that need for them quite successfully. It's an easy connection to make as to why TD would help support an organization."
Larry is a legacy participant, having run in the previous 24 TD Beach to Beacon races, and he will run again this year. Earlier this month, Larry and Joan Benoit Samuelson (Olympic Gold Medalist and race founder) joined Dana and teens from Valo for a training talk at Fort Williams on how exercise plays into your mental health. TD has also connected with local high school track teams and provided students with complimentary racing bibs. About 30 high school runners will receive free access to the race through TD's sponsorship this year.
Dana and others at Valo are very grateful for TD's support through the TDB2B race.
"It's incredibly validating that TD recognizes the importance of supporting not only the physical health of young people, but in our case and most importantly their emotional wellbeing," she said. "It's just such a tribute to the values of their company that we feel incredibly blessed. Young people need a sense of belonging and to be seen. TD naming Valo as a beneficiary of the race this year is their way of validating, of giving us a sense of belonging and of seeing the value of our work."


Want to learn more about Our Communities?