March is Women's History Month — a moment we take a step back to see how far we've come, and where we still have to go, especially regarding progress in the workplace. A long-time essential protective factor for women at work has been mentorship, with innumerable benefits.
Forbes reports that 87% of mentees and even their mentors themselves feel empowered by the relationship, and more confident in the workplace. Yet there are discrepancies in how many women are actually gaining access to mentorship — one survey showed 63% of women have never had a mentor, even though 56% of organizations have a formal mentorship program.
Women leaders at TD Bank have seen first-hand the power of mentorship, benefitting from the knowledge and collaboration of a woman who has walked the path before them. Here's what three of them have to say about why you should invest your time and attention into a mentorship relationship.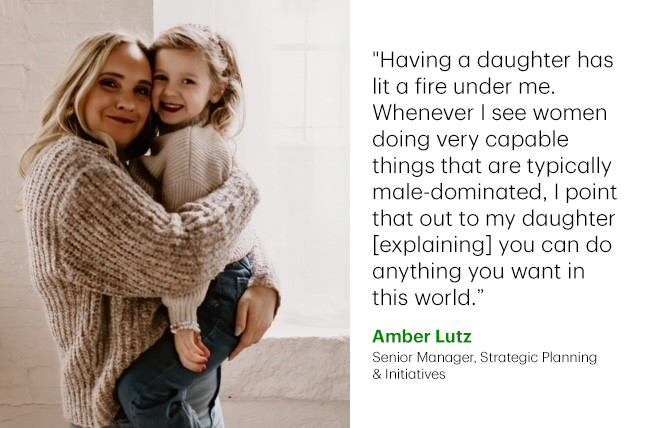 Amber Lutz, Senior Manager, Strategic Planning & Initiatives
Amber has always been fascinated by empowered women throughout history and in the present to influence her own career decisions. It became even more important when she became a mother to a daughter.
"Having a daughter has lit a fire under me. Whenever I see women doing very capable things that are typically male-dominated, I point that out to my daughter [explaining] you can do anything you want in this world," she said. In her own career, mentorship is an essential element in reaching success, along with a village of supporters that include her parents, friends, colleagues, leaders at TD and more.
One of those leaders is Diane Callan, Head of U.S. Compliance – Fair & Responsible Banking, CRA Program and Compliance Regulatory Change Office, her mentor who she credits with helping her stay committed to her goals.
"Diane pushes me to keep going," Amber said. "She is a great listener and motivator. She reminds me of how hard I've worked and continues to remind me to be my authentic, real self. She advocates for me and pushes me to speak up and ask for the things I want and deserve in my career and life."
One of the most meaningful conversations regarding her career took place with her first mentor, a college professor. The message means as much to Amber today as when she first heard those impactful words.
Her mentor told Amber that "'you can really be someone and make it. It made me feel that I could have a successful career and be a leader." That was the first time anyone ever motivated or supported Amber outside of her parents.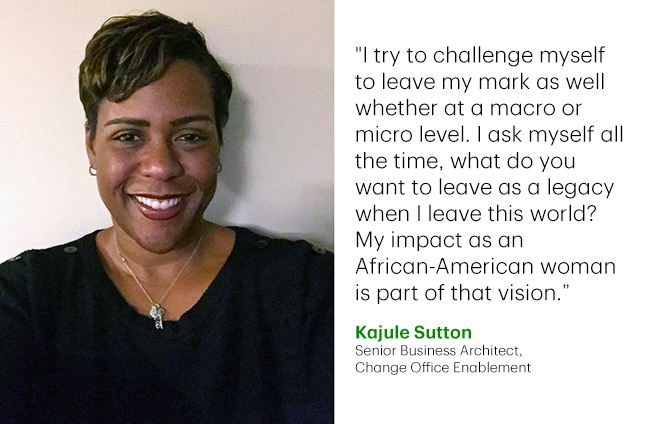 Kajule Sutton, Senior Business Architect, Change Office Enablement
Some mentors last a lifetime, such as Kajule's, who she met 20 years ago, when she was a recruiter visiting Kajule's college. She's still in her corner, she says. "Not only has she helped me shape who I am today but she has provided tools for me to navigate through my career. She has become so important to me that usually when I am struggling with a decision or even how to approach a problem, she is the first person I turn to."
She gives back by always trying to have one or two mentees in each position she's had. She learns quite a bit herself from interacting with mentees, creating a two-way, mutually beneficial relationship.
She's on a mission to leave a legacy, through these mentorship relationships, and inspired by Women's History Month. " I try to challenge myself to leave my mark as well whether at a macro or micro level. I ask myself all the time, what do you want to leave as a legacy when I leave this world? My impact as an African-American woman is part of that vision," she says.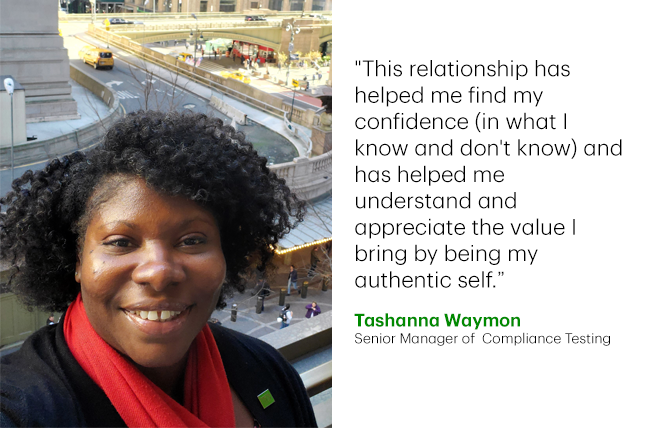 Tashanna Waymon, Senior Manager of Compliance Testing
Some mentorships fall in our laps, and others are the result of pursuing the relationship intentionally. Tashanna sought out her mentor after being inspired by her "executive presence" at a networking event. "I purposely attended the event to meet her, and establish a rapport," she says. "When I made the request for mentorship, I was specific about wanting to work on my leadership skills and presence, why I wanted to work with her, and I suggested a tentative schedule of how frequently we could meet." It worked, and has developed into a safe space for "real talk" she says, where she can overcome self-doubt and practice new skills.
"This relationship has helped me find my confidence (in what I know and don't know) and has helped me understand and appreciate the value I bring by being my authentic self," she adds, describing mentorship as a lot like holding up a mirror, to help you see the root challenges.
For her, Women's History Month is a time to reflect on not only how she mentors others, but also the sacrifices of women who have come before her.
Tips for a meaningful mentorship
If you are considering finding a mentor, or mentoring someone yourself, our three leaders have a few tips for you.
Consider your goals
If you need specific career advice within your area or path, choose someone else in that same path. Otherwise, you might benefit from someone outside your field, if you are looking for more mindset development, or to broaden your understanding and introspection.
Do your research
Learn about your potential mentor before approaching them, to ensure it's a fit, and to show your intentionality in choosing them. Don't give up if the first person says no, as they might just not have enough time. Head on to the next potential mentor.
Create space for open dialogue
For a mentor to be a fit, both people need to intentionally create a meaningful and genuine environment for open and honest dialogue. Establish a rapport with your mentor to ensure this happens, and remember, it's okay to shop around for a new mentor if it's simply not a fit.