It takes a strong person to take one of the most difficult experiences and use it as a building block for a better life. It takes even more to use that experience to help countless others also transform their lives.
That is exactly what Donnell Wright has done with the founding of the InnerVizion Empowerment and Consulting Center, a non-profit organization in Springfield Massachusetts, that helps former prisoners successfully reintegrate into their communities so they can live productive and meaningful lives. InnerVizion is a TD Bank small business customer.
Starting Over
After being released from prison as a first-time non-violent drug offender, Donnell was eager to restart his life. But he wasn't prepared for the way society treats former prisoners.
"The first thing that a lot of people run into is employment issues," he said. "When they get out, they don't have a driver's license anymore."
Donnell quickly discovered that a felony conviction is something he would have to live with for the rest of his life. "Once a criminal, always a criminal," he said about the stigma. In addition to dealing with discrimination, many former prisoners are released without any money, no place to stay, with debt that has accumulated over the years, and no credit history.
Faced with the difficult challenges of starting over and few resources to help them, many former prisoners fall back into illegal activity and end up back in prison.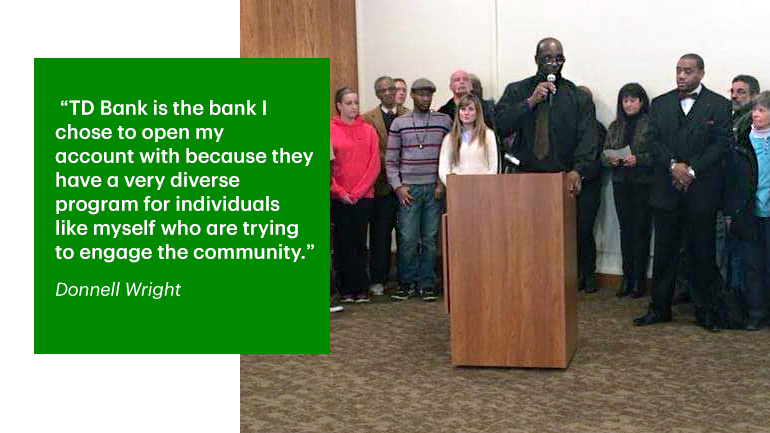 The Birth of InnerVizion
Donnell believed that the current system did little to help former prisoners. He knew that many of them wanted to rejoin society as law-abiding citizens, but the deck was stacked against them. What they needed, he believed, was the right resources to help them.
Believing that no one else would help these people, Donnell decided to take action. With a strong desire to do something about the recidivism rate, he started InnerVizion, in 2020. The organization is dedicated to helping former prisoners turn their lives around.
Although InnerVizion now relies on donations and grants, Donnell funded everything himself in that first year as the COVID pandemic was impacting practically every aspect of the economy. As a startup during a pandemic, he didn't have any choice.
InnerVizion recently began working with TD Bank as a small business customer.
"Donnell was encouraged by TD's community initiatives and involvement," said Afia Joti, a TD Bank store manager in Allston, Massachusetts. "He genuinely believed TD cares because of the level of care and encouragement he received from us in the store when he visited and spoke about his program".
Transforming Lives
Each person that InnerVizion works with goes through a structured program to help them develop the skills they will need to reenter society. Participants work on internal conflict resolution, learn how to communicate effectively and build better relationships, and learn new career skills. They are then placed in jobs.
InnerVizion also addresses spiritual matters, which is something that other programs don't do. Donnell believes this is the key to its success. "I believe that's the most important part of the program," he said of InnerVizion's spiritual counseling, "because most of these individuals are suffering from a spiritual disease."
To say that InnerVizion has achieved its goals would be an understatement. It currently has a remarkable 100% success rate. "I don't know of anyone that I have personally dealt with in the program that has gone back to prison," Donnell said.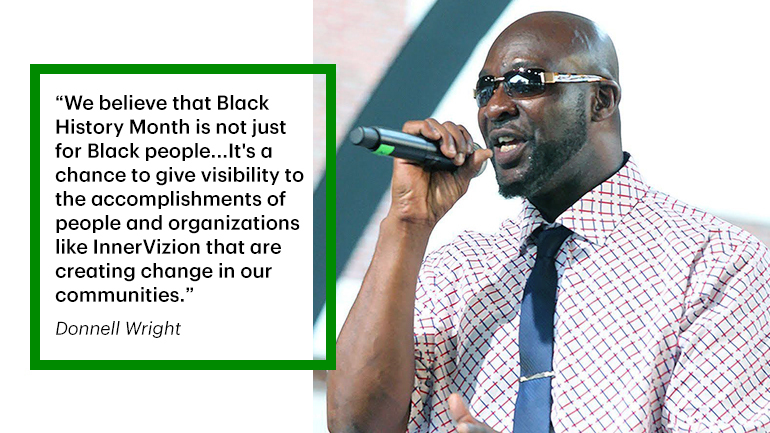 A Commitment to Diversity
InnerVizion believes that diversity is important in the community it serves, and it's one of the reasons why Donnell chose to partner with TD Bank.
"TD Bank is the bank I chose to open my account with because they have a very diverse program for individuals like myself who are trying to engage the community," he said.
InnerVizion's commitment to diversity also extends to their celebration of Black History Month. "We believe that Black History Month is not just for Black people," Donnell said. "Yes, it acknowledges how Blackness permeates all aspects of our society, but it's also a celebration of non-binary, trans, and disabled folks. It's a chance to give visibility to the accomplishments of people and organizations like InnerVizion that are creating change in our communities."
There is a great need for the work that InnerVizion is doing, and Donnell knows he is just getting started. With plans for the future already in place, it will be exciting to see its impact going forward.