Housing costs in America are less affordable today than at any time in over a century – and are unlikely to improve anytime soon. In 2020, 30% of all households had "unaffordable" rent or mortgage payments, defined as exceeding 30% of monthly household income, according to Harvard University's annual State of the Nation's Housing report. This trend is seen in all 50 states.
This is why it's even more important to stand behind organizations that are making inroads in affordable housing. Housing for Everyone is the TD Charitable Foundation's annual competition providing grants to nonprofits across the US for affordable housing initiatives. Since 2005, we've provided a total of over $42 million to winning organizations.
Each year's theme takes into consideration the most pressing housing needs in the communities we serve. Our 2022 competition focused on supporting and building capacity for resident services for affordable housing providers.
As we await next week's announcement of our 2023 Housing for Everyone winners, we thought we'd check in with three of our 2022 winners.
Here's what they told us.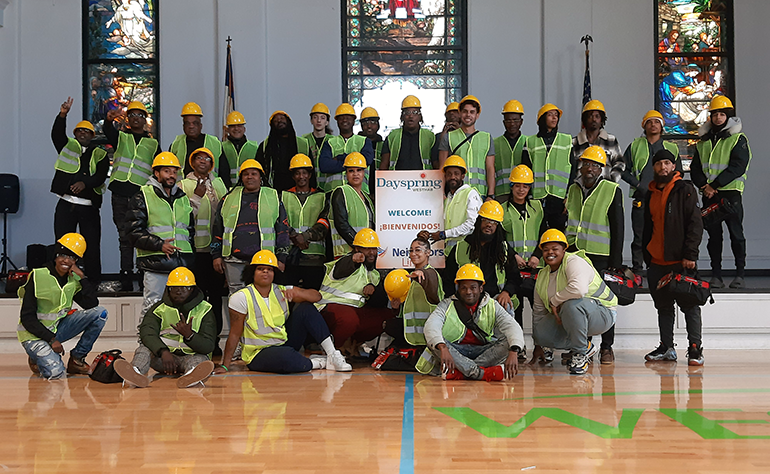 Westhab – Yonkers, New York
Founded in 1981 to address the affordable housing crisis, Westhab delivers both affordable housing and a wide range of supportive services fundamental to housing security to help the underserved. Grant funds were used to create its Dayspring Back to Work job readiness program in Yonkers' Nodine Hill neighborhood – an area burdened with high rates of poverty and violent crime.
Employment is a critical step in gaining independence and achieving housing stability. For returning citizens, maintaining good, steady employment can be a roadblock. Dayspring Back to Work addresses this need by introducing returning citizens to opportunities in construction.
"We chose construction because it is a very welcoming industry. People who are reentering society and need a second chance tend to face less discrimination," said Emily Behan, Vice President of Development at Westhab.
"We're also trying to bring in more women because construction is a male-dominated field.
Dayspring Back to Work is a part of Westhab's resident services programming and prepares participants for job placement by teaching them a host of skills – from technical skills in the specialty of their choice, to interviewing, to conflict resolution. Case managers are there to provide a helping hand through each phase of the program.
"They make sure they have transportation and the basic things they will need to start working onsite, like a hardhat, goggles, or a reflective vest. Employers don't always provide these things," Emily said.
She notes how Housing for Everyone helped Westhab fastrack the popular program.
"We learned about our award early last year, and the center opened up this past summer. To date, we've helped 70 returning citizens, and our goal is to serve 120. We're completely on track."
"Things may have seemed ominous before, but then they show us their first paycheck. I hear stories of someone who got their first job, or their first car. Their successes bring us so much joy."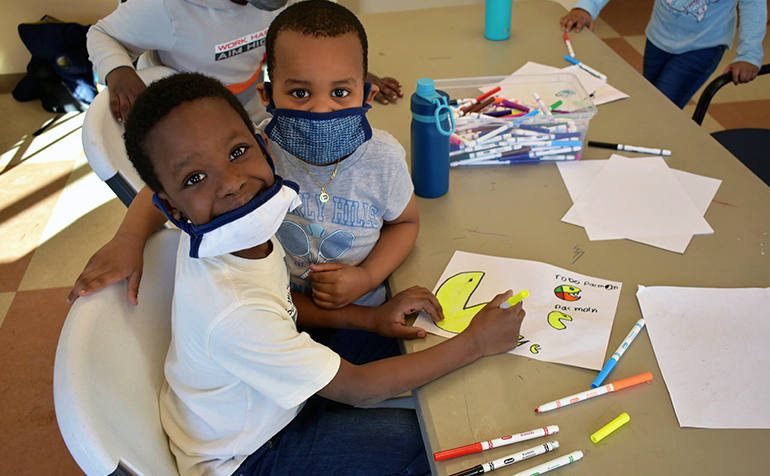 Avesta Housing – Portland Maine.
For over 50 years, Avesta Housing has helped people maintain housing stability and access services. They used grant funds to help asylum seekers arriving in Maine move from homeless to housed.
"Maine has a large population of asylum seekers from all over the world. They often flee their home countries with just the clothes on their back, and then arrive here with no housing or resources. But the kicker is that, legally, they are not even allowed to work until they reach a certain status in their residency - which is mind-boggling to everyone involved," said Sara Olson, Vice President of Advancement at Avesta.
"In Maine, we don't have a young population," Sara said. We struggle with having enough people to feed the workforce. Immigrants are a great resource, but when a segment of them are cut off from working, it's hard. While safety nets do exist, with asylum-seekers, often, English is not their first language. And in the US, we have a lot of infrastructure that people born here take for granted, because we know how the system works."
Avesta used its award to build capacity to help immigrant applicants and residents with things like translation services, document assistance, and navigating complex systems to secure necessities like food and healthcare.
"We opened a new affordable housing property with 52 apartments," Sara said. "Maine Housing pays the rent for the first two years while they go through the legal process to become new citizens. But people didn't speak the language and didn't know how to fill out the application. HUD is so complicated - there is a lot of documentation."
But thanks to this grant, we had teams of staff speaking all different languages. We processed 1,000 applications in one week," Sara said.
"It was just awesome to have this kind of access."
Habitat for Humanity, Hillsborough County, Florida
Habitat for Humanity is well-known for building safe housing for those in need. It also offers other opportunities and programs - like comprehensive financial education - to help individuals and families achieve economic stability.
They used grant funds to launch a credit-mentoring program in Hillsborough County, Florida. So far, 29 people have gone through the program. People like Monique Simpson and Teresa Davila.
Monique rented a home that she shared with her three children, and several other family members. She was excited by the prospect of homeownership, but also held doubts.
"At first, I was a little nervous. Looking at how everything has quadrupled in price and the current housing market – homeownership feels like a frightening proposition."
Initially, Monique's credit history prevented her from qualifying for a mortgage. But Habitat Hillsborough's Credit Services Team recognized that she was very motivated to partner and had an unflagging commitment to tackling her financial hurdles - which made her an excellent candidate. Simpson worked with Nelly Colon, a mentoring Program Manager, to address her credit challenges over the course of a year. Colon helped her work with credit bureaus, create a budget, and gather necessary paperwork.
Today, Monique is enrolled in Habitat's Homeownership Program. She looks forward to closing on a new house in Curiosity Creek, a 25-home affordable community being developed by Habitat. While she awaits her home closing this winter, she continues to be diligent about keeping her credit in good standing while saving for closing costs. She and her children are very excited about owning their own home soon.
Teresa Davila works at a cafe and is raising nine children - both her own, and grandchildren that she has adopted. Tragically, her husband recently died of cancer. They'd shared a dream of owning a home to raise the children in – a dream Teresa continued to believe in as a struggling single parent.

An afterschool counselor for one of her granddaughters was deeply touched after the child told the counselor that she just wanted a house for her mom for Christmas. The counselor gave Teresa information on Habitat Hillsborough. Given her many responsibilities and modest income, Teresa had some financial challenges to work through before she could qualify for a mortgage. The new credit mentoring program was able to support and guide her through these steps.

The Davila family is also on track for homeownership later this year.