As a child, Katherine Patchell had big dreams. She enjoyed school, particularly history, social studies and science.
But outside of school, her dreams were simple. All she wanted was to have a safe home, far different from the one she grew up in.
Yet those dreams didn't come true for a long time. Katherine's life descended into places she never wanted it to go. She dropped out of high school, as she battled substance abuse, homelessness and abusive relationships.
But the story doesn't end there. Katherine showed the grit and determination to get herself into a much better place. The helping hand she needed was provided by Project HOME, which provides permanent housing and support services in Philadelphia for individuals experiencing homelessness, with diverse abilities or afflicted with mental illness.
Katherine has lived in a Project HOME residential unit for five years with her two youngest children. Her eldest son is a straight-A student in college. Katherine herself is working on getting her GED. Most importantly, she continues to overcome her addictions and knows that she doesn't have to endure abusive relationships to survive.
The struggles continue though. Due to the COVID-19 pandemic, Katherine lost her job as a babysitter. She is a long way off from achieving her dream of being a peer specialist focused on helping people with substance abuse, but knows now better how to deal with major life problems.
"You just have to hold on," Katherine said. "If you want it bad enough, you have to fight for it. Go get the help you need. Someone has to have your back, that's what Project HOME means to me."
Project HOME and TD Bank are now partners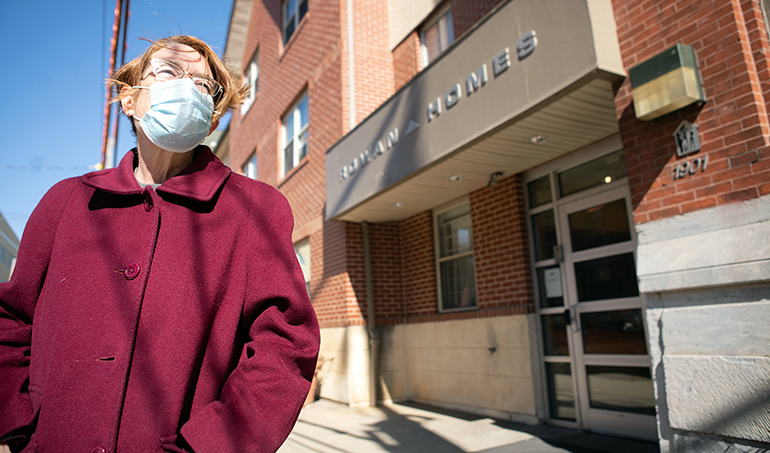 Katherine is one of many people who has benefited from Project HOME, which was co-founded by Sister Mary Scullion and Joan Dawson McConnon. Project HOME started in 1989 as a short-term emergency shelter in the locker rooms of a vacant Philadelphia recreation center.
"When Joan and I, along with folks experiencing homelessness, started Project HOME, we had no idea how it would grow," said Sister Mary. "What we did understand from the very beginning was the necessity of H = affordable housing; O = opportunities for employment; M = medical care and E = education…that these four things were essential to ending and preventing homelessness."
Since that time, Project HOME has grown to over 900 housing units and three businesses that provide employment. The organization also includes the Stephen Klein Wellness Center for medical needs in the community and the Honickman Learning Center and Comcast Technology Labs that offers educational programs for all ages and job opportunities.
Sister Mary, who resides at Project HOME, does not seek the spotlight. However, the program's success was the motivation behind her being named as one of Time Magazine's 100 Most Influential People in 2009.
"I lived at St. Elizabeth's Recovery Residence (SERR) for 8 years and when Rowan Homes opened, it was a chance to continue to live in the neighborhood and learn from the families that were living at Rowan," Sister Mary said.
Project HOME is continuing to grow and now has TD Bank as a partner for that effort. The bank has provided $7.5 million in tax-exempt construction financing to renovate their Rowan Homes and Diamond communities, which consist of 39-units.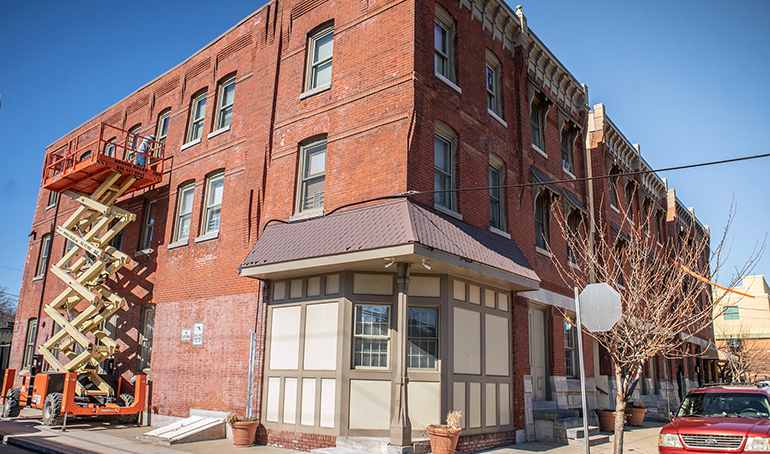 "We are glad to continue our partnership with TD on our mission critical Rowan preservation project," said Janet Stearns, Project Home's Vice President of Real Estate Development & Asset Management. "With this project, Project HOME has been able to develop or preserve just over 200 units of affordable housing with TD financing. We look forward to working with TD on future projects."
The buildings will be upgraded and retrofitted to meet Enterprise Green Community standards and will exceed Energy Star Version 3 standards using low-flow plumbing, recycled materials and energy-efficient appliances and fixtures.
"This is a great project to be a part of. Project HOME is an amazing organization and we are honored to work with them on this," said Sue Taylor, Vice President and Relationship Manager for Commercial Real Estate at TD Bank.
This project reinforces TD Bank's The Ready Commitment, a multi-year program designed to open doors for a more inclusive tomorrow through community giving in four areas – financial security, vibrant planet, connected communities and better health
Katherine is very excited for Project HOME to get the financing from TD Bank as she is so grateful for the role it has played in her life.
"Yes, Yes, Yes, I am so happy that TD is helping us at Project HOME," she said. "Project HOME is awesome. It means everything to me."