TD Bank's Diana Williams expected to teach practical business skills to Brandon Lane when she agreed to be his mentor for 2021 Project SEARCH class at TD, a one-year transition program for high school seniors with cognitive disabilities. What Diana didn't anticipate was learning something maybe even more valuable from Brandon.
"He was a totally unexpected gift; he thinks so differently – it helped me communicate more clearly. I gained a lot," said Diana, who is a TD Bank Division Manager for Analytics in Loan Review. "It was also a really fun experience for which I am grateful especially during these uncertain times."
During his internship with the Loan Review team in Risk Management, Brandon learned about working with data through many projects, some of them involving business data, but also fun ones like creating Excel data sets on the attributes of superheroes. He also explored new Microsoft tools that were being deployed at the bank.
Brandon learned them so well that he was assigned to lead a presentation on how to use Microsoft Teams to high level executives. Diana and Brandon both felt immense pride after he led the very successful presentation.
"I was nervous and unsure I could do it," Brandon said. "[But afterwards] I felt more confident creating my own presentations. My hope for the future is to get a job that will use the skills and experiences I learned at Project Search."
How Project Search transformed hopes for the future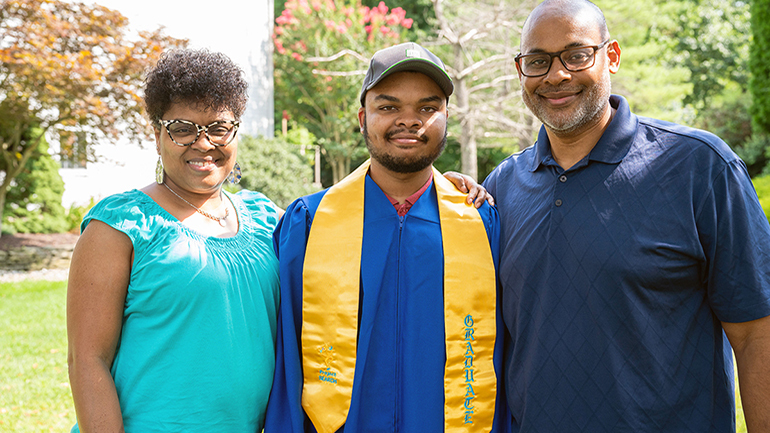 Brandon was one of seven high school seniors who graduated in a virtual ceremony in June from TD Bank's fourth Project SEARCH High School Transition Program. The interns participated in three 11-week rotations in different business lines during the 10-month program at TD's Mount Laurel, New Jersey campus.
This year's program was entirely virtual due to COVID-19 restrictions. The bank has hired more interns through Project SEARCH over the course of the global pandemic than in prior years, a reflection of the company's growing success in hiring people with disabilities and creating a more inclusive work environment.
"It's gratifying to recognize the impact TD's partnership with Project SEARCH has had on young students with disabilities, their families and all of us," said John Pluhowski, Chief Communications Officer and Executive Lead for AMCB's Individuals with Diverse Abilities (IwDA) area of focus. "People with disabilities seek only the opportunity to land a great job and start a promising career just like everyone else. Project Search brings that aspiration to life and ushers in a more inclusive tomorrow."
Transforming lives
The class of 2021 was hosted by TD in partnership with Camden County Education Services Commission. Moving into this year, TD will partner with Lenape Regional High School District, the NJ Division of Vocational Rehabilitation Services, the Department of Developmental Disabilities, the Jewish Family and Children's Service and Project SEARCH, an international transition program.
TD is the only East Coast bank to participate in the program, according to Jaimi McWilliams, a Project SEARCH teacher with TD.
The Project SEARCH program at TD has graduated a total of 26 interns, including this year's class. Nineteen of the graduates are currently employed. That number includes three interns who found full-time employment with the bank, including Ben Riddell, who works as a Junior Video/Photo Assistant in marketing, and two newly hired from the 2021 class, Justin Fowler and Alan Chen.
"I've learned a lot from my opportunity with my Project Search rotations. I am using email etiquette, and various applications such as reviewing check images for approval," said Justin, who is a Payment Specialist for TD's Payment Operations.
Alan's participation in Project SEARCH transformed what he expected from his life.
"Project SEARCH changed what I thought of my future because I didn't expect to get a job in TD Bank or get a job this early," said Alan who is currently working as a Clerical Assistant for TD's Retail Card Services.
Onward to the future
For the 2021 graduates who are still seeking employment, Project SEARCH continues to provide the needed support to help them in their job search. The new class of 2022 recently signed with TD and Project SEARCH to join the program which will start in September.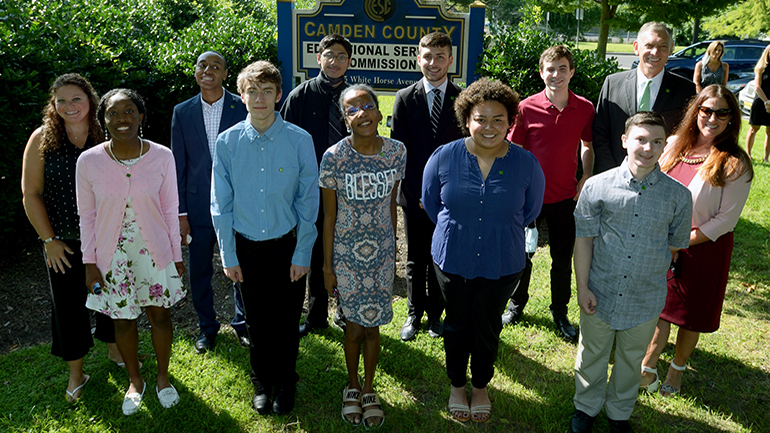 TD Bank's Susan Wargo, a Team Manager for TD's Human Resources Operations, is hoping to have the opportunity to once again mentor another intern. As with Diana, Susan noted that she learned a great deal from the experience earlier this year.
"It is a wonderful program, that provides a great deal of opportunities and experience to both the teams and the interns," Susan said.
Perhaps, the people most grateful for Project SEARCH are the loving families of the interns, who have strongly supported the program throughout the years at TD. Brandon's father, Todd Lane, noted what a great opportunity it was for his son.
"As parents, to see the growth and increased confidence throughout the year has been wonderful," said Todd. "The skills he has learned such as Power Apps, Microsoft Office application Excel, Word and PowerPoint will allow Brandon opportunities for his future employment path. We have enjoyed this experience with Brandon and all the wonderful staff at Project SEARCH who made this year awesome!"