Father's Day was an emotional day for Juan Paneto.
The TD Bank Store Manager out of Nanuet, New York and father of four saw his son Joshua graduate from Union College. Juan also fulfilled a 30-year promise he made to his mother, wife, himself and even late best friend when the Bronx native walked side-by-side with his doting son, finally getting that degree he had always wanted.
Juan also attended Union in the late 1980's and early 1990's but left the college just a few credits shy of graduating.
"Those five classes I needed to graduate always haunted me," he said.
His path took him into the world of banking, where he quickly rose the ranks and couldn't take the time needed to finish his degree in person. Until this year.
'The Bronx is burning'
Juan grew up in the South Bronx and though his neighborhood was a "poor" one, his mother instilled the spirit of giving in him from a very early age.
"It was pretty bad," he said of the Bronx at that time. "She raised us with the philosophy to give back and always said, 'You lend a hand and help the next person along.'"
Juan recalls a historic fire that engulfed the Bronx during one of the Yankees World Series runs, where legendary announcer Howard Cosell famously said during the game, "The Bronx is burning."
"After that, our building was the only one left on the block and you're sitting there doing your homework at night and you see cups moving, because the building is giving way to the wind," he explained.
He continued, "But you always strive to do better and get out. And education is that ticket out of there."
It's that love and respect for education that Juan has instilled in all of his children, including his son Joshua. But he also instilled a love for family and a selflessness you just can't teach.
'Let's do it together'
Before COVID-19 and the expansion of distance learning, Juan had reached out to Union a few times about finishing his degree online, but it just wasn't feasible.
When the pandemic hit, things opened up for Juan and other distance-learning students and he was finally able to re-enroll
Juan was grateful that TD's culture and leadership was "so supportive" during his efforts to finish his education and gave him the ample time he needed to attend classes and take exams.
He was also approved for TD tuition reimbursement for 2021 and joked, the check is "in the mail." Those funds will certainly help a hard-working family that believes in education not just for Juan, but his children and even his wife, who is working on an advanced degree.
"My son worked so hard and graduated with honors," he boasted of Joshua. "His GPA was awesome, so I'm very proud of what he did."
With his son's success, Juan actually didn't want to walk on Sunday because he didn't want to take the spotlight off him.
"My intention was just to get the diploma afterwards and only be in the audience," he said. It was hard for Juan not to choke up a bit when he explained, "But he pleaded with me and said, 'Let's do it together.'"
"I'm getting emotional just thinking about it," he added.
In fact, the night before graduation, Joshua proudly told all the parents that were on campus about his dad's incredible story.
"The next day, as we're walking towards the stage, all these strangers are coming up to me and I'm like, 'What's happening?'" he said. "It was nice that he thought of me at a time where he really earned and deserved the spotlight."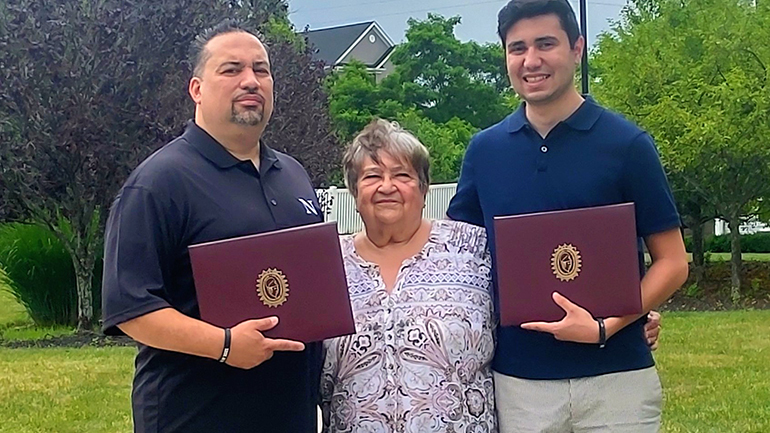 'Didn't I buy that for you 30 years ago?'
As you can tell, family means everything to Juan, so the day before graduation, he and his wife Marisol, also a Union graduate, went over to his mother's house to surprise her.
Juan's mother knows he is not a jewelry guy and the only thing he wears is his wedding band.
"When I got married, me and my wife had this idea to wear our graduation rings as wedding bands and obviously she graduated, but I didn't so it never happened," he said. But his mother still got him a ring before he left school to work.
"When I went to my mom's house that day, I put it on because I knew I was finally going to graduate," he said. "I was talking with my hands like I do, and she noticed the new bling, so I showed it to her."
Juan said she immediately asked, "Is that your college ring? Didn't I buy that for you 30 years ago?"
He then gave her the surprise of a lifetime.
"I said, 'Mom, I finally finished, the graduation is tomorrow.'"
He came back two days later to show her the certificate.
"She was ecstatic to say the least," he said.
An emotional goodbye
"I had a lot of good memories at Union. I met my wife there," Juan said, but there was a tragedy that's always stayed with him.
"I lost my best friend in a boating accident up there," he explained.
So, the night before graduation, Juan decided to take a stroll around campus and take it all in. Memories after 30 years came flooding back in.
"The campus is desolate. There's no one there," he said. "I went walking around and stopping by spots that had meaning to me."
After he lost his best friend to the accident, the college planted a tree in his memory.
"I had to go see it and just talk to him," he said. "I said thank you to him for everything he had done."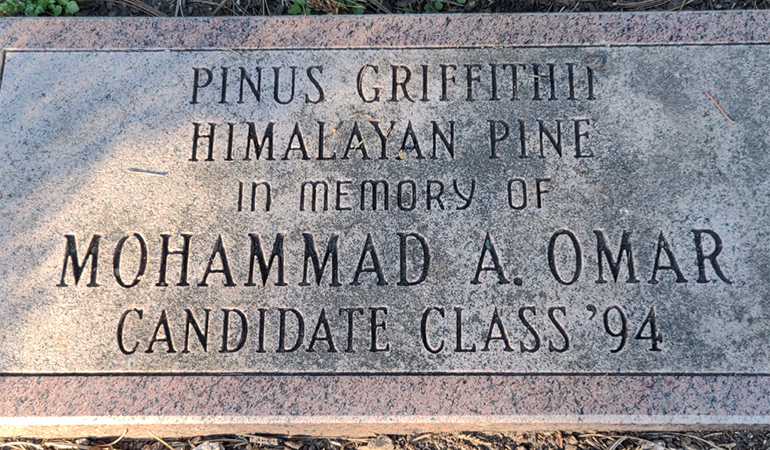 Juan thought about all his friend had sacrificed, even during his final moments. Mohammad went boating with two other friends and there were only two life vests on board.
"Talk about selfless. He gave up the life vests to his two friends," Juan explained. "The boat capsized, and he drowned."
Thirty years later, Juan knew his friend was with him during this very special, very well-deserved moment.
"Look, I've had support through this entire journey," he said. "My wife, she's my rock and we know family is most important. Material things you can lose and get back. But people are the most important to us and always will be."