TD celebrates the dedication and bravery of all military personnel. We have a growing community of veterans who bring a unique perspective to our business and a passion for going above and beyond. Our mission is to build upon our commitment by creating a community where all active duty, reserve, former military and services members can share their experiences, grow their careers and raise awareness of veteran matters to our colleagues, customers and communities.
As people around the globe battled the effects of COVID-19 last year, the world became a very unfamiliar place for most of us, including Natalie A. Lawrence. But learning how to overcome uncertainty and succeeding in the most dire of circumstances is an experience Natalie knows all too well from serving in the military for 17 years to surviving unspeakable childhood trauma.
One of the most important programs for the banking industry during the pandemic was the U.S. Small Business Administration's (SBA) Paycheck Protection Program (PPP). Natalie was with TD Bank for four years in Lexington, South Carolina before starting a new role as Project Manager and Senior Business Analyst for the program. Those initial days of PPP at TD setting up the systems to serve struggling small business customers reminded her of military service.
"PPP in the first 120 days felt like a military mission with teams banding together to reach a goal, with the exception that I had the luxury of being within my own home and not in the middle of a desert," she said. "The long nights, the early mornings, and the constant reactions to the government, it was non-stop, but we did it with a sense of purpose. It's the adrenaline rush of knowing that you must produce something in such a short time, a sense of urgency and then the pace, it was just really, really fast. I enjoyed it."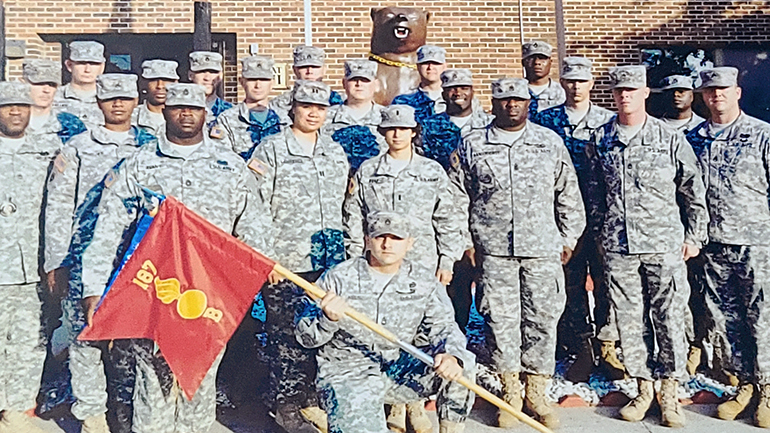 Natalie's team greatly appreciated her special expertise in dealing with high pressure situations.
"Natalie is a proud veteran and was unafraid to bring her whole self to the table in support of PPP," said Kellee Rivers, TD's Head of Commercial Programs & Support and Natalie's supervisor. "She clearly leveraged all of her skills and talents to quickly jump in as a trusted leader, orchestrating program coordination and end-to-end design for swift PPP delivery."
Kellee cited Natalie's strengths, particularly in relation to her military experience.
"She never wanted to let her team down and it was clear that all of Natalie's previous military experience, business intelligence and pure 'grit' came to the forefront during this unprecedented time." Kellee said. "It personally gave me great relief that she was part of the team."
How therapy helped to regain a life
Natalie was born in California to parents from the Pacific Island of American Samoa. She lived a life full of family love as a "Daddy's girl," and explained that Samoan culture emphasizes the love and importance of God, family and culture far more than material wealth.
However, her happy childhood ended when the unthinkable happened and she was sexually abused by two men in separate incidents.
She coped with the situation by essentially blocking it out for many years, ultimately deciding to enter the military to see the world and become an adult. The military tradition is a proud one for Samoans who have shown extreme courage on the battlefield, with many giving their lives on the battlefield to protect the United States.
Natalie served in many difficult deployments overseas during her 17 years in the military including Iraq and Afghanistan, battling brutal circumstances. Following her military service, she suffered from PTSD and the unresolved impacts from the terrible events of her childhood.
Things changed significantly after a conversation with her ex-husband, who encouraged her to seek counseling to understand the trauma she had experienced.
"It put me in a situation where I was angry for a very long time," she said. "I just never understood why. Actively engaging with a therapist helped me own what happened and understand that it wasn't my fault. Therapy is like a gym for the mind. I'm a survivor because I'm not held to the feelings that were associated with it. I've overcome what I've felt. I've overcome the anger."
Opening up to help others
One of the most important steps into her journey of recovery took a courage that few people ever have.
"I forgave the two men mainly because of the fact that forgiveness is not for them, forgiveness was for me," she said. "In order for me to overcome the past and move forward in my life, I needed to let it go and know there was nothing that I could do to change that situation. I knew though that there was something I could do to change myself. "
She also had to tell her parents, which was heart wrenching.
"They were upset because I didn't tell them," she said. "For them to go on all these years without knowing because there was nothing that they could do to protect me at that time."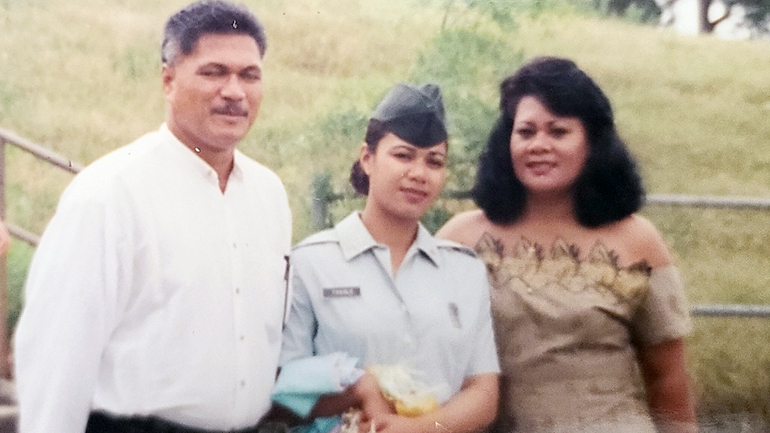 Natalie finds herself overprotective of her own children, who are now older teens. She emphasized throughout their childhood that they should always feel comfortable speaking with her about any topic and that they know she will always help them.
She has also made it a point to help others by telling her story, including at a recent event at TD Bank on the topic of Self-Identification for individuals with diverse abilities. Natalie appreciates the way TD supports its employees in this area.
Natalie wants to offer hope to others that they can also overcome the burdens of these difficult experiences.
"There's always that one person that is afraid to talk about it and they feel like there's nowhere they could turn," she said. "You feel like no one is going to understand. As I started to become more open with my situation and talking to more people, it just always helps someone."