Memorial Day is ultimately a day of respect and remembrance for those who sacrificed their lives in military service and the immeasurable loss to their families, friends, and communities. It's also a day of respect for all of us to savor and not take for granted the opportunity to do what we love to do because of those sacrifices.
Tony Caldwell, a TD Bank Specialized Human Resources Manager, and veteran who served with the U.S. Army and U.S. Army National Guard for 27 years, embodies just that. He starts the day by visiting a local cemetery in Charlotte, North Carolina, where he meets with both past and present work colleagues who are veterans. The group honors the lives lost by putting flags on the graves of soldiers. Afterwards, they have a hearty breakfast where they catch up and share both the joys and complaints of everyday life.

"It's hard and somber, going to the cemetery," he said, " It's personal to those of us who have served. My brothers and sisters volunteered. They knew what they were getting into, and they still did it. Memorial Day is about loss. But we also enjoy ourselves at the breakfast. I really think that's kind of the point. Do those things you want to do. Go buy a new mattress if you need one and save money. Nobody's going to fault you for that. Just take a moment of reflection about somebody who gave up everything, somebody's family lost their person. Whether that moment is one you have privately, or if it's with a group and everybody reflects together, that's up to you. I am also going to enjoy every ounce of a frosty beverage because somebody didn't get to, and somebody's family doesn't get to do it with them."
Ways to show respect
While Tony and many other veterans appreciate the sentiments behind people thanking them for their service that day or saying, "Happy Memorial Day," it misses the true meaning. The confusion about the purpose of Memorial Day and Veterans Day is common. Memorial Day is designated to specifically honor those who died in service to our country. Veteran's Day in November is considered a celebration of all American military veterans, living and dead.
"If a veteran explains to you the difference between Veteran's Day and Memorial Day, and they sound like a grouch, forgive them, they don't mean to, they just want you to know what the day is about," Tony said.
So, what is the right thing to say?
There are varying answers depending on the veteran, according to Army veteran Robert Opp, TD Bank's Sourcer for Veterans and Individuals with Disabilities, based in Pennsylvania. He suggested that if a veteran is wearing a uniform, you could strike up a conversation about their service, but do not thank them on that day.
Sarah Decker, a TD Bank Marketing Manager in Mount Laurel, New Jersey who serves with the Marine Corps Reserves as a Staff Sergeant, acknowledges the day by reflecting on its true meaning and taking a moment of silence to remember the fallen, both those she knew personally and those she did not. She agrees with Robert that each veteran may have a preference on the best ways for people to express acknowledgement on the day.
"While saying 'Happy Memorial Day' can be saddening, it is most important to me that people recognize the day's importance, rather than get caught up in how to correctly wish someone well on this day," Sarah explained.
"Social media is a simple and effective way to acknowledge the day by posting a meaningful quote, memory or a message such as, 'remembering our fallen heroes' or 'wishing you a meaningful and memorable Memorial Day,' " Sarah said. "Other ways to show respect for the fallen is through gestures, for example, placing flags on graves or getting involved with charitable organizations that benefit the families of the fallen."
For in-person Memorial Day greetings, Sarah understands that it can be difficult to find the right words. "I might use phrases like, 'Have a great weekend memorializing our heroes', or 'Wishing you a memorable day/weekend.' While it's important to be sensitive to the phrasing, the true meaning is to remember our fallen heroes, and that's what I hope people choose to do this Memorial Day weekend."
There are many ways to acknowledge the day rather than simply saying "Happy Memorial Day," according to Sarah. Red Poppy Flowers are worn in remembrance of those who died fighting for our nation. Flags are flown at half mast until noon to symbolize it is a day of "National Mourning." You can visit memorials and cemeteries to pay your respects or participate in laying battlefield crosses, wreaths, flowers and/or flags at their gravesites.
TD Bank colleagues support Memorial Day Flowers Foundation
"Memorial Day is a day that we focus on our utmost gratitude for the soldiers who died protecting our great nation and the families who lost their loved ones, " said Paul Bajus Head of U.S. Contact Centers and Executive Lead for TD's D&I Veterans pillar. "As a veteran, I acknowledge the great importance of a day where we are all united in recognizing sacrifices made by our armed services. I ask that all of us take a moment to remember that we can live our lives freely because of these fallen heroes."
TD Bank encourages people to reflect on the day.
"At TD, we celebrate the dedication and bravery of all military personnel and are deeply appreciative of their commitment to our country," said Ernie Diaz, Head of U.S. Distribution, Wealth and TD Auto Finance and Management Committee Sponsor for the Veterans Pillar at TD. "Memorial Day is a particularly important day for us as we collectively pause to reflect and honor the service members who gave their lives for this great nation, as well as the families and friends they left behind."
Robert usually has a quiet day because of a feeling that many who put on the uniform share – survivor's guilt. He often goes to a Memorial Park near where he lives and walks around while remembering a soldier he served with who didn't make it home. This year, Robert, along with about a dozen other TD colleagues will be going to Arlington Cemetery for the Memorial Day Flowers Foundation (MDFF) program which TD has supported since 2013.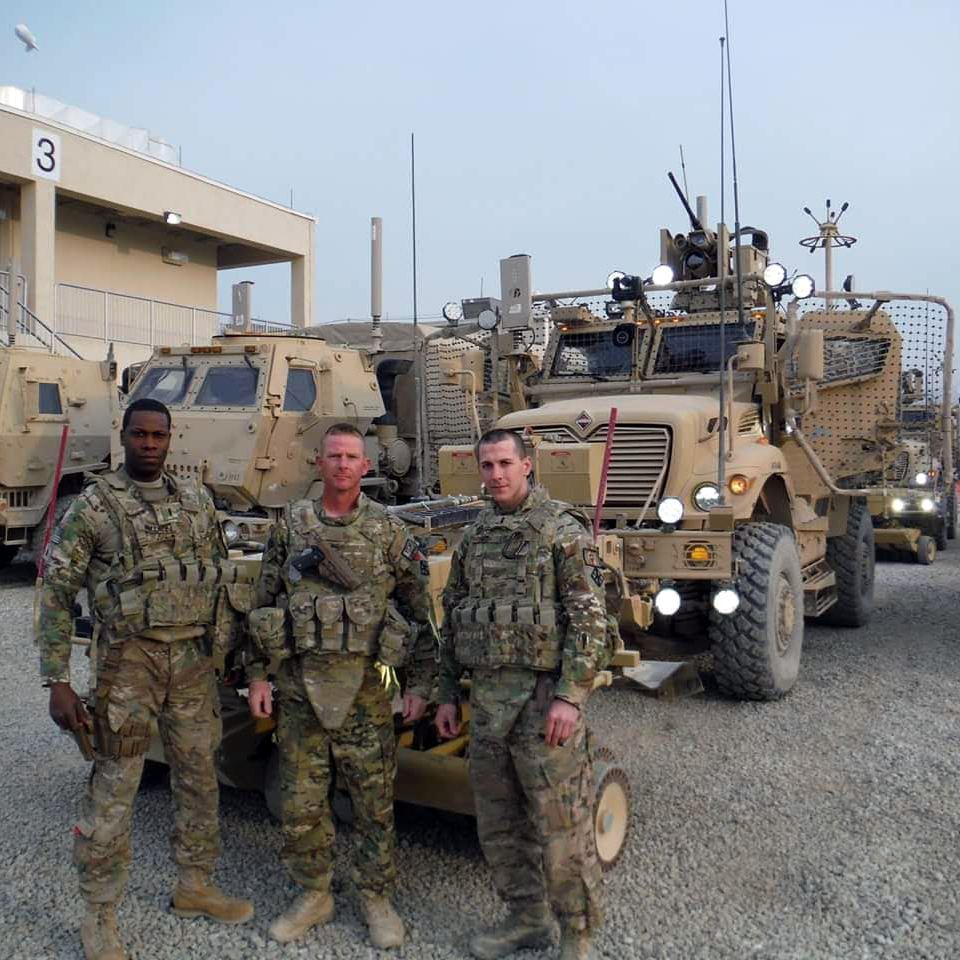 As the father of two very young children, Robert hasn't yet fully explained his military service experience. But as his children get older, he considers what he would want them to learn.
"There are a lot of honorable people out there who have given up so much so you can have your way of life, " he said. "That is what is important."