For Marcus Gonzales, his new role at TD Bank was always his destiny.
In October, Marcus became TD Bank's first Community Business Development Officer in NYC, with a focus on developing relationships with minority-owned businesses and organizations that work with minority businesses, especially Black-owned businesses. And it's the values his mother instilled in him helping people that makes the longtime TD colleague perfect for this position.
Marcus was born in Trinidad, then moved to Brooklyn and later Far Rockaway, Queens, when he was growing up. He now lives in Brooklyn with his wife and two children.
"Coming from Far Rockaway, it's not the ideal place, or at least wasn't back then, to be growing up," he admitted. "But luckily a small group of friends and I 'made it out.' Some of those friends I grew up with now are lawyers, some are in finance and some in the medical field. I think what tied us all together is we all had strong parents who gave everything for us to be successful. My mother will give until she can't give anymore and then still find a way to keep giving!"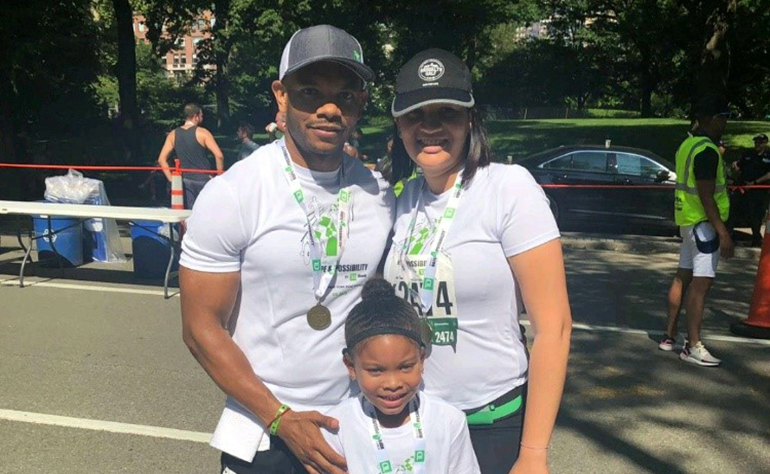 It's this upbringing where Marcus saw people struggling, either from a lack of education, or a lack of opportunities and role models because of their background, that fuels passion to lift others up.
"That's where my drive comes from … why I want to help bridge that gap as much as I can and help people in these areas," he said. "I try to find out my customers' goals and find out what they need and talk to them honestly. This kind of support is already paying off in my community."
A New Role for a New Era
Marcus has been with TD for almost 17 years. He started with the bank in 2004 as a part-time teller when it was still Commerce, working nights and weekends, while going to school. He then moved to customer service.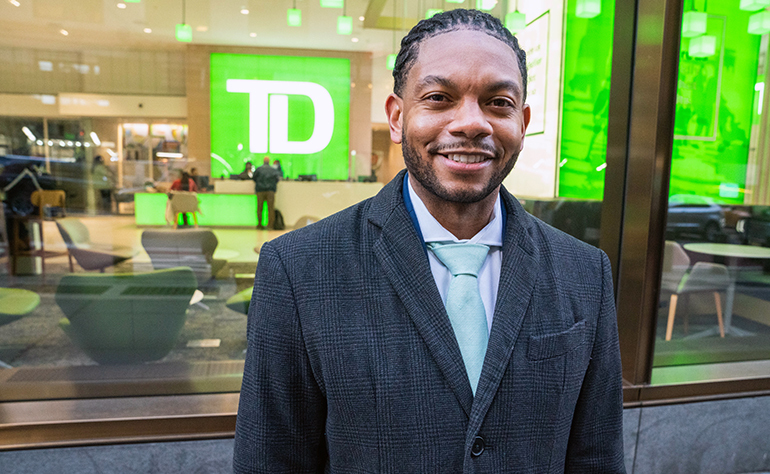 After his store earned recognition, he moved to the commercial team and eventually became a relationship manager.
But that rise through the ranks doesn't fully reveal the man Marcus is. During his time at TD, Marcus has been known for something special among his colleagues.
"I would always reach out to them and ask them to come volunteer with me on the weekends," he said. "I would ask them to teach financial literacy, speak to small business owners and work with nonprofits. But I know that's not always what someone wants to do on their nights and weekends, so tried not to pressure them."
He was also known as someone who consistently tried to obtain funding for small businesses and nonprofits.
Meanwhile, in his free-time, Marcus volunteered with Big Brothers Big Sisters and other organizations, trying to do what he could to help the community when he wasn't on the clock.
So, when he took on this new role, many of his former and current colleagues, said the role was "perfect" for Marcus.
"I work in all five boroughs, with all the nonprofits and grassroots organizations that I have a passion for," he said. "I help them look into grants they may not know they are eligible for. Help them with financial literacy, as well try to get them aware of other resources and organizations they can connect with."
One of the groups Marcus has connected with in his new role is the Community Word Project. This organization was started by a woman who appreciates the arts and wanted to work with schools in the Bronx, Queens, and Manhattan to help students feel better about themselves through art.
"We've done programs with them where we've partnered with Amazon to donate books, so that volunteers can read to these kids and inspire them," he said.
Another group he's been able to work with is the Harlem Congregations for Community Improvement (HCCI), an organization that helps people in Harlem with housing. There's also We Are All Human, a Hispanic organization that helps small business owners understand finances.
"All of these groups are different and have different needs, so luckily, we can help in a number of ways," he explained. "Some need financing, while others want more volunteers and financial literacy education."
Why Representation Matters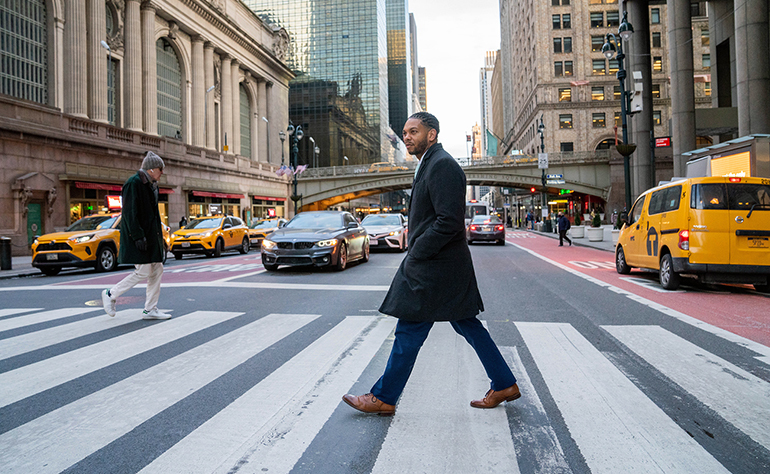 When asked why this new role in the community is so crucial, Marcus says that it's all about representation.
"When you have someone who not just looks like you, but has your background and upbringing, it means the world," he said. "Kids that we help by helping these organizations see a young black man dressed in a suit and speaking about opportunities for them."
Marcus says that when these kids in historically underserved communities think about jobs in banking, they tend to think bank teller. But what about becoming an accountant or an executive? What about a Business Development Officer?
This role and his involvement creates a new dream for young kids in these neighborhoods, with someone to look up to and model themselves after.
Walking the Walk – All Year Round
This is also why Black History Month should be celebrated year-round, he adds.
"After George Floyd and all the incidents that happened in the world, a lot of organizations are ramping up their support, but we need to make sure it's not a temporary thing," he said. "When you look at Pride Month, from June 1 until the end of the month, every organization has a pride flag hanging in their establishment. Then on July 1, they disappear."
Marcus says he's glad these businesses are showing their support where it's needed, but it must be homegrown, organic, and not just for the sake of it.
"This is the movement we are trying to create here at TD with the Black Employee Network (BEN)," he said. "We are not trying to do a one-month thing."
One of Marcus' latest initiatives is with an organization called the Blacked Owned Media -- Equity & Sustainability Institution. This organization has the mission to combine all the local black media outlets and get their content shared nationally.
For example, they are currently working with a local paper in New York that reports incidents in the Black community that don't get publicized. But what if this historically local content could also be shared at a national level?
"It's about disseminating information," he said. "That's what we must keep going, otherwise movements can start off strong and sometimes die out. We are not going to let that happen at TD."
Want to learn more about Black History Month?