For Dr. Germaine Smith – Baugh, her drive to help people started at home.
An inspiration to those around her, Germaine grew up in a household as the youngest of five, learning from her older siblings and her devoted parents.
On the day we spoke to Germaine, her parents were celebrating 66 years of marriage. That love and support trickled down to her as she has been happily married herself for 25 years.
What might surprise you about the Urban League of Broward County President and CEO is that her father is illiterate, while her mother is functionally literate.
That instilled an early drive to help others in Germaine, as her father would often give her important forms to fill out and read for him. It became something natural and organic for her.
"My mother's highest grade level is third. My dad might be first or second grade," she explained. "I didn't realize this until middle school. I would come home from school and show him all the great things I had done, and he really couldn't read what was there."
While explaining this, Germaine's tone remains positive.
"With all of that, they raised five children, they own two homes, and they have no debt," she said. "That just kind of gives a little perspective. What I do know at my core is that change can happen."
When Germaine's 14-year-old daughter was younger, she complained about the school uniforms.
"I told her she was only one generation away, where her grandmother only went to school every other day," she said. "Of course, she asked why. 'Was granny sick?'"
No, in fact Germaine's mother went to school every other day because their family only owned one uniform, which she had to share with her sister.
"That story is why I get so motivated," she said. "The idea that significant impact can occur within families and that with the right support, life can change from one generation to another. You can go from public housing to your children owning homes. All of that is possible."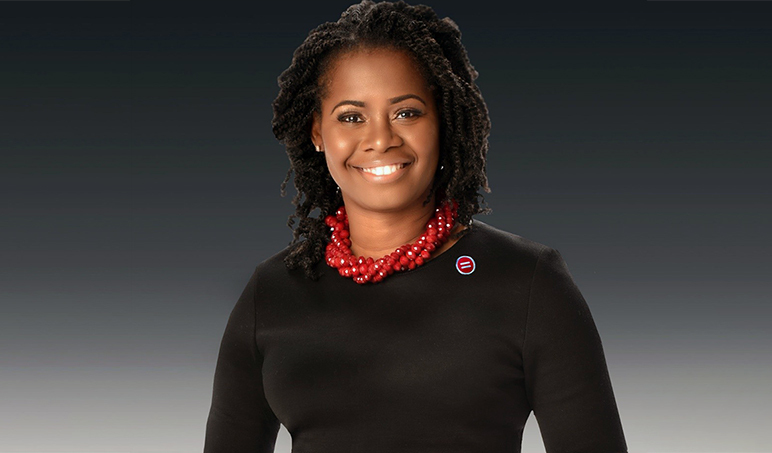 A Ready Challenge Winner Ready for 2022
It's this drive, care and focus that propelled the Urban League of Broward County to become a 2020 TD Ready Challenge Grant winner.
One of the main reasons the organization was selected was LYNX, a service for families in underserved communities. LYNX leverages program services, artificial intelligence, data science and strategic partnerships to reduce bias and influence policies that impact low-to-moderate income households.
It's just one of the many services and initiatives Urban League is doing for residents of Broward County, but also fits into that scope of "change" Germaine is so passionate about.
In addition to LYNX, Urban League has services in education, housing, small business support, health, and community development to empower and change lives.
"I'm really excited that in 2022, LYNX has challenged us to be better and look at the way we are engaging families in a holistic way," she said. "Because of the Ready Challenge, we've attracted a major corporation to help us automate the process. Move people faster through the process and get to the family identity people want to have."
Germaine, who has been Urban League of Broward County's President and CEO since 2006, is also excited about the recent "eruption of consciousness" and the ability to drive policy change.
"We are establishing a Policy Advocacy Racial Equity Division," she said. "I'm excited to put that team together and see what the future can look like. To be in the conversation and at the policy table to enact real change."
Another huge opportunity this year comes from an affordable housing community on 15 acres of property the Urban League owns. That project is in the works.
"We want to mix home ownership and rental opportunities, want it to be inter-generational with common and community spaces," she said. "But imagine something like that run by the Urban League and not a major developer."
There are also programs started prior to this year that have a personal connection to Germaine.
"On the health side, the maternal health program is very personal to me. My daughter was a micro preemie," she explains. "But I recently learned that as many as 40% of black women in Broward County die or have some severe challenge in maternal health. I was one of those. I almost stroked out. So, that program sits close to my heart."
There's also the college access program, where Germaine explains that if not for Urban League, many young people may not have been exposed to the idea of and more importantly, how to get into college.
"We have college signing days for students, so all of our seniors get to stand up and get to declare their college … it's a special moment," she said. "Overall, what I say is all we need is a family to show up, the Urban League will meet you the rest of the way."
A Black History Month Challenge
When she thinks about Black History Month, Germaine likes to challenge people to get out of the norm.
"During Martin Luther King Jr's Birthday, the 'I have a Dream Speech' is played ad nauseum. But do you know how many other speeches or works Dr. King has? Read the letter from the Birmingham Jail, expose yourself beyond what everybody feeds you," she said.
She continues, "There are lots of stories of families whose lives have been impacted or changed. The coolest thing for me is when I'm in the store and someone says, 'You're Urban League!' … Or if I'm giving a speech and someone comes up to me and tells me their Urban League story."
One recent such story brings everything full circle for Germaine.
"We recently had a special election of the congressional district here in Broward County," she said. "I didn't know the person who won, Sheila Cherfilus-McCormick, who came and spoke at a panel of ours, had an Urban League story too.
"I had no idea she was involved in our college access program, and that she had decided to use that program to help her get into Howard University. And when you think about Black History, she just made history as the first Haitian American elected to Congress."
It's this kind of history that Urban League of Broward County will continue to strive to create within its community, but also inspire others to champion as well.
It's all about following the organization's Vision of being a "catalyst for change" and "one of the best human service organizations in the State of Florida."
Want to learn more about Black History Month?