As Paige MacPherson's graduation date approached, like many high school seniors with autism, she felt unprepared to enter the workforce. So, Paige applied to Project SEARCH, a business-led, one-year employment preparation program that takes place entirely at the workplace.
The goal of the program is to help participants find "employment in the community … in inclusive, systematic, and complex jobs," said Jaimi McWilliams, a TD Bank-Project SEARCH Special Education Instructor.
"I was thrilled when Paige was accepted into Project SEARCH," said Paige's mother, Faith MacPherson. "I was hoping that she would learn new skills that she can take with her into the workforce and also find a good job," she said. Paige spent her year with Project SEARCH at TD Bank, the only bank on the East Coast to participate in the international program.
Since leaving Project SEARCH in 2021, Paige has been working as a Human Resources Coordinator with TD Bank in Mount Laurel, New Jersey. Thanks to the training and support Paige received from Project SEARCH, she didn't just land a job when the program ended – she launched a career and found an entire team of co-workers who support her and cheer her on.
"Paige has been a pleasure to work with. She always has a smile and a positive attitude, said Lois Dieterich, Senior Manager; Talent Acquisition Operations, who oversees Paige's team. "She is an awesome team player who encourages others to bring their whole selves to work every day. I personally encourage all hiring managers to consider hiring through Project SEARCH. You will not be disappointed!"

How Project SEARCH gets students with disabilities ready for the workforce
During Paige's internship with Project SEARCH, she rotated through three departments at TD Bank.
Paige learned how to "have healthy work habits and relationships, prioritize her time, and improve her email etiquette," Jaimi said. "She was a wonderful intern who wanted to do her very best. If something was challenging, she would reach out to her support team and get a better understanding of the task," Jaimi adds.
"Project SEARCH is important because it helps train individuals who have a disability … by preparing them for the workplace," Paige said. She explains that the program helped her "professional and personal development" by showing her how to write a resume, encouraging her to practice public speaking, providing interview coaching, and teaching her how to use a variety of computer programs.
Through Project SEARCH, Paige gained these and other new skills. She felt prepared for the workplace at the end of the program. At home, Faith saw how much Paige progressed during her year with Project SEARCH. Paige "learned various tasks and skills that she can keep building on wherever she goes," Faith said.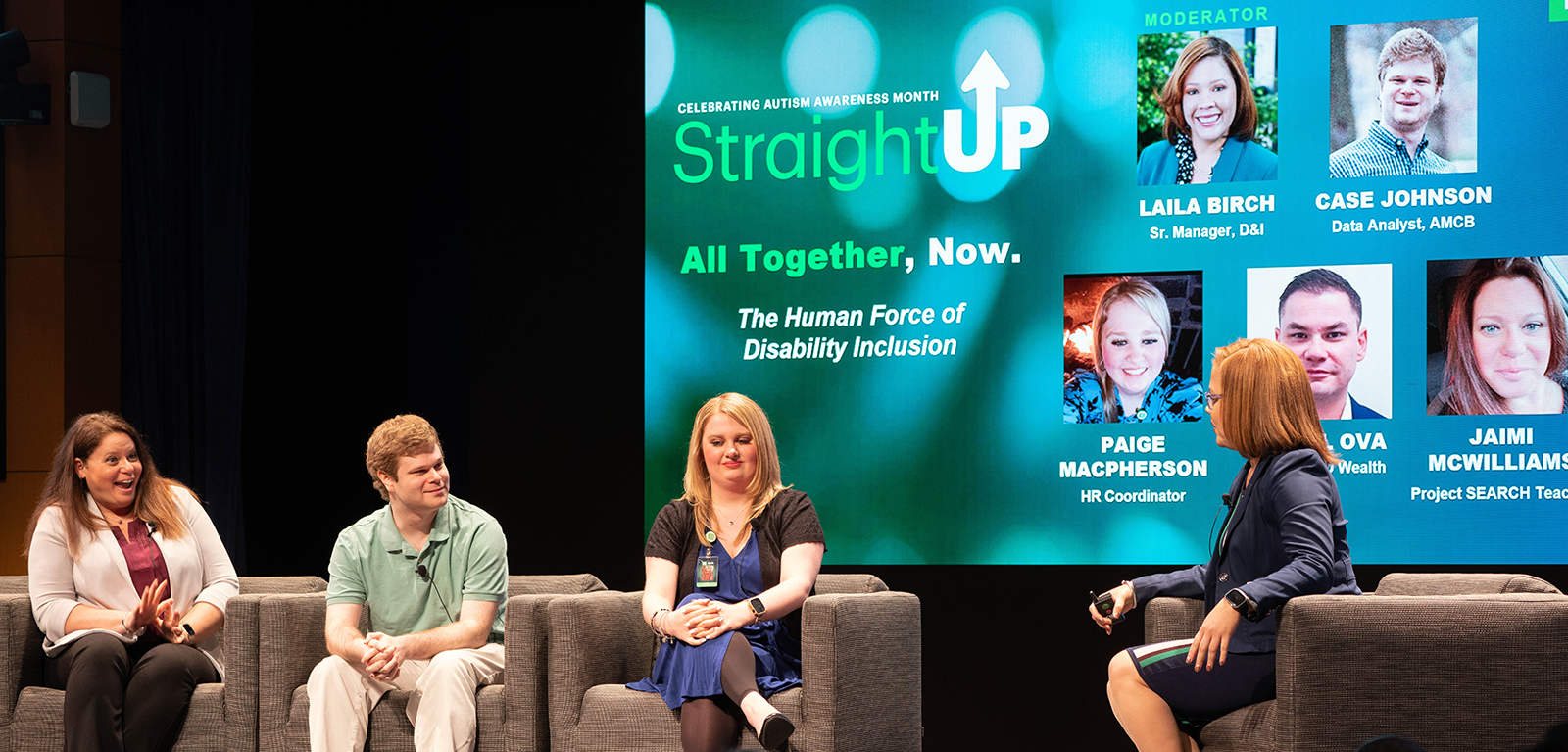 The experience changed her career path
Paige worked hard during her time with Project SEARCH, and she also enjoyed the experience. "Paige talked about her internship every single day when she came home, she was so excited. She enjoyed learning to be more independent … she enjoyed everything," Faith said. Although Paige originally wanted to be a teacher, Paige liked interning at TD Bank so much that she decided she wanted to work in an office environment when the program ended.
"Paige's year with Project SEARCH allowed her to realize what her strengths were and how she can use them as her superpowers to acquire employment," Jaimi said. When Project SEARCH ended, TD Bank had an opening in its Human Resources department. Paige interviewed for the position and was offered the job.
Paige said that TD Bank thought that she "would be a great fit to work for the bank and on the team because I was doing an outstanding and awesome job every day by completing my daily tasks and responsibilities."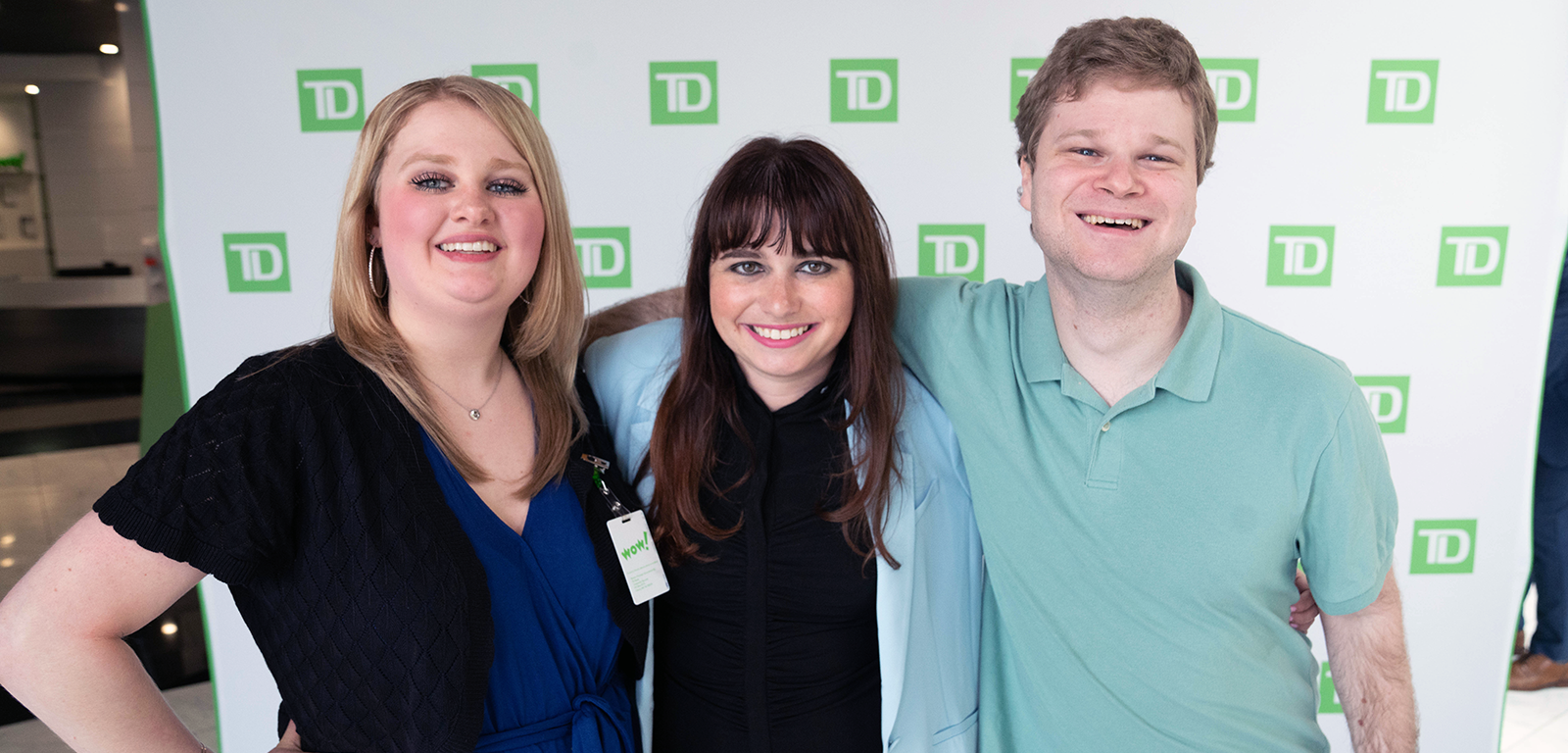 Working at TD Bank
Paige has now been a team member at TD Bank for over a year, and for her, one of the best parts is seeing colleagues every day.
"I have a very bubbly, bright personality so I enjoy talking to my team members and colleagues," she said. She added that her teammates always encourage her to give "100% effort … all day every day by always trying and not giving up."
Paige also enjoys "keeping busy on … daily day-to-day job responsibilities and tasks," which include compiling reports, reaching out to new hires, and data entry. Paige hopes to stay at TD Bank for years to come.
Although she enjoys her current position, she said she is "open-minded for other possible job opportunities that are there within TD Bank." She is also a part of TD Bank's on-site Project SEARCH team, helping to strengthen the program even further.
Faith, Paige's mother, is thrilled that Paige found a home at TD Bank. "I cannot say enough good things about the employees of TD Bank. Everyone that Paige has encountered takes the time to ask how she is doing and if she needs any help … Paige is extremely happy at her job. She is challenged and is excited to keep learning new tasks and growing," Faith said.
Advice for other people with autism
Paige said she wants other people with autism to know that it takes some time to become successful, but that they should be patient.
"Look for … encouragement [and] a supportive employer … that will be there to answer any questions or concerns that you may have," she said.
Faith said that she recommends that other parents of children with autism explore whether Project SEARCH is right for their children. "I am so beyond grateful for TD Bank and Project SEARCH. Paige has received so much support and guidance from the start … I am very proud of her, always have been."