With the U.S. still facing uncertainty caused by the COVID-19 pandemic, it's not surprising to see many consumers seeking out ways to put more cash in their pockets. And according to a new survey from TD Bank, some savvy spenders are optimizing credit card reward programs as part of their financial strategy.
TD's Consumer Spending Index, an annual survey of about 1,000 Americans, revealed that almost a quarter of credit card holders are spending more on their cards now than prior to the pandemic. And of those, almost half (48%) cited earning more rewards as the reason.
TD's survey examined credit usage and consumer spending habits and identified several notable changes as a result of the pandemic.
"As a card issuer, it's important for us to keep a finger on the pulse of what matters to consumers today," said Paramita Pal, Head of U.S. Bankcard for TD Bank. "Our ongoing conversations with customers and market research have reinforced that cash back rewards programs give consumers a strong return on their spending. This was the cornerstone of our strategy when designing TD's new credit card offering."
TD recently launched the TD Double Up credit card, which features an up to 2% Cash Back rewards program. Double Up credit card holders can earn 1% Cash Back on purchases, with no rotating categories, and an additional 1% Cash Back when rewards are redeemed into an eligible TD Deposit Account.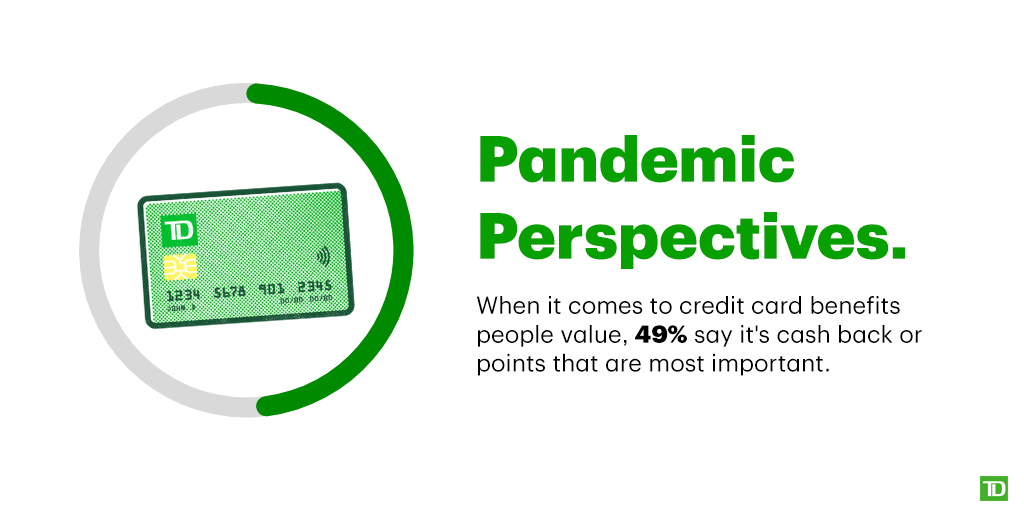 Pandemic perspectives
Perhaps one of the most obvious shifts observed during the pandemic is the response to curtailed travel. As consumers book fewer flights, many are wondering whether it's worthwhile to accumulate travel reward points.
In fact, 62% of millennials with a rewards card said they wanted to change their travel rewards program, with a third of those respondents saying this change stemmed the need for extra money in the form of cash back. And 15% of survey respondents were concerned their travel or other card rewards will expire before they're able to use them due to the pandemic. Meanwhile, 38% said they would stick with their travel card and redeem their miles when possible.
Similarly, many consumers are spending less on entertainment, dining out, gas and other categories typically highly rewarded by credit cards – and they want the ability to earn cash back as their spending shifts.
Nearly one in five Americans (17%) applied for a new credit card during the pandemic, and of this group, nearly 40% did so because they wanted a different rewards program as their spending habits had changed.
"The data highlighted that consumers want to earn and spend their credit card rewards however they choose," said Pal. "According to our survey, the average American spends about $800 on their credit card each month, which translates to nearly $200 each year in rewards for a Customer earning a combined 2% back when they spend and redeem into their TD account. Those funds could be used to splurge on a nice meal out, cover a utility bill or be added to savings."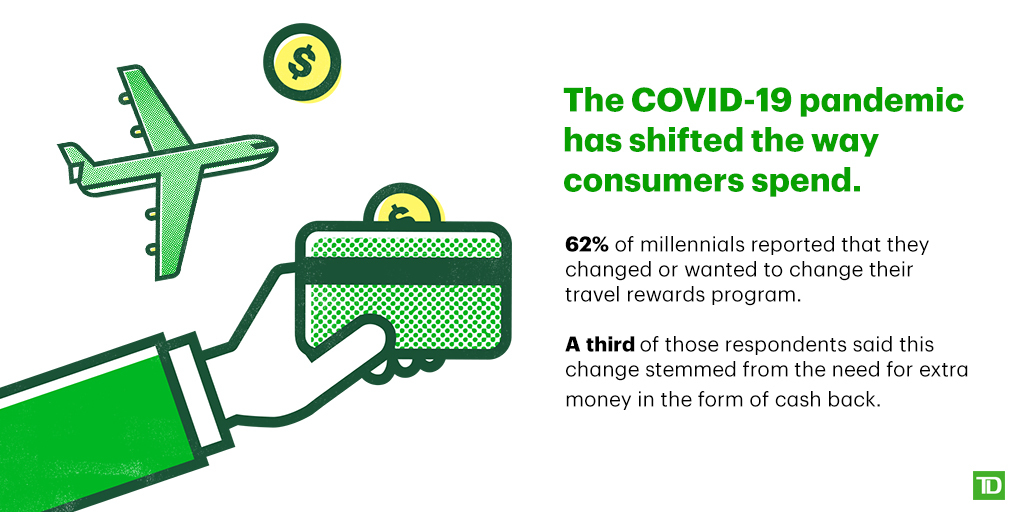 Reinforcing responsible credit card usage
While many consumers have been swiping their credit card more frequently for the purpose of maximizing rewards, some are also thinking about building a strong credit profile. In fact, 28% of those who said they're spending more on credit cards now said it's because they want to build their credit – which can be crucial for achieving other financial milestones such as buying a home or taking out a loan.
But the survey did identify some knowledge gaps when it comes to best practices for credit card usage. Nearly a quarter (22%) of respondents don't know their approximate credit score, and 38% reported regularly utilizing more than 30% of their available credit, despite that being the cap for recommended utilization.
Additionally, almost a third (31%) of card holders said the pandemic has made them change how they're handling their bill, for better or for worse: 14% have been able to pay off more than usual, perhaps due to savings on entertainment, dining or commuting costs, but 17% have been paying off less.
"Credit cards be a strong financial tool for consumers looking to build a credit profile," said Pal. "But it's essential that card holders understand how they work and the fundamentals of responsible card usage. At TD, financial education is a priority and we've invested in many resources to help consumers work towards financial security."
To support consumers interested in building and managing their credit, TD offers a variety of free online financial education resources, including interactive modules on Managing a Credit Card Responsibly.
Making relationships matter
Whether consumers are looking for guidance, resources or the right product for their lifestyle, many continue to turn to their primary bank.
The survey found that 60% of card holders said it's at least 'somewhat important' to have a credit card with their primary bank. More than a third of this group (36%) said it was because they earn higher rewards or benefits thanks to that relationship, and 42% said it's because they find it easier.
"In our experience, Customers prefer the ease of 'cashing in' their rewards through direct deposit to their linked account," said Pal. "With the TD Double Up credit card, consumers can seamlessly redeem their rewards by direct deposit into their checking or savings account."
TD Bank's Consumer Spending Index Methodology
MARU/Matchbox conducted an online survey with 996 respondents in the U.S. and of age 18 and above between Feb. 3 and Feb. 8, 2021.
*Read terms and conditions for important information about APRs, fees, eligible purchases, balance transfers and rewards program details. Terms for the TD Deposit Account govern use and any limitations that may prohibit from depositing or withdrawing a Redemption Bonus.
*The TD Double Up Credit Card is available within TD's retail footprint only.