In 1994, "The Lion King" and "Forrest Gump" dominated the global box office, while Bryan Adams teamed up with Sting and Rod Stewart to record one of the biggest hits of the year, "All for Love." 1994 was also a very important year for TD.
It was that same year that TD broke ground in North America as the first bank to provide same sex spousal benefits, thus beginning its longstanding support of the LGBTQ2+ community.
As Pride Month kicks off this June, TD is taking time to celebrate our past, current and future support of the LGBTQ2+ community and its allies, as their journey towards full inclusion continues.
"In terms of the bank's efforts to support this journey, our history shows that we've been doing it and it's authentic," said Alvin Poon, Senior Manager, Diversity and Inclusion, TD Bank Group. Alvin's role is dedicated to collaborating with and supporting LGBTQ2+ colleagues, customers, and communities.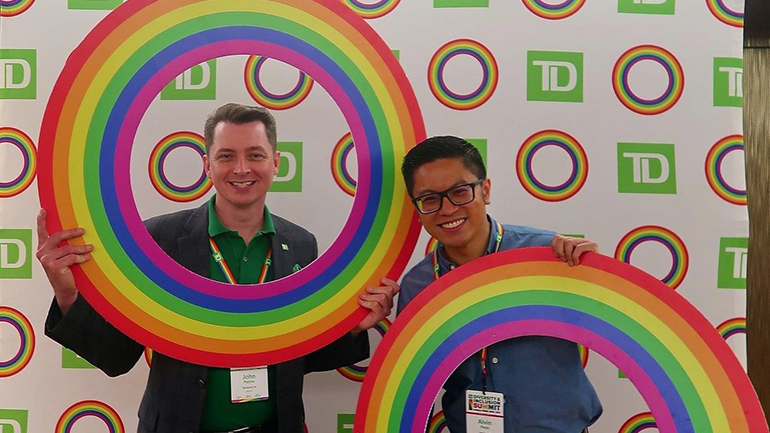 "We listen to our LGBTQ2+ community and have focused on doing things that matter to the community. There's still work to do, but TD has been there since the early 1990s and we intend to keep partnering together with the LGBTQ2+ community to help build a more welcoming society," Alvin added.
Today, major corporations across Canada and the United States have embraced the community through meaningful acts and sponsorships of Pride events. It's become so common that the comedy show Saturday Night Live joked about it in their recent video, "It's Pride Again."
But in 1994, TD was in a lonely place when it made the decision to offer same sex spousal benefits. It was a significant risk for any major business at that time – aligning itself with the LGBTQ2+ community carried the potential of losing major customers.
The fears were widespread enough as well among colleagues. Ten years after the benefits policy was introduced, only 55 of TD's 55,000 employees at the time had felt comfortable enough to enlist in the benefits program.
Fears give way to pride in identity
Tim Thompson, Senior Vice President of Corporate Evolution and Change Enablement and Chair of the LGBTQ2+ Executive Steering Committee, was one of the employees at the time who didn't feel ready to let his colleagues know his sexual orientation. When he joined the bank in 1990, Tim worried about the negative impact on his career if people knew he was gay.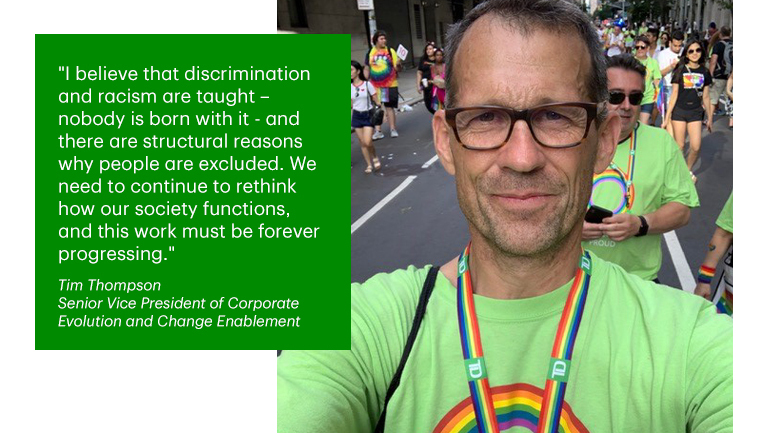 "The banking industry reflects what's happening in society generally, so it stood out when the decision was made by TD to offer these benefits to same-sex couples," Tim said. "If you transported yourself back to 1990, some progress had been made about acceptance of sexual orientation. But for me personally, I wasn't interested in coming out. I didn't know anybody at work who was out. There was no one to look up to as an example. There was still a stigma. I didn't want my partner to claim the same sex benefits offered by the bank because I thought somebody might find out and it would have negative consequences for my career."
The leadership at TD deepened its commitment in 2005 to the LGBTQ2+ community in part to encourage people to use the benefit. The bank's Diversity Leadership Council was created to make a more concerted effort to reach out to the LGBTQ2+ community within TD. Shortly after this, TD's first LGBT-themed ads featuring the TD logo on a Pride rainbow flag were introduced to market, and the bank became the first major Canadian bank to sponsor a Pride Festival.
Meanwhile, Tim finally felt more comfortable opening up about his identity as senior leaders and colleagues voiced support. In 2007, he came out to his colleagues. He later started his own family in 2012 and is now the father of three daughters -- something he didn't think was possible growing up in rural Canada knowing he was gay.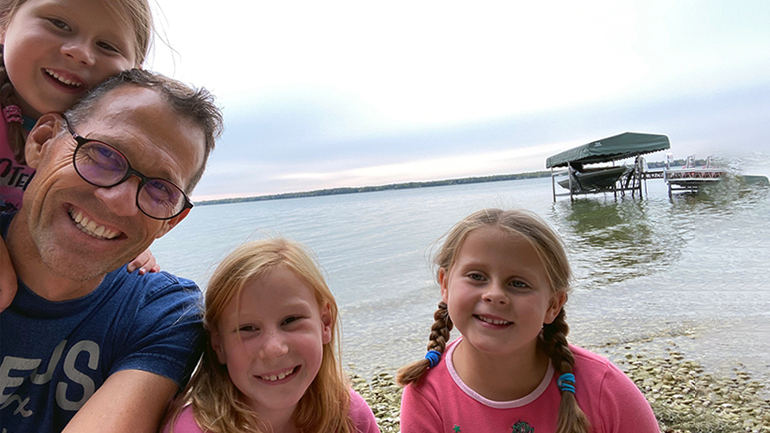 But he still sees that work needs to be done to achieve full inclusion. As a father, he knows firsthand the destructive nature and consequences of discrimination as his three daughters are getting older and interacting more with the world.
"I believe that discrimination and racism are taught – nobody is born with it - and there are structural reasons why people are excluded.," Tim said. "We need to continue to rethink how our society functions, and this work must be forever progressing."
Building a new family and career
Stephanie Eckersley-Ray, Head of Solutions and Service Delivery at TD, spent the 1990s building her career and family. She married her wife in 1993 and they have two sons. She joined TD in 2005.
"I didn't necessarily want to keep it private, but I certainly didn't want to display it either during that time," said Stephanie, who is an LGBTQ2+ Business Leader for Corporate Strategy and Business Resource Groups at TD. "In my mind, it was there if somebody wanted to know, but certainly wasn't what I was pushing forward for myself. But I definitely wasn't going to hide it either."
She's seen a lot of changes during her 16 years at the bank and in society in general as acceptance of the LGBTQ2+ community has become more visible. But she also sees a lot more to be done.



"There is much to do with gender identity and inclusion, and in our trans and non-binary worlds, there is just a lot that still can be championed," she said. "We've made significant strides as a bank and in society, but in no way, shape or form are we where we need to be."
Her two sons have grown up in a world that few could imagine back in the 1990s, with a family led by two female parents would be accepted today. While one son is in college, Ethan Eckersley-Ray is a business analyst at TD Bank.
"It's part of their lives and they are bumping into individuals with the same family situation and that's great that it's more accepted," she said. "There's definitely been a huge change from where we've been. In whatever form a family takes, if there's love, acceptance and peace within it, it's a family. That's the most important thing."
A groundbreaking role in NYC
Steve Garibell started his career at TD Bank in 2012. As a member of the community, part of his decision to join TD was based on the support the bank had given to the LGBT2Q+ community over the years.
"The financial industry is very conservative, as much as people may think," he said. "But from what I saw of TD before joining, I knew they were different…more inclusive and more welcoming."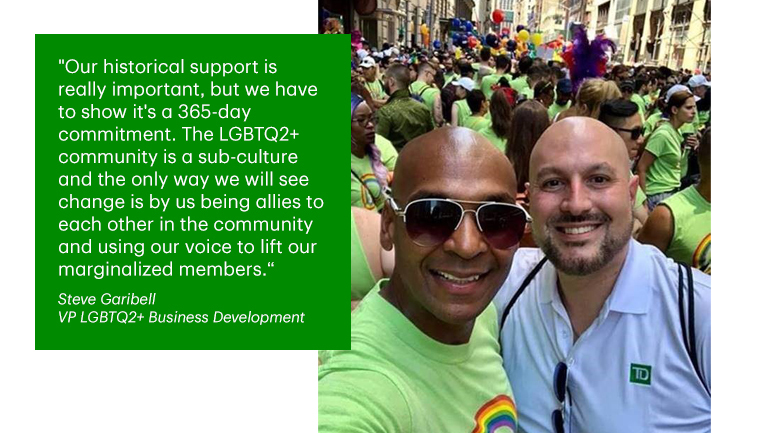 Steve took on a new job in 2018 as the bank's first vice president of business development for the LGBTQ2+ community in New York City. TD Bank was the first major bank with a role focused on the LGBTQ2+ market in the United States. The position was created based on the success of similar TD roles in Canada.
"I went into the role knowing I'd be a trusted advisor to the community," he said. "Our historical support is really important, but we have to show it's a 365-day commitment. The LGBTQ2+ community is a sub-culture and the only way we will see change is by us being allies to each other in the community and using our voice to lift our marginalized members. We have to continually earn our stripes with the community."
For the future, Steve would like to see more roles created like the one he holds in other markets across the U.S. footprint of TD Bank and for other diverse communities as well.
"As a business, we want to be allies with the LGBTQ2+ community," he said. "We accept everyone at TD, We're a very open institution. We want everyone to be their true self, an ally to someone who doesn't have that support elsewhere."
---
Return to Forever Proud. Forever Progressing.
Want to learn more about Diversity & Inclusion?