Ikemefuna Chukwunyerenwa (Ike) will never forget the loneliness he felt as a child because of his deafness and how he was able to overcome it because of his amazing determination.
"I was isolated because I didn't know how to communicate, I didn't know, what hearing people do," he said. "The frustration set in at times like when people said they were sorry that I was deaf, and they would express hope for a miracle cure. It made me sad because my deafness was the only thing that was looked at. So, I spent a lot of time by myself."
Ike's childhood was also a struggle as his family had limited resources to help him learn to communicate with the world. But he was determined to learn English.
"When I was a child, I was one of the deprived, which means that there were no resources available to me for learning how to interact with my family," Ike explained. "No matter how well my family's English had advanced, they were unable to assist me with that. I understand that my family may not have fully understood Deaf culture and what may be best for me. They believed that my communication as a Deaf person might not be successful and that may have contributed to my struggles. I knew learning English was very important to my life, so I learnt it by myself."
Despite their financial situation, Ike's family was dedicated to making his life better and fulfill his many talents. They found a school for the Deaf that required a major move from a small town in Nigeria to the country's largest city, Lagos. From there, Ike made the journey alone to the US where he had more educational opportunities and finally to TD Bank, where he started his role as a Testing/Quality Assurance (QA) analyst last month at the Mount Laurel, New Jersey office.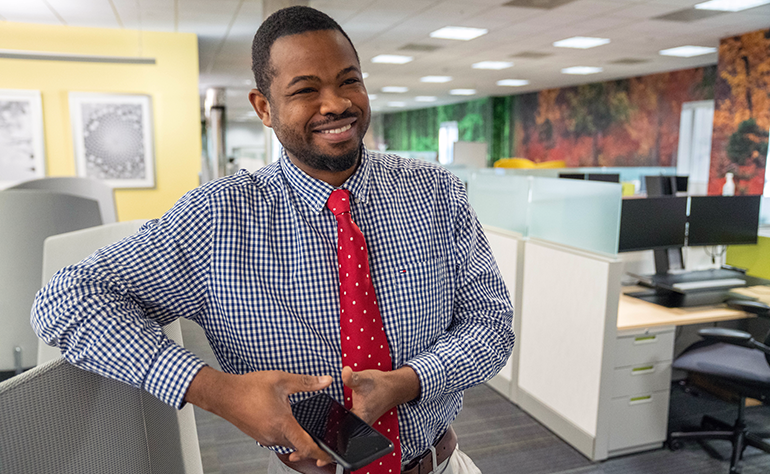 Learning how to love pizza
Ike lost his hearing as an infant. He learned sign language at a young age and thrived in his studies at his high school for Deaf students. At that time, he enjoyed studying the sciences and expected a career in the petroleum industry. He came to the United States and first began his college career at Southwest College for the Deaf in Texas. He subsequently transferred to Rochester Institute of Technology (RIT) to focus more on the sciences and technology.
There were some major challenges as Ike started his academic career in the US. Among them, the differences in sign language between Nigerian Sign Language (NSL) and American Sign Language (ASL).
"In Nigeria, they sign every single word here," he explained. "What's different about American Sign Language is, it's almost like if you think about writing shorthand. So, if we say I'm going to the store, (in ASL) it would be I go store. It was one of the biggest challenges that I initially faced."
Besides the weather change, particularly the cold winter in Rochester, Ike had to get used to American food.
"In America, they are heavy on salads, that's not my gig," he explained. "In Nigeria, it is more rice and beans. The US is a hamburger-friendly place and a lot of sweets."
But there was one popular food in America he has grown to love – pizza.
Academically, Ike thrived at RIT and among his accomplishments before graduation, he worked on a project sponsored by Google to develop apps for parents of Deaf children to learn sign language. The focus was to make the apps both fun and educational.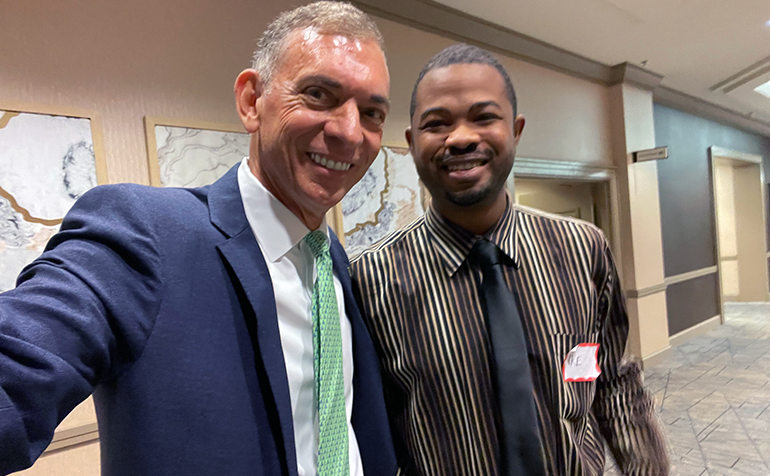 A day in Dallas changed everything
Ike started his search for a job following graduation confident in his abilities to be able to help a company. It was a challenge as he received discouraging responses.
"When I would apply, the application would ask about disabilities to which of course I would say yes" he explained "Then I would get a vague email declining an interview. That became hard."
It all changed when he heard a presentation from TD Bank on a hot summer day in Dallas during a careers' luncheon hosted by Disability:IN, where purpose-driven brands from around the world recruit aspiring college graduates with disabilities. Ike went to speak with the TD team after the presentation to let them know how much he was interested in finding out more about the bank.

"I was able to interact with them successfully," Ike explained. "They looked past my deafness and knew that I had skills. They said 'we have no barriers. We want all people to be able to work here, and we want to remove those barriers.' That led me to wanting to be involved with this company."
Ike really impressed the TD team at the event.
"We came to Dallas with the hopes of recruiting top talent to the bank, not because the candidates in the room have a disability, but because they have the skills the bank needs to grow and prosper, " said, John Pluhowski, Chief Communications Officer and Executive Sponsor, Individuals with Diverse Abilities, TD Bank, America's Most Convenient Bank (AMCB). "Ike stood out from the crowd, so much so that he followed us outside the ballroom at the conclusion of our presentation to continue the conversation and showcase his career journey in technology. I knew then that it was not going to be our last conversation."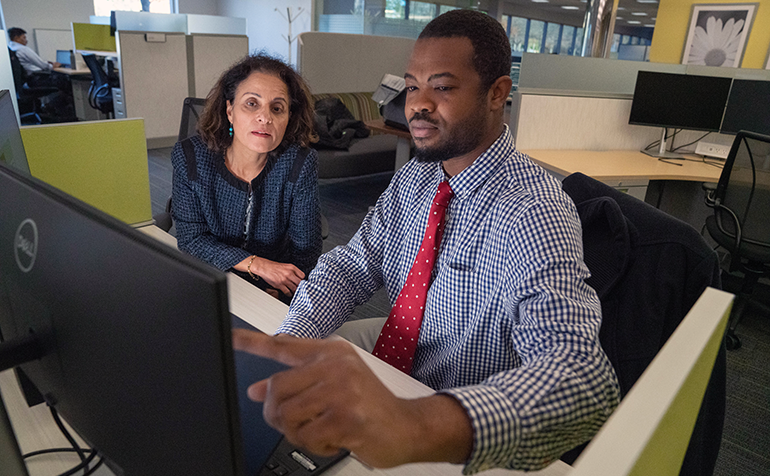 A typical day at TD
As a QA analyst, Ike is responsible for test validation of applications and systems supported by US Technology Solutions. He works with an ASL Interpreter during meetings with his colleagues and manager. Ike works independently on his deliverables.
"I knew (working at TD) would help lead me to new experiences and help me advance to new levels," Ike said. "I knew that I had something to offer the bank. I love to be a part of a business. I want to support the company's needs and their customers."
It was the first time that Nishi Prashad, Senior IT Manager for Testing/QA supporting AMCB Platforms & Technology, has hired an employee with a disability. She found the process of working with Ike through an interpreter to be quite seamless. After their interview, Nishi felt Ike was sharp and would be a great addition for her team.
"Ike just impressed me with his curiosity to learn, and I'm excited to we could give him an opportunity to be part of the team," Nishi said.
Nishi offered this advice when asked about hiring colleagues with disabilities.
"My key advice would be if you do come across an outstanding profile with a disability and you want to onboard them, make sure you're talking to human resources and employee enablement teams," Nishi said. "They can help you set up some assistive technologies at the workplace to ensure their employee experience is as welcoming as anyone else."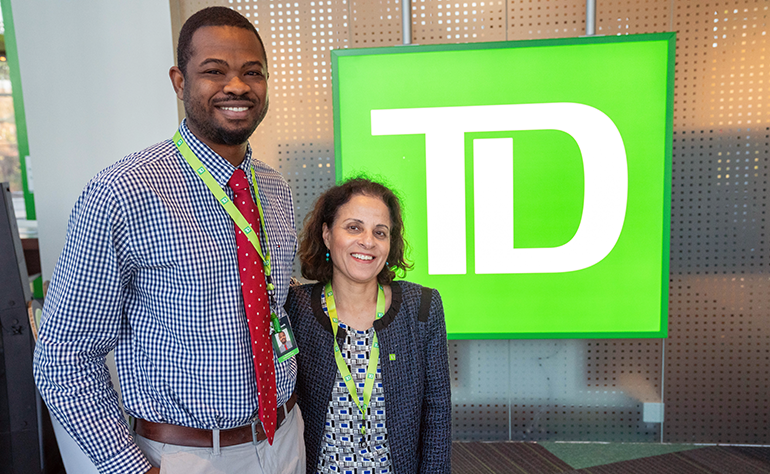 There are no limits
Ike is just getting started in reaching his dreams. His ultimate goal is to one day be able to help people who are Deaf in his native land have more opportunities to reach their goals.
"Deaf people are able to do anything," Ike said. "If barriers are removed and we have the support that they need, we're able to work successfully. I think it's just critical to be able to support each other. That can bring a company even more success when everyone is included. There are no limits to success."