June is Pride Month -- one of the most significant ways TD Bank is honored to demonstrate its commitment to inclusion, diversity and equity. With the injustice, pain and suffering experienced by the Black community, this year's Pride celebration takes on an even greater meaning and necessity.
Our coverage kicks off with a story about TD Bank customer, GMHC, which started its work in 1982 as one of the world's first providers of HIV/AIDS care, prevention and advocacy. Among the GMHC founders was the late Larry Kramer, who died last month and was known as one of the pivotal leaders in the fight for the rights of the LGBTQ2+ and other marginalized communities. Today, GMHC is helping its clients through the unprecedented impacts of COVID-19.
It's hard for Michael Hester to talk about how COVID-19 has impacted New York's GMHC and its clients without breaking down a bit and needing a breath.
The head of finance at the organization and TD Bank small business customer has seen friends and patients they serve battle and live with HIV or AIDS, only to succumb to this new virus currently plaguing the city.
"We have people we've been working with for over a decade living well, and now they are suddenly gone because of this new virus," he said. "How do we mourn; how do we help out our clients at times like this?"
It's clear that Hester and the more than 200 employees at GMHC, one of New York City's leading providers of HIV/AIDS prevention, care and advocacy, take their mission seriously when it comes to serving around 10,000 people in the New York area.
A big part of what GMHC does to help those living with HIV and AIDS is nutrition, and that's where Hester says COVID-19 has most affected the organization's clients.
"Monday through Thursday we do a congregate lunch, where everyone gets together. Fridays, we do a dinner," he said. "For a lot of our clients, it's really the only complete meal they have that day. It's also where they get a lot of their social interaction."
Hester says nutrition is crucial for those they serve to keep their immune system strong, along with medication they take regularly.

Many of the people GMHC serves were diagnosed with HIV or AIDS 10 or more years ago and weren't given long to live, so they didn't plan for the future. But advances in treatments have given these patients a second chance at a full life.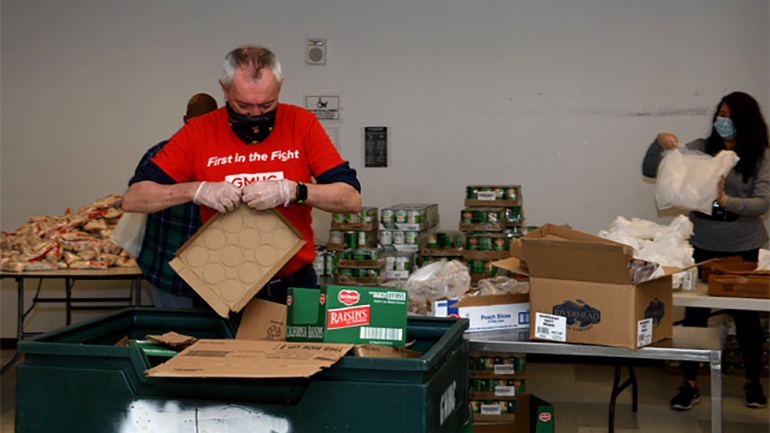 "Now they are older, grateful to be alive, but didn't expect to be here," Hester explained. "Some are homeless, so through COVID-19, we've reached out to make sure they have shelter in the city, with family, make sure they are housed."

But when it comes to balanced meals, it's been hard to get proper food to those in need.
'The right thing to do'
Enter TD Bank Senior Relationship Manager Kris Amato and store personnel from the area.
After learning about the nutrition needs of GMHC clients, Amato alerted the team, who opened up a 3rd Street Store in NYC and gave Hester hundreds of TD Visa debits cards to send out to those GMHC serves.
"Then they turned around and expedited another 350 gift cards to my house, so we could have those ready to send out next," he added.
"Michael asked if we could help and I said, 'Of course," Amato said. "That was all the team. They rallied and got the cards together. That was a complete team effort across the bank. It was the right thing to do for people in need.
Amato and her team also facilitated a $2.7 million loan through the Paycheck Protection Program (PPP), administered by the U.S. Small Business Administration (SBA), as part of the Coronavirus Aid, Relief and Economic Security (CARES) Act.
Hester says those funds have been "life-saving for our organization."
GMHC had a budget totaling $27 million in 2020 with most of the funds needed to help their clients coming from donations. For their annual Aids Walk in May, the organization was hoping to raise $3.4 million, but that's been rescheduled to a virtual event in June.
"People are also pulling back because of uncertainty in their finances," he added.
GMHC isn't just about food, friendship and advocacy. They have a housing program, where those that qualify only pay 30% of their income for rent. They have testing for HIV, AIDS and other sexually transmitted diseases. And they have a legal department to help with immigration and making sure those living with the disease are treated fairly.
These PPP funds won't make up for all the lost fundraising revenue, but they give the agency breathing room and the ability to continue to help those who need it the most right now.

"Most of us recognize that at TD, we love working here because the Bank does so much for these kinds of community organizations," Amato said. "That was a big decision maker in my reasoning for coming to TD. And 5.5 years later, I'm still getting to follow through on that mission."
Amato added that she's proud TD helps GMHC all year round with volunteer work in their kitchens and assisting in their fundraisers like the Aids Walk. TD also provides grants for special programs.
"At GMHC, we have so many TD partners working with them, especially our newest advocate, Steven Garibel, one of the heads of LGBTQ2+ Business Development at TD," Amato said. "He has really increased our volunteer efforts and elevated our ability to support LGBTQ organizations across the Tri-state area. We really are a team at TD!"
Until COVID-19 is fully under control, it's all about togetherness and support for those at GMHC.
"Our CEO been calling every single employee to check on them personally," Hester said. "For our clients, we call to do wellness checks, making sure they are doing well emotionally and mentally too. In some instances, it's also just packing up food and getting it to people who can't get out. Whatever they need right now."
---
Return to Forever Proud. Forever Progressing.