TD Bank has long recognized that Diversity, Equity & Inclusion is one of the most important keys to its success in every way, and the bank has strived to continually grow and evolve in this area. These efforts have been recognized in recent years as the bank continues to be ranked on the most notable 2023 D&I lists of employers.
The Forbes list of Best Employers for Diversity 2023 ranked TD Bank #2 overall and the leading bank in this important list. TD was rated No. 188 as recently as 2021. This is the fifth consecutive year TD Bank has received this prestigious award presented by Forbes and Statista Inc., the world-leading statistics portal and industry ranking provider. To determine the rankings, Statista surveyed more than 45,000 Americans working for businesses with at least 1,000 employees. Participants were asked to anonymously rate their organizations based on criteria such as age, gender, ethnicity, disability, and LGBTQ+ equality, in addition to general diversity.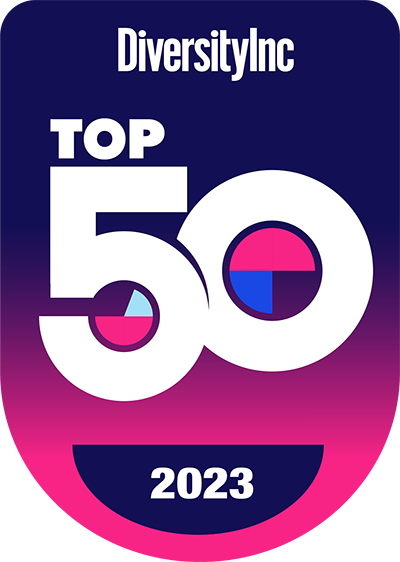 TD was also recognized by DiversityInc as a Top Company for Diversity in 2023, earning the No. 20 ranking. This is the 11th consecutive year TD Bank has been recognized as one of the nation's top companies that hires, retains, and promotes women, minorities, people with disabilities, LGBTQ2+, and veterans.
"At TD, we know that by advocating for and investing in diversity, equity, and inclusion, not only are we creating a safe and inclusive workplace for our colleagues, but we're nurturing the industry's greatest minds and talent, so they continue delivering incomparable experiences for our customers and the communities we serve," said Leo Salom, President & CEO, TD Bank, America's Most Convenient Bank.
"Our diversity of thought, identities, cultures – to name a few – is what makes TD Bank "Unexpectedly Human" and enables us to be more innovative, agile, and attentive to the needs of our teams and our customers."
TD's strategy put into action
TD's governance structure and the leadership that support the bank's Diversity, Equity and Inclusion initiatives includes a highly engaged Diversity Leadership Team that leads across six areas of focus:
Black Experiences
Visible Minorities/Minorities
LGBTQ2+,
Individuals with Diverse Abilities
Veterans
Women
This structure includes eight management committee members leading efforts and providing expertise from their respective businesses and functions. There are also Regional Diversity Councils, which lead teams of Business Resource Group (BRG) leaders and other volunteers. The BRG networks play a key role in driving DEI efforts locally across the bank's footprint and creating space for conversations at an enterprise level. Together, with these groups, the D&I leadership team has developed and executed several talent development programs, hosted countless cultural awareness and recognition events, and supported dozens of community organizations aligned with these areas of focus. Some examples of this work include TD's Leadership Readiness Program through our Black Employee Network; Forever Proud Leadership Development Program (supporting the LGBTQ2+ community); Women at TD Allies program; our recruitment program for people with disabilities, and related events.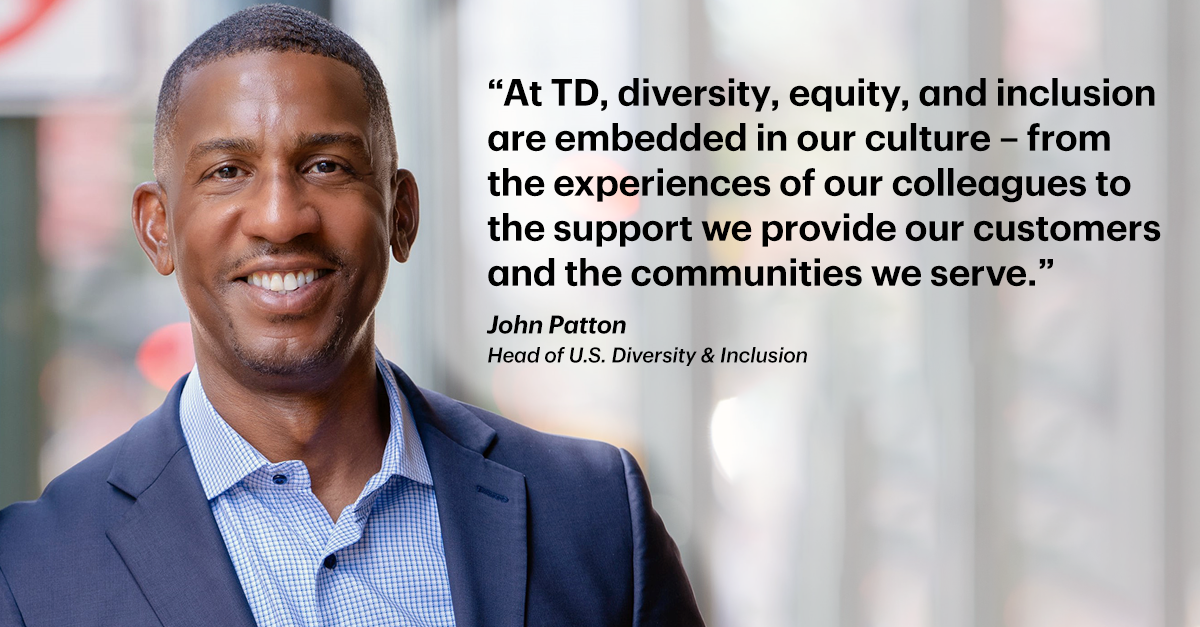 TD Bank has made it a mission to create real change in the DEI realm. These are not just words in a mission statement, according to John Patton, U.S. Diversity & Inclusion Lead at TD Bank.
"At TD, diversity, equity, and inclusion are embedded in our culture – from the experiences of our colleagues to the support we provide our customers and the communities we serve," John said. "DEI values and principles are applied to the planning, execution, and decision making across all aspects of our business. Through extensive learning tools, workshops, and programming, we encourage our colleagues and people managers to build cultural awareness and develop inclusive leadership skills through a variety of mediums. We amplify and empower our expansive internal network of voices – our Diversity Leadership team, Business Resource Groups, and DEI Team – to inform and create an inclusive environment that is tangible, felt at every corner of the workplace, and continuously evolving."
TD has no intention on resting on its laurels in this critical area moving forward. John noted the bank is committed to increasing diverse representation at executive levels across North America.
"To support this goal, we have developed and executed several talent development programs including our sponsorship and coaching program led by the Diversity Leadership Team, TD's Leadership Readiness Program through our Black Employee Network; Forever Proud Leadership Development Program supporting our LGBTQ2+ colleagues; Women at TD Power Networking Program; our recruitment program for persons with disabilities, and others," John said.