Allen Love and Montresa McMillian know how to inspire. Between the two of them, they lead ten departments across TD Bank Group's American and Canadian footprints with passion and dedication, and their strong leadership this past year led to their placement on Savoy Magazine's Most Influential Black Executives.
"These past 12 months have been exciting, to say the least. I've had the pleasure of leading two incredible organizations both with a keen focus on enabling the Bank," Montresa, Head of Strategy, Change and Operational Excellence within the Bank's Transformation, Enablement and Customer Experience said. "I believe it is my unrelenting focus on enabling change at scale and doing so with speed that has led to this incredible recognition, not just for me but for all the incredible people I work with every day."
Montresa is a progressive change agent driven by her desire to advance customer-centric thinking and to promote business agility and innovation. As an influential executive leader with 25 years of experience in financial services, Montresa builds high-energy, goal-oriented teams that are supported by a culture of appreciation, creativity and collaboration.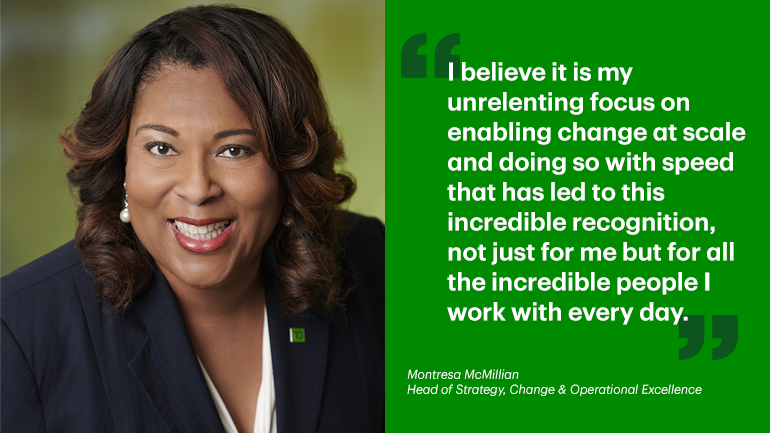 Lead by following your passion
Like Montresa, Allen Love, Head of Corporate Defense, is driven by a passion for people. He has more than three decades of experience in financial services, including almost ten years as a Special Agent for the U.S. Treasury. He now protects TD Bank and the communities we serve from financial fraud, and believes his inclusion in Savoy's list this year reflects the current impact that security has on our everyday lives, especially amid a global pandemic.
"Global security is very relevant in today's world," Allen said. "Fraud and privacy attempts are extremely prevalent. This year, we were able to really strengthen the programs of the Corporate Defense Group (Fraud Risk Management, Global Security and Investigation, Privacy, Insider and Conduct) to better protect TD Bank and our customers and colleagues."
Montresa's team touches on enterprise-wide capabilities, and in her role, she has the unique ability to see across the organization and enable businesses to achieve desired results. In partnership with other leaders across TD, Montresa and her team are leading the acceleration of operational excellence and helping to future-proof the Bank.
"This work excites me as we explore a completely new approach to facilitate growth, drive revenue, and vastly improve the colleague and customer experience," she adds.
Montresa received notification of the Savoy award one week after Father's Day which reminded her of the inspiration, passion and leadership of her late father. "My father, while not with us physically anymore, was such an inspiration in my life both personally and professionally," she said. "This award symbolizes all of his wisdom, support, and encouragement throughout the years; this one's for you dad!"
It's evident that Montresa's passion for people and her empathetic leadership style are key to her team's success.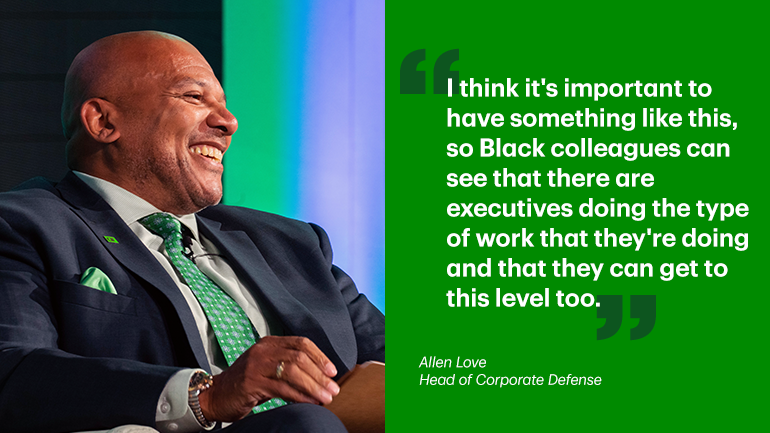 Setting the stage for future generations
Publications that showcase diverse business professionals like Savoy Magazine give future generations role models to look up to and insight on career paths to follow.
"I think it's important to have something like this, so Black colleagues can see that there are executives doing the type of work that they're doing and that they can get to this level too … I remember there was another publication like this earlier in my career, and I remember reading it and I reached out to those individuals. And it was great to hear back from them, you know, saying, 'Hang in there,' and giving you some advice and help," Allen said.
For Montresa, who has been with TD for over 11 years, being a leader means more than just showing up. It means becoming a beacon for future generations, specifically generations of color that don't always receive a seat at the table.
"Being recognized as one of the magazine's Most Influential Black Executives in Corporate America not only means that the work I am involved in is being recognized and making a difference, but that I am setting an example for the next generation," she said. With hard work and dedication, we can all accomplish great things!"
For first-time honoree Montresa, being acknowledged for her passion for work and community outreach is what allows her to continue making a difference.
"I am excited to be a Black female leader recognized in this fashion. I believe that national publications like Savoy, with their reach, will invite other thought leaders to consider TD as their employer of choice," Montresa said.
With the pandemic hitting the world by storm in March 2020, for both Allen and Montresa, their courage to lead would not be complete if not for their impressive teams and personal inspirations.
Driven by people, Montresa is empowered by her team and by helping customers. Every day, Montresa's team brings their unique skills, knowledge and diverse experiences to help build a future-focused strategy.
"In my career, I have been fortunate to be surrounded by incredible people who inspire and challenge me every day," Montresa said. "I am reminded of a quote by Isaac Newton, 'If I have seen further, it is by standing on the shoulders of giants.' Thank you to everyone who has allowed me to stand on their shoulders. This recognition is definitely a team effort!"
In 11 years at TD, Allen has always had great teams, but in 2019, he was asked to start a new function and take on existing one. "It was basically, 'Hey, we have to create this function to address and progress throughout the organization and with the assistance and support of great colleagues, a new function was built! And so, anytime you build something, a function that plays such a key role in the organization, you've got to have a good team."
Allen said his team is always listening and thinking about the tough questions that will create a better bank.
"How do we enhance the work that's already been done? How do we become more proactive instead of reactive? How do we become more agile?" he said. "So, for them to sit down and hear my strategy and vision and to buy into it and actually act on it … is huge. And, so I've got a great team. One of the best!"