April is Autism Awareness Month. TD is celebrating with events and stories aimed at spotlighting our progress and future ambitions in advancing disability inclusion and equality.
Jason, a college student on the autism spectrum, was thriving as a sales associate at a Manhattan UNIQLO store before he was laid off last spring, due to the COVID-19 pandemic.
He didn't let that stop him. Determined to find a new job, he sent out applications and went on numerous interviews.
His persistence in job hunting paid off, recently landing him a cashier position at Home Depot. Jason is also working toward a Bachelor's degree in computer graphics and imaging at City University of New York's Lehman College.
Throughout his experiences, Jason has received dedicated support from his job coach at Birch Family Services - Juliette Altman. She had met with him weekly when he worked at the clothing shop.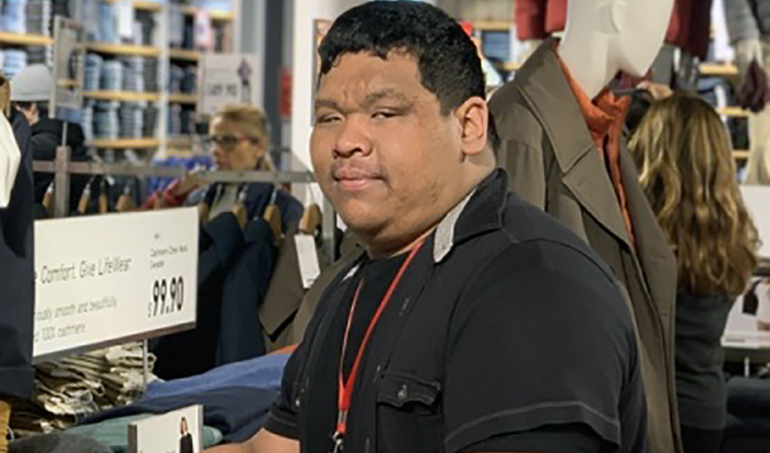 "Jason is so determined and hard-working that it really helps me do my job," said Juliette.
Later she helped with his job search – conducting mock interviews, helping him track applications and joining him as he dropped off his resume at New York stores.
Jason went on his own to Home Depot and received an offer the same day.
"I found this job through my father's suggestion and when I mentioned this to my Birch job coach, she helped me out with the application process. We did a mock interview before and she helped me with training my first few days," he said.

Jason is excited about getting back to work.
"My goals as an employee at the Home Depot are to deliver excellent customer service, help with their transaction at the register and carry out (their purchases) to their vehicles." Jason also expressed interest in rising to a supervisory role at some point.
"I've always wanted to elevate myself," he said.
TD Bank and Birch Family Services are partners in community programs
Birch Family Services, a New York-based non-profit service provider, helps over 2,000 people with autism and developmental disabilities each year live full lives through educational, employment, residential, life skills and family support programs. The organization operates programs at 31 locations, including schools and residences, throughout Manhattan, Brooklyn, Queens and the Bronx.
Founded in 1975, Birch offers educational programs for those up to 21 years old and job, housing, mentorship, internships and social support for adults who have aged out of school or college. The aim: supporting individuals to become more independent and build skills that enable them to participate in the workforce and their communities.
Jason is a member of the organization's New Frontier program, which helps adults prepare for jobs and provides ongoing support to them and their employers. The work is important, given high unemployment rates for adults on the autism spectrum.
"People want to be as independent as they can be," said Matthew Sturiale, Birch's President and CEO. "Whether through our educational programs, employment or community support services, we empower those who turn to us for support to lead fulfilling lives on their own terms."
TD Bank and Birch Family Services have a well-rounded relationship. The organization became a customer of the bank in 2017. Through that relationship, colleagues joined the organization's Corporate Advisory Network to advise on initiatives for young adults with autism and developmental disabilities in the workplace.
Birch Family Services has been a recipient of multiple grants from the TD Charitable Foundation (TDCF) including a Housing for Everyone grant in 2019.
"TD's been a great partner," Matt said. "They provided excellent commercial banking services, including operational and capital lines of credit, lending, and mortgage financing. More importantly, they support what we do through the bank's membership in our Corporate Advisory Network and charitable support for some of our programs, including New Frontier. They believe in our mission of empowering people with autism and developmental disabilities to lead fulfilling lives. That's key to our relationship."
TDCF has contributed $254 million in grants to non-profit organizations since it started in 2002. TD's philanthropy is centered around its global corporate citizenship program, known as the TD Ready Commitment, which actively promotes inclusivity, economic vitality, environmental wellbeing and health and enabling people of all backgrounds to succeed in a rapidly changing world.
"TD Bank is deeply committed to championing individuals with diverse abilities and we are proud to work with Birch Family Services not only with contributions but with funding that has helped them grow their operations over the years," said Andrew Bregenzer, Regional President, Metro New York. "They are a great organization that is doing important work in the New York metro area."
Birch serves individuals from pre-school through adulthood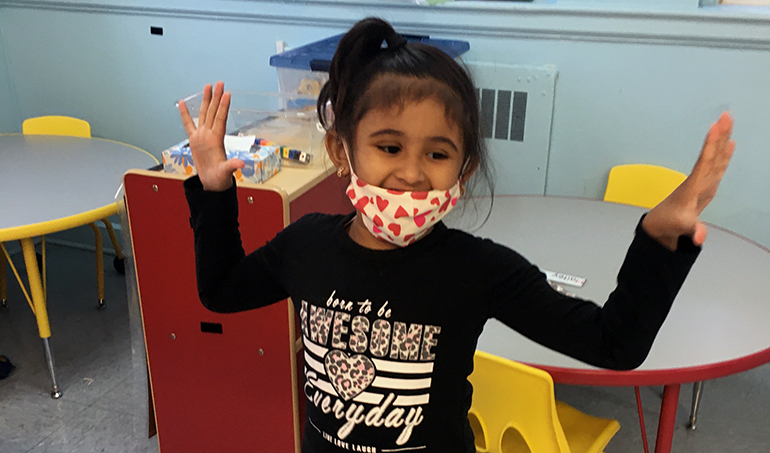 Kamla Kalamazad of the Bronx sought help when her three-year-old daughter Hailey couldn't communicate with family members. An evaluation uncovered autism, leading Hailey to Birch Family Service's Pelham Bay Early Education Center, a special education preschool that prepared the now five-year-old to enter kindergarten in a public school this fall.
"She made such great progress," said Kamla. "They taught her so many things, I'm so impressed."
Kamla, who immigrated to the U.S. from Guyana, had been unfamiliar with the term autism before Hailey's diagnosis.
At her preschool, Hailey has worked with speech, occupational and physical therapists. The preschool's faculty and staff, from principal to bus monitor, have become friends, and Hailey has grown to love them.
"I trust them with her," said Kamla, an emergency room healthcare worker who has become an advocate for people with autism. "They're more like family."