My goal at TD has always been to create a community-oriented way to support LGBTQ-owned businesses, no matter if they're a part of the TD family or not.
I've been in banking for more than two decades now and I've never seen customers or potential customers relate to and understand a philosophy more than when you're not trying to sell them something. It really is about helping someone in a human, holistic way.
And that's the approach I have taken from day one in trying to help LGBTQ Entrepreneurs get connected to the National LGBTQ Chamber of Commerce to get certified and access contracts.
The historic partnership between the New York City Department of Small Business Services (SBS) and the National Gay and Lesbian Chamber of Commerce (NGLCC) was announced earlier this year.
It allows LGBTQ Business Enterprise's® (Certified LGBTBE®) to fast track their application to become a Minority/Woman-owned Business Enterprise (M/WBE) and/or an Emerging Business Enterprise vendor, allowing them to serve as suppliers in government contracting and procurement opportunities and participate in capacity building and educational programs.
This new partnership isn't something that will just benefit TD or its customers that identify as LGBTQ, but all people in the NYC community.
Working in conjunction with the NGLCC, I've seen how important it is for LGBTQ-certified businesses to get a streamlined path to compete for city contracts.
It's a day like today that I'm not only proud to wear the TD shield but call myself a New Yorker!
A Step Towards Equality
Knowledge really is power. But you know what's more powerful -- Access.
This new partnership is going to connect so many business owners to resources that will help them thrive and also create jobs at a time when people need them most.
It's really incredible and will be on the largest stage yet.
New York City is the latest and greatest city to fast track LGBT Business enterprises, following Chicago, Baltimore, Los Angeles, Nashville, Tennessee and Philadelphia. It really is a huge step forward for the LGBTQ community.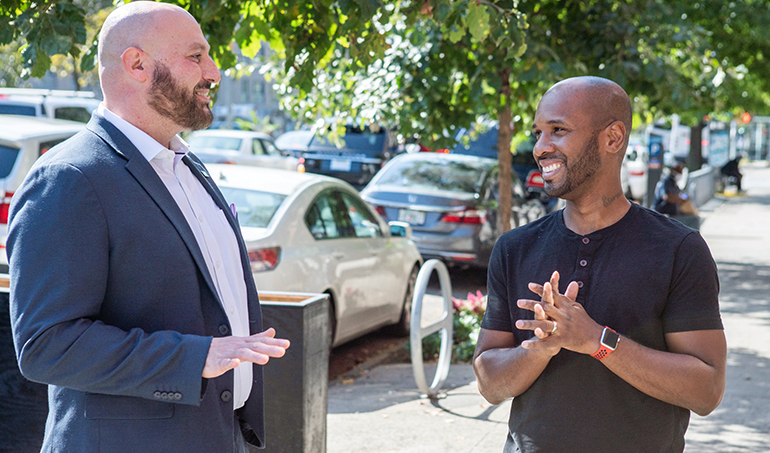 I've watched at local community events in Harlem and the Bronx, where we get a handful of small business owners in a room, educate them on the importance of being connected and utilizing organizations like the Chamber of Commerce, and you see the positive results almost immediately.
Business owners collaborate, connect, share ideas and create projects for their company, as well as others who never previously thought opportunities like this were possible.
Imagine this function on a scale of thousands of business owners within the five boroughs.
A Pandemic Reset to Banking More Human
National LGBT Chamber of Commerce Senior Vice President and more importantly, my good friend, Jonathan Lovitz says the pandemic has only made supporting local small businesses that much more important moving forward.
While people are stuck at home now because of COVID-19, customers and small business owners are looking for a human connection and people they can trust. There's a certain poetry to that.
"Throughout COVID-19, the LGBTQ community has stepped up to provide hope and support to those who need it most," Jonathan said. " Whether it was a successful brick and mortar business that had to pivot to safely keep their employees on, or a major corporation dedicating funds and resources to ensure equity in both healthcare and small business recovery, it was humanity and compassion leading the way."
Jonathan and I have often had hour-long conversations about how businesses grow and thrive, especially in the LGBTQ community.
Not only is it about having access to these lucrative contracts, but it's the grassroots growth this can create.
It'll be in the coffee shops and through the local newspapers where LGBTQ-owned businesses will learn more and connect with people already thriving from this new designation.
As Jonathan puts it, "Getting certified is about telling our story to America" and connecting our community to all types of customers.
I also believe that what New York City is doing will have an effect on the rest of our country.
While several large cities have already enacted this designation, New York is one of the financial leaders in not just this country but the world.
New York City is setting an example for others to follow and I couldn't be happier to have been at the core of its humble beginnings.
For more information, please visit nglcc.org, wbenc.org, nmsdc.org, and also be the trusted voice for your customer – educate them on diverse business certifications and help them authentically grow their business.
---
Return to Forever Proud. Forever Progressing.
Want to learn more about Diversity & Inclusion?