As we head into the holiday season and people take time off to enjoy time with their families, we're republishing our Top 10 stories from the year. We hope you enjoy.
This story was originally published on June 10, 2022.

---
Something innovative, collaborative and game-changing is in the works at TD Bank's 3735 Walnut Street location in Philadelphia.
Located in the University City district, TD Workshop – TD's first ever retail innovation lab – is set to open on June 16. TD Workshop combines a fully functional store with space designed for researching, collaborating and bringing the community together.

Think of TD Workshop like a test kitchen where customers can stop in and sample recipes before they are made available to all restaurants in the franchise. It's a place where customers will be part of the development process, but there are still many untapped possibilities for how TD Workshop will be used in the future.
The University City location was marked for renovation in 2019, but instead of downsizing in the way many banks and retailers in urban settings have done lately, TD Bank's Consumer Distribution Strategy, Planning and Innovation team had bigger plans.
"We had a vision to utilize the extra space at our University City location and transform it into a place for innovation and community events," said Steve Turley, TD Bank's Head of Consumer Distribution Planning, Strategy and Innovation. "I'm excited to see TD's next phase of innovation and collaboration unfold at TD Workshop—whether it be testing new products, services or processes—or engaging the community through events such as financial literacy courses or networking opportunities."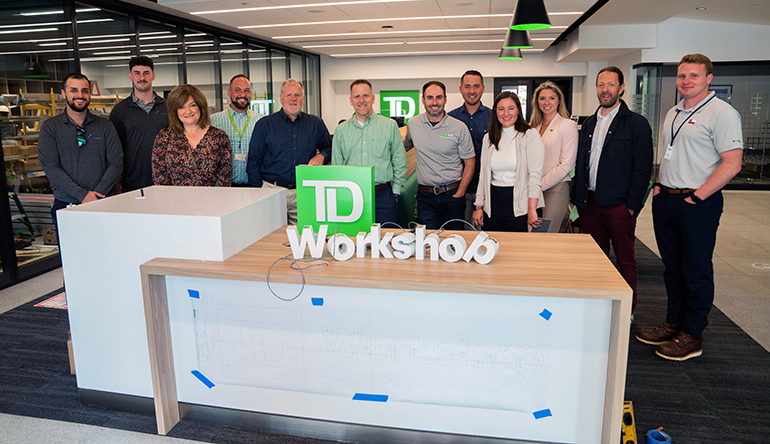 The bank has been on an innovation journey for some time, but TD Workshop aims to provide a physical space for colleagues to create and iterate new ways to respond to evolving customer needs, Turley says.
At the onset of the pandemic, TD innovated quickly across its store network to respond to the rapidly changing environment by introducing industry first innovations like Curbside Debit Card Pick-Up and Contactless Check-In to support customers when physical distancing measures were in effect.
"As customer behaviors and habits continue to change, it's important for TD to continue to innovate to meet customer expectations," Turley said. "Customers no longer view their banker as someone who only helps open checking or savings accounts, but a person they rely on for guidance and advice-based conversations."
The information collected at TD Workshop will help inform how TD evolves its interactions, store formats and financial services offered to our customers.
The entire space is engineered to be flexible and future proof, with features ranging from raised floors, open ceilings and the latest fiber optic connectivity and audio-visual capabilities. Colleagues will be able to build and test products in designated areas within TD Workshop as well as host community events and customer input sessions. We also have dedicated space designed for consumer research in both one-on-one and group settings.