As we head into the holiday season and people take time off to enjoy time with their families, we're republishing our Top 10 stories from the year. We hope you enjoy.
This story was originally published on January 4, 2022.

---
People have been sending messages in bottles since 310 B.C.
The new TD Bank pens mostly made from recycled water bottles are now available in TD stores and send a powerful message of conservation and care for our planet.

Like a bottle in the ocean, our new pen is already traveling around the planet. Recently, a TD colleague took a photo of this pen in Antarctica.

Watch the video below for more info.

It's an important step for TD with one of the bank's most popular branded products to help achieve the goal of a fully environmentally responsible merchandise program. On average, the bank gives away 20 million pens each year. If that figure holds, about 100 million water bottles will be upcycled with the manufacturing of the new pen in the next five years.
Making it even sweeter, the manufacturing of the pen involves the TD family of customers. The pen is being made by Pen Company of America (PCA) LLC, the only full pen manufacturer based in the U.S. and a TD business customer for more than 20 years. This Garwood, New Jersey business is owned and operated by siblings from the Shea family, who founded the company in 1928.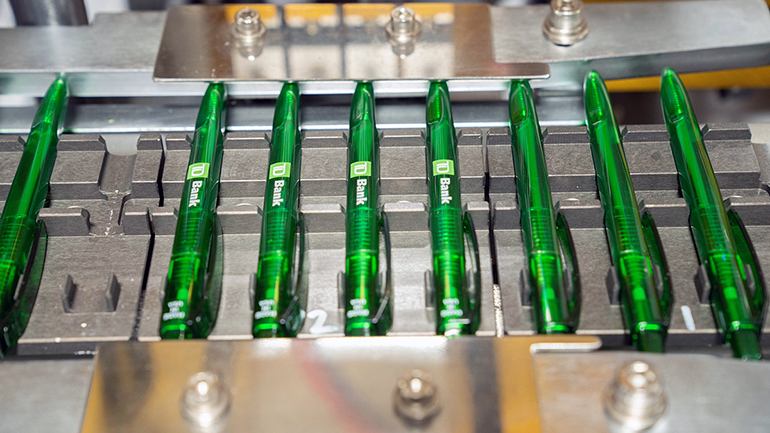 The iconic pen
This journey began in the Mount Laurel, New Jersey offices of TD Bank three years ago when TD's Branded Experiences team planned to build a more sustainable merchandise program. This aligns with the bank's goals to lower its carbon footprint by reducing landfill waste and increasing recycling.
The bank had committed to eliminating all limited and single use plastic products. The TD pen was an obvious choice to highlight the commitment.
Therefore, the team decided to find an alternate material for the pen which had been made from virgin plastic.
"The team felt a pen made from rPET (recycled plastic) was the right thing to do for the bank and for the environment," said Lena Forrest, TD Bank Head of Branded Experiences.
"TD is proud to be among the first companies to commit to a branded merchandise program that is environmentally responsible," added Stacey Fiadino, TD Bank Senior Inventory Manager of Branded Experiences.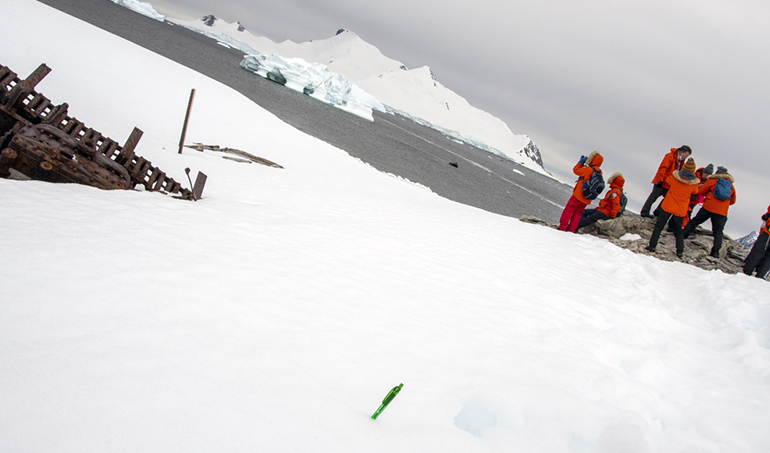 Here are some key facts about the new pen:
The new clip pen is made in the USA from recycled water bottles and each pen will contain approximately 72% recycle content.
The new pen will have upgraded German documental ink for a super-smooth writing experience.
The new ink cartridge will write for approximately 2,730 feet before running out of ink (this is 7.5 football fields long and more than twice the height of the Empire State Building).
The new bright green color and square shaped barrel is designed for comfort.
This iconic pen has traveled the world, with sightings as far away as the Annapurna region of Nepal, where TD customer Ron Janowitz, a hiker from Manchester, New Hampshire handed out the pens as he passed through villages on foot. Julie Pukas, TD Bank's Head of Commercial Strategy and Integration, recently went to Antarctica and she took the new pen with her!
The next part of the journey to make a pen from recycled water bottles was up to a TD customer dedicated to making the best pens in the world.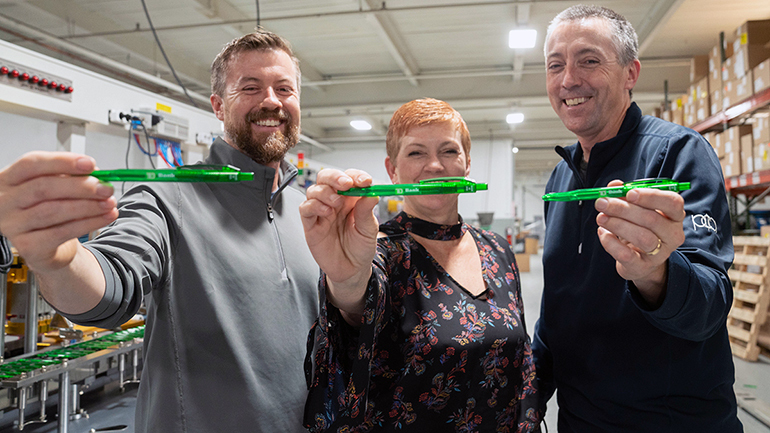 The quintessential American story
The Shea family has been producing pens for four generations since its founding by John Shea in a Manhattan factory. The company has made more than one billion writing utensils since it started. Even as many manufacturers moved overseas, the Shea family went through difficult economic times to thrive in the competitive industry yet keep operations here in the states.
Today, three siblings run the company, including Greg, a former counter-terrorism analyst who spent time in Afghanistan, Matt, a former lawyer, who runs the business side and Colleen, a former professional tap dancer in Paris, who oversees sales.
Although the three siblings found success outside the family business, when there was discussion of selling it outside the U.S., all three felt the pull to return and help keep it going locally.
"It was the legacy," Colleen said. "If you were in the industry, you knew the Shea family. Just to let that go and die was just something none of us wanted to do. Part of it too, it was my father's career. This was his life. This is what he gave everything for. We knew he couldn't do it alone. We had to come back and make sure this survived. And not only survive but thrive."
Pen Company of America has thrived because it has embraced changes in the industry while keeping its tradition of making quality products.
"TD Bank came to us looking for a pen that was environmentally friendly, a clip pen that was made from recycled water bottles." Matt said. "It was a challenge for us, and it was something we accepted. After we settled on the design, then it was building molds, building an assembly machine and working with the material manufacturers to get high-quality recycled water bottles."
The experience of creating the pen may go far beyond TD Bank as Pen Company of America hopes to use these lessons and technology with other clients.
"I feel like we're better at what we do now because of it, because we went through this challenge, and it will open up doors for us for possible other uses of the plastic." Greg said. "At the end of the day, I think the pen turned out beautiful, and the fact that it's made from recycled water bottles is really a great selling point for it."

Want to learn more about 2022 Top Stories?